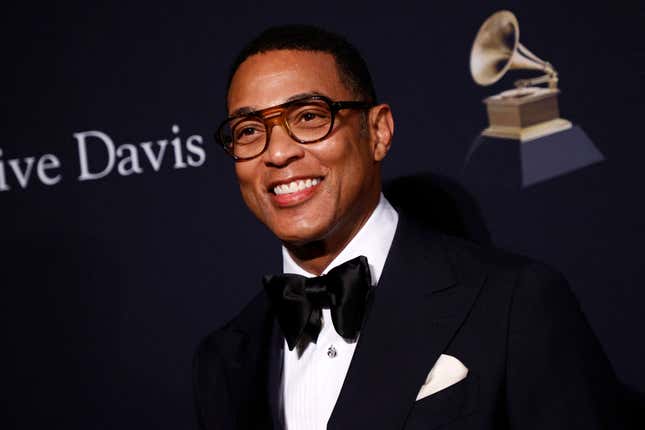 Former CNN News Anchor Don Lemon isn't taking his ousting lying down. The longtime host, who became embroiled in scandal last month, took to Twitter immediately after CNN announced he was being let go from the network to share that no one in management had the "decency" to tell him the next directly after 17-years at the network.
But is Lemon all talk here, or could we potentially see this saga play out in the courts? The Root spoke to employment attorneys to see if Lemon's departure could set the stage for the next dramatic media courtroom battle.
CUNY Law Professor Rick Rossein, an expert in employment and anti-discrimination law, did not mince words when discussing what comes next after Lemon's ousting. "There's no doubt there will be a lawsuit. And probably a likely settlement," he says.
See when regular employees like you or I get fired, there's typically not a lot we can do. Since most of us are at-will employees, explains Rossein. But someone like Lemon with an extensive contract that reportedly doesn't end until 2026 typically has more rights when it comes to contesting their firing. And there's a very good chance he'll use them, says Rossein.
We don't know the specifics of why Lemon is being fired, which makes speculating about any lawsuit difficult. But, his ousting does come in the wake of public comments saying Republican Presidential candidate Nikki Haley was not in her prime. "A woman is considered to be in her prime in her 20s and 30s and maybe 40s," said Lemon. "I'm just saying what the facts are — Google it."
He was also the subject of a scathing Variety article, which alleged a pattern of sexist behavior against female colleagues, and allegations of a relationship with a 22-year-old junior staffer when Lemon was in his 40s.
Rossein says there's a good chance Lemon has a section in his contract about bringing reputational harm to the company, even if there's nothing in there specifically about workplace relationships. "All contracts these days have a broad clause which says that if you do something morally incorrect that severely damages the companies corporate reputation, you could be discharged."
But that certainly wouldn't prevent Lemon from suing, especially since that clause is often incredibly vague, says Rossein. Lemon could still sue alleging that CNN violated their contract with him by firing him before his contract ended. It's also possible that Lemon's attorneys will look for any potential discrimination case they could bring against CNN, says Rossein.
"Certainly his lawyers are gonna be searching for some type of violation of both the state and federal civil rights law, which now includes sexual orientation discrimination," says Rossein.
Menaka Fernando, a Partner at Outten & Golden, a firm which specializes in employment law, says this might get handled behind closed doors. "There will be a lot of talks and negotiations that happen between Mr. Lemon's team and CNN's Lawyers before it ever gets to the point of a lawsuit," says Fernando.
Certainly the way this is playing out publicly adds to the confusion, says Fernando. (We've already seen a Twitter back and forth between CNN and Lemon, with the news network saying they attempted to have a private meeting before Lemon tweeted about his ousting.)
"The situation certainly raises more questions than answers," says Fernando. "The basic information that we have is that he did have a contract... until 2026 and that he was given very short or no notice. And that raises some questions around whether there were a contractual obligations that were breached."

Like Rossein, Fernando, also thinks that whether the firing was discriminatory could come into play in a potential legal case. "Race is certainly going to be a part of the conversations as well, whether there are double standards," says Fernando.
The civil rights of the employees mentioned in the Variety piece could also come into play in this case, she says. Once allegations of that nature are raised, the company is likely obligated to investigate, says Fernando.
"Depending on the findings of that investigation, then company also has a duty to remedy any hostile work environment situations that are corroborated, she says. "And that could include a variety of conduct including terminating the bad actors."
However, at this point, we really don't know why Lemon was let go and if it had anything to do with his comments about Haley, that many found sexist and ageist, or the alleged workplace misconduct.

"There's just a lot of questions that are unanswered at this point," says Fernando. "So it's really hard to know what his legal claims are."