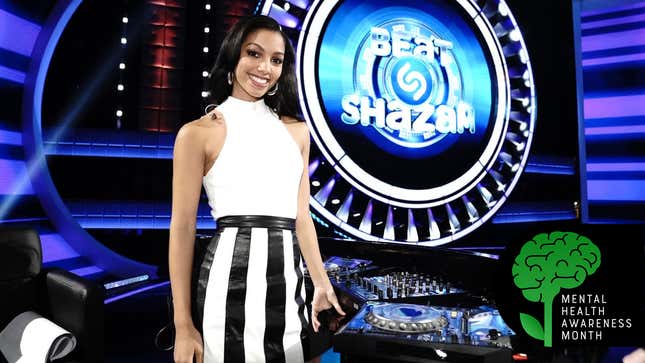 Corinne Foxx, daughter of Jamie Foxx, is a pretty face, but she also has a brain; and for mental health awareness month, she's adamant about talking about "brain health."

Comedian London Hughes Talks New Book, Parents Watching Her Very Sexual Comedy, & Beyoncé
In addition to co-hosting Fox's Beat Shazam, the weekly music series in which two brothers from Philly recently walked with a cool $1 million, Foxx was also booked as a speaker at the 2019 Cannes Lions International Festival of Creativity, where she will discuss the importance of de-stigmatizing mental health across creative industries. She also works as an ambassador for the National Alliance on Mental Illness (NAMI), after battling anxiety since she was a teen.
This season, Foxx joins her dad on the third season of Beat Shazam, which premiered on May 20, as co-host and resident deejay on the show.
"So this season, we have a few new categories to mix things up," Foxx, 25, told The Root." We have my favorite category, which is "Corinne's Choice" which is where I get to choose the songs. We also have a new category called "Without Words" and with that, we're basically playing the instrumental of songs, which makes the game even harder."
Like her triple threat dad, Corinne has several jobs: she's a model, having walked in runway shows and campaigns for Kanye West's Yeezy brand, Ralph Lauren and Dolce & Gabbana, and has been featured on the pages of Vogue, Cosmopolitan, Nylon and W.
She's also set to appear alongside Nia Long in 47 Meters Down: Uncaged, a watery thriller set to premiere this summer.
"47 Meters Down is my first feature film and I get to play a very exciting role but it was a really difficult movie for me because I would say 70 percent of it is underwater and I don't know how to swim. A lot of black people don't know how to swim and I am definitely one of them," Foxx laughs. "I had to learn along the way and I kind of finagled my way into it. The director asked me if I was a strong swimmer and I just said yes, so it was a really tough shoot for me—very physically demanding—but I'm super proud of it because I put so much work into it."
Foxx also puts in a lot of work as a mental health advocate, something which has touched her own life.
"I partnered with NAMI about two years ago [and have] been working with them as an ambassador, because I've suffered from anxiety since I was 14 years old," Foxx shares. "Right now I think mental health is getting a lot of awareness and a lot of people are talking about it, but when I was diagnosed with anxiety 10 years ago, it was more taboo and I felt really alone.
"I felt that as I came into the spotlight more, it was my duty to break down these barriers of what mental illness looks like, and it's some of the most important work that I do," she adds.
Foxx said she manages her anxiety with meditation twice a day but she is clear that everyone has their own path to healing.
"Everyone is different. I can say that meditation works for me but other people need medication or therapy or all the above. There are so many tools available for people and you kind of have to do trial and error, and figure out what works for your body and for you. For me, it's just meditating and learning breathing techniques but there's so many you can try."