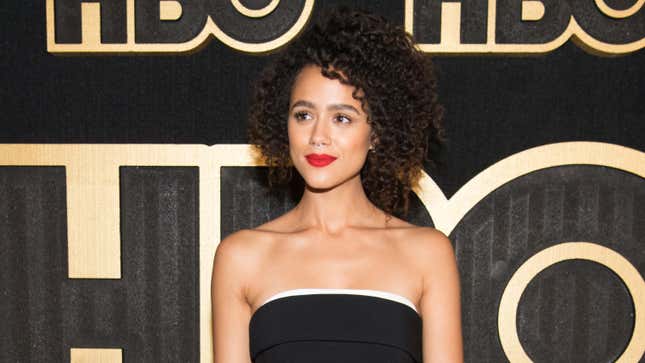 She's already won hearts as the endearing Missandei on Game of Thrones, but actress Nathalie Emmanuel may have won herself a few more since last Sunday's episode, all due to a simple tweet.
As Shadow & Act reported on Thursday, Emmanuel recently became the latest light-skinned actress to turn down a role for a darker-skinned character—even if only in a hypothetical sense.
It all started when NFL player-turned-filmmaker Matthew A. Cherry (BlacKkKlansman, Whiskey Cavalier) retweeted an Instagram fancasting of a (as of now nonexistent, but we can dream) live-action remake of The Princess and the Frog. In a genius stroke, user @glamsamxo envisioned How to Get Away with Murder's Rome Flynn as Prince Naveen.
"This is smart," Cherry captioned his retweet. "Now who plays Tiana?"
After another Twitter user suggested Emmanuel for the fictional role of Princess Tiana, tagging her in the process—the actress tweeted her own take.
"Nah, that part has to go to an even more melanated sister," she responded, punctuating it with a heart emoji.
In disavowing a role intended for a darker-complected actress, Emmanuel joined fellow colorblind casting-averse actors like Amandla Stenberg in affirming that simply being of color isn't the sole criteria for every black role. Stenberg (who now uses they/them pronouns) famously backed out of the casting process for Black Panther's beloved Shuri because they felt it inappropriate as a light-complected, biracial actor.
"These are all dark skin actors playing Africans and I feel like it would have been just off to see me as a biracial American with a Nigerian accent just pretending that I'm the same color as everyone else in the movie," they told the audience at the 2018 TIFF Next Wave Festival. "That was really challenging, to make that decision, but I have no regrets. I recognize 100 percent that there are spaces that I should not take up and when I do take up a space it's because I've thought really, really critically about it and I've consulted people I really trust and it feels right."
Stenberg's stance was seemingly in stark contrast to Alexandra Shipp's, whose casting as Storm in Marvel's latest iterations of the X-Men franchise has sparked repeated controversy (much of which has been perpetuated by Shipp herself). And of course, who could forget Zoe Saldana's now-infamous portrayal of outspoken musician and activist Nina Simone?
And though fictional, even Princess Tiana has been the topic of some recent debates about colorism in Hollywood, as her rendering for 2018's Ralph Breaks the Internet led many to feel she'd been whitewashed and pressured Disney/Pixar to rework her into a more accurate representation of her initial form.
But if Emmanuel has anything to say about it, any live-action version of Tiana will be performed by an appropriately brown-skinned actress, and preferably one who can also sang—another requisite for the role. (We personally think KiKi Layne would make a glorious Tiana—can she sing?)
Regardless, in the competitive and often cutthroat world of entertainment, it's always nice to see black talents making space for the success of others. As Cherry aptly said, we stan a self-aware queen.