Racial Subjects Too Limiting for Journalists of Color?
While many analysts were declaring which Democratic candidates fared best or worst in Tuesday night's Democratic presidential debate, others were wondering whether the black and Latino reporters permitted to ask questions were being stereotyped.
The headlines on Wednesday said it:
"Where were CNN's black and Latino debate moderators all night?" ran over a piece by Janell Ross of the Washington Post.
"Why did CNN have Don Lemon ask about race and Juan Carlos Lopez ask about immigration?" vox.com wrote over an article by Dara Lind.
"Debate's only Latino moment brought to you by a Latino — insulting? " appeared over a column by Rick Sanchez on Fox News Latino.
G/O Media may get a commission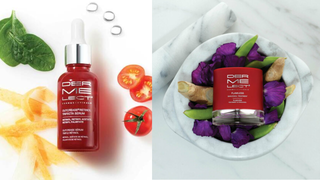 Save $19
Retinol Renewal Kit
Hadas Gold wrote for Politico, "CNN brought in anchor Don Lemon and CNN en Español anchor Juan Carlos Lopez to ask questions during the debate. But their first questions reflected their own ethnic backgrounds, for which Twitter users were quick with criticism.
"Lopez's first question was about immigration. Lemon introduced a question from a Facebook user about 'Black Lives Matter.'
" 'How about letting a minority journalist moderate a debate — rather than gimmicky cuts to black guy & Latino guy for race and immigration ' Washington Post Reporter Wesley Lowery tweeted.
'Checking off token quotas @CNN,' News Corp Senior Vice President of Strategy Raju Narisetti wrote on Twitter.
" 'Revolutionary idea for CNN: Let black and Latino reporters ask questions about non-black- and Latino-related issues,' wrote The Atlantic's Jeffrey Goldberg.
" 'If Don Lemon can only ask about black people and Juan Carlos Lopez can only ask about Hispanics, Wolf Blitzer only gets to ask about wolves,' joked New York Times reporter Dave Itzkoff. . . ."
CNN spokeswomen did not respond to a request for comment, but on Sept. 28, CNN announced, "Chief Political Correspondent Dana Bash and CNN en Español Anchor Juan Carlos Lopez will ask additional questions, and Anchor Don Lemon will present questions to the candidates submitted through Facebook during the two-hour primetime debate." Anderson Cooper had already been chosen as debate moderator.
Nowhere did it say that the questions from Facebook were to be limited to race, but as it turned out, Lemon's question about "Black Lives Matter" was the only one touching on race in either the Republican or Democratic debates.
Racial issues should be addressed by all reporters. However, when the Kerner Commission reported in 1968 on the causes of the racial uprisings of the 1960s, most immediately those of the summer of 1967, it specifically recommended hiring black journalists to improve coverage of the black community.
"For if the media are to comprehend and then to project the Negro community, they must have the help of Negroes. If the media are to report with understanding, wisdom and sympathy on the problems of the cities and the problems of the black man — for the two are increasingly intertwined — they must employ, promote and listen to Negro journalists."
The report also said, "newspapers should integrate Negroes and Negro activities, from the news, society and club pages to the comic strips. Television should develop programming which integrates Negroes into all aspects of televised presentations. . . . "
The report led to the first significant influx of black journalists into the mainstream media, and eventually the creation of such institutions as the Maynard Institute for Journalism Education to train even more.
Forty-seven years later, the employment of journalists of color to better represent their communities, insufficient as that employment is, should be celebrated, not denigrated.
While some might protest that they are restricted by covering racial topics, others are told that they are too interested in covering their communities. Meanwhile, few would say that communities of color are covered fairly and accurately. 
Kerner had a recommendation for that dilemma, too: Employ journalists of color in every corner of the news business. And listen to them.
Jenice Armstrong, Philadelphia Daily News: Bernie, black votes matter

Jarvis DeBerry, NOLA.com | the Times-Picayune: About that awkward 'black lives matter' question at the Democratic debate

Charles D. Ellison, The Root: Democratic Debate: Who Won, Who Goes Home and Joe Who?

Hadas Gold, Politico: Journalists rip CNN for Lemon, Lopez questions

Alex Griswold, Mediaite: Jorge Ramos to Wasserman Schultz: Why Do Democratic Candidates 'Lack Diversity'?

Stephen Henderson, Detroit Free Press: Democratic debate: The grown-ups take the stage?

Gromer Jeffers Jr., Dallas Morning News: Debate shows Hillary Clinton has easy road to Democratic presidential nomination

Paige Lavender, Huffington Post: Mike Huckabee Got Pretty Racist While Live-Tweeting The Dem Debate

Cristina Lopez, Media Matters for America: Vox Asks Why CNN's "Nonwhite" Moderators "Were Expected To Ask 'Ethnic' Questions First" During Democratic Debate

Abby Martin with Jill P. Carter, Jared Ball, Kamau K. Franklin, Bhaskar Sunkara and Sarah Jaffe, YouTube.com: The Empire Files — Debate the Debate (video)

Jim Mitchell, Dallas Morning News: Clinton v. Sanders: It is still a two-person race

Gunar Olsen, Fairness & Accuracy In Reporting: Pundits Thought Clinton Beat Sanders — but Did Viewers?

Ryan J. Reilly and Julia Craven, Huffington Post: The Future Democratic Presidential Nominee Thinks Black Lives Matter*

Janell Ross, Washington Post: Where were CNN's black and Latino debate moderators all night?

Rick Sanchez, Fox News Latino: Debate's only Latino moment brought to you by a Latino — insulting?

Brian Stelter, CNNMoney.com: Democratic debate hits record 15.3 million viewers

R. Thomas Umstead, Multichannel News: Democratic Debate Big Social Media Hit
A Manifesto for Increasing Diversity in Public Media
"Stephanie Foo of This American Life has written an important manifesto on diversity in public media," Jay Allison, an independent public radio producer and the curator and producer of the "This I Believe" testimonials on NPR, wrote Oct. 8 for transom.org.
"In this system, we think of ourselves as open-minded and progressive. We exist to serve the public, after all. Yet, in a country comprised of so much human variety, our sound can be homogenous. Let's face it: we may WANT to do better, but we're just not fully representing the amazing country we serve. We have good intentions, but when we don't deliver, excuses abound. And, often, we leave it at that.
"Stephanie's manifesto addresses all the excuses and offers simple ways to override them. It should be required reading for everyone involved in building our workforce or programming. It's a roadmap, it's an action plan, it's a manifesto."
Foo began:
"What To Do If Your Workplace Is Too White
"There's a question I've heard a lot lately. Program directors and hosts approach me at radio events more and more often (it's not hard to spot me — I'm often one of the only People of Color [POC] in the room) and ask, 'How do I reach a more diverse audience? And how do I hire more people of color?'
"I'm glad they're asking the question. It's about time that public media came to terms with the fact that it does not serve the public as a whole. More hosts and program directors realize that a market of POC exists — and if they don't cater to it, they'll fail to grow their audience.
"And I'm glad the people in charge are realizing that when it comes to attracting minorities, throwing some hip-hop beatz as a transition between stories is about as effective and transparent as Mitt Romney's spray tan. Finally, finally, it's becoming abundantly clear that the solution to our diversity problem is hiring producers of color, and that diversifying your business is smart from a content perspective. . . .
"In this manifesto I'll outline just some of the ways you can acknowledge your own accountability and take diversifying your staff into your own hands. They're not all easy. But be bold. Step up to the plate. . . ."
Among the subheadings: "Hiring People of Color. Don't just talk the talk. Walk the walk." "Those Who Can, Do. Those Who Want A Team That Can, Teach." "Ivy Isn't Everything." "Retaining People of Color" "Create A Safe Space — Even if it Means Swallowing Your Pride." "Hire Editors of Color." "Telling Stories POC Want To Listen To" and "Not Next Quarter. Not Next Month. Now."
Edward T. Bowser, al.com: AL.com will make the case for diversity at UNITY Regional Summit Oct. 16

Berkley Hudson, Columbia (Mo.) Daily Tribune: Diversity, inclusion training is right call for campus

Journal of Blacks in Higher Education: University of Iowa Offers New Certificate Program in Leadership for Diversity (Oct. 6)

Max Marin, Al Día, Philadelphia: Want to support diversity in journalism? Donate to Jerry Mondesire scholarship fund

Salvador Rodriguez, International Business Times: Tinder, But For Diversity: Can Code Help Silicon Valley Find And Retain Minority Engineers?
Writer Says Viewers Expect Too Much From BET
"When I was younger, I wanted my older cousin to be like Denise Huxtable. However I wanted to talk to her about boys and clothes and go to the mall with her, she was a bit more like Daria Morgendorffer, the snarky, sarcastic loner on MTV's animated '90s series Daria and Beavis and Butt-head," Tracy L. Scott wrote Wednesday for The Root.
"When I realized that truth, it lifted my disappointment and I learned to accept my relative for who she is.
"It seems, however, that some faithful BET fans have had a hard time accepting that the network isn't going to meet all their expectations — even though its name, Black Entertainment Television, might suggest otherwise.
"The 35-year-old cable channel, presumably for black people, recently came under fire once again for failing to cover Saturday's rally in Washington, D.C., 'Justice or Else,' which took place 20 years after the Million Man March. Black Twitter blasted BET for airing reruns of Martin when such a historic event was taking place just blocks away from the network's D.C. headquarters."
[BET declared before Saturday's "Justice or Else" rally, "BET.com's news division and our millennial focused BET digital vertical #whatsatstake will have a team of multimedia journalists covering the event."]
"For some strange reason, some TV viewers seemingly expect the network responsible for bringing back Punk'd and comedies like Real Husbands of Hollywood to mimic CNN — the Cable News Network — when it comes to matters important to the black community. BET currently has no regular news programming, so that expectation is a bit unrealistic. Surprised? Why? The 'entertainment' in its name is a strong indication that news isn't a priority. . . ."
Scott concluded, "Maybe the network should consider changing its name to clarify that it is not representing the majority of black people or their interests. In the meantime, it probably makes more sense for fans to know that for themselves and to lower their expectations. . . ."
Scott's piece did not include BET's history of news programming, including shows hosted by Ed Gordon and Tavis Smiley, and its attempts after the 2008 election of President Obama to trade its reputation for booty-shaking videos for something more substantial.
"This is the Time," BET's promotional material said in 2009. "After a remarkable year of programming and coverage that empowered over 80 million homes to witness the nomination and election of President Barack Obama in 2008, BET Networks embraces the new day with more pride and resolve than ever before."
CEO Debra L. Lee told Journal-isms then that the change in Washington helped prompt a belief that it was "time to sit back with my management team and say, 'where are we going. What do I want my legacy to be? After 30 years, what do we want to stand for?' "
Editorial, Washington Informer: Why Did White America Ignore the March?

Clarence Page, Chicago Tribune: Seeing Farrakhan, thinking of Trump
Muscogee Council Votes Autonomy for Tribe's Media
"A third Oklahoma tribe has adopted legislation to give its media outlets greater autonomy," Lenzy Krehbiel-Burton reported Tuesday for the Tulsa World.
"By a 14-0 margin, the Muscogee (Creek) Nation National Council approved an Independent Press Act at its October meeting, moving the tribe's media department, Mvskoke Media, out of the executive branch and placing it on par with the tax commission and other independent statutory agencies.
"Signed into law Monday by Principal Chief George Tiger, the law explicitly prohibits the tribal government from influencing the Mvskoke Media staff in their professional capacities. The department includes the tribe's newspaper, a weekly television show, a weekly radio show, and a graphic design and printing division. . . ."
She added, "To date, the Cherokee and Osage nations are the only other Oklahoma tribes with an Independent Press Act."
Indian Country Today Media Network: Alaska Is First State to Rename Columbus Day to Indigenous Peoples' Day

Mark Trahant, indianz.com: What's going on with Congress?: A three-way debate with huge implications for Indian Country
Hateful Tirades Aimed at Byron Pitts and His Producer
"While recently doing a story about known White Supremacist Craig Cobb, ABC producer Jasmine Brown and anchor Byron Pitts were subject to hateful tirades and now the story has been brought to life through a produced video by timesXtwo," J.D. Durkin reported Wednesday for Mediaite.
"The source of the rhetoric is hardly a surprise once you dig deeper into the man himself; after all, the video shows Cobb saying, 'I'm one of the most famous racists in the world you son of a bitch.' Brown, who is African American, notes that Cobb seemed 'incredibly gracious' when they first spoke on the phone, presumably before he knew her race.
" 'He is very much in love with Donald Trump,' adds Brown. She continues to describe a line of Cobb's saying, 'I would almost rather talk to a Jew, because then at least they would be intelligent.' The video reveals the emotional toll on Brown, a twenty-something Millennial, experiencing this level of overt racism for the first time.
"But when anchor Byron Pitts gets Cobb on the phone, the heated rhetoric really takes a turn. . . ."
Whitlock Headed Back to Fox Sports After ESPN Fail
"Sports personality Jason Whitlock appeared on Colin Cowherd's 'The Herd' on FOX Sports Wednesday to give his side of what led to the demise of 'The Undefeated,' an ESPN outlet, once billed as the black Grantland, he headed, but never got off the ground," Nick Birdsong reported Wednesday for sportingnews.com.
"Whitlock, who began the interview by voluntarily telling a story about him getting high with a 26-year-old woman he lived with when he first moved to Los Angeles, told Cowherd he is headed back to Fox Sports, where he'll host a television show. His new online presence is already established through a new venture called 'J.School,' where he'll have the creative control to voice his unique takes on sports, race, politics and popular culture, moving forward.
Birdsong also wrote, "Whitlock's character and professionalism came into question when Deadspin published an article outlining his interactions with former coworkers during the year he tried, and failed to get 'The Undefeated' off the ground.
" 'We have grown comfortable not having our perspective challenged. It's unhealthy. We solely rely on MSNBC, FOX News, DailyKos, RedState, Rush Limbaugh, Bill Maher, and their imitators to tell us what to think,' wrote Whitlock on his new site.
"You can read in its entirety here."
Sports Media Quiet on Player's Challenge to Police
"On Friday, Atlanta Hawks shooting guard Thabo Sefolosha was found not guilty of disorderly conduct, resisting arrest and misdemeanor obstruction of a government administration," Terrance F Ross reported Monday for Britain's Guardian newspaper.
"His acquittal on all charges in his case against the New York City Police Department was vindication for the Swiss-born star, who had his leg broken in an altercation with police earlier this year, causing him to miss the last four games of the regular season and the entirety of the playoffs.
"But Sefolosha's case stretches far beyond his own personal encounter. He took a massive risk going to trial in lieu of a plea deal, a largely unprecedented decision. But in the broadest sense the way the case was largely ignored by sports media revealed far more about our desire to sensationalize trivial issues while avoiding the hardest ones. . . ."
Ross also wrote, "TMZ captured video of the altercation.
"The prosecution alleged that the 6ft 7in Sefolosha was disrespectful to law enforcement and that he gestured in a threatening manner towards the police. Likely code for he was a tall black man in a hoodie, as Sefolosha's lawyer Alex Spiro declared during the trial.
"The glaring truth at the center of this case however, revolves around the concept of risk. The gamble that Sefolosha took on by leading the frontline of his own defense, and the risk the media didn't take by giving the case the coverage it deserved. . . ."
Columnist's "Asian Advantage" Piece Called Off-Base
"If you're still buzzing about Nicholas Kristof's 'The Asian Advantage' in Sunday's New York Times, I don't blame you," Emil Guillermo wrote Monday for the Asian American Legal Defense and Education Fund.
"Talk about a major infusion of positive stereotype re-enforcement!
"We didn't need it. And, of course, it's wrong. It's Kristof, a Tiger Dad by marriage, letting us know his stripes — about how he feels about us Asian Americans.. . ."
Guillermo also wrote, "Here's what Asian Americans really know to this day: Not all Asian Americans are successful, and even successful Asian Americans know discrimination isn't over. Ask the Harvard grad who can't a job in his field. The bamboo curtain bends but doesn't break. . . ."
Khin Mai Aung and Russell Chun, Salon: Nicholas Kristof thinks all Asian Americans are alike: The New York Times gets the "Asian Advantage" all wrong

Christopher Kang, medium.com: "The Asian Advantage" is a myth. Plain and simple.

Tanzina Vega, CNNMoney.com: The Asian disadvantage (that's being ignored)

Teresa Wiltz, pewtrusts.org: Beyond the 'Model Minority' Image: Asians in the US (Oct. 8)

Janelle S. Wong, NBC News Asian America: Editorial: The Source of the 'Asian Advantage' Isn't Asian Values
Taliban Threatens "Elimination" of Afghan TV Stations
"A Taliban website on Monday threatened journalists associated with two privately owned Afghan TV outlets, Tolo TV and 1TV, with 'elimination,' according to news reports," the Committee to Protect Journalists said on Tuesday.
"According to the statement by the military commission of the Islamic Emirate of Afghanistan, which the Taliban calls itself, the group was designating Tolo TV and 1TV as 'military objectives due to their disrespectful and hostile actions toward the Afghan Mujahid nation.'
"Journalists affiliated with the outlets would be considered enemy personnel and all of the outlets' centers, offices, and dispatched teams will be considered military objectives, 'which will be directly eliminated,' the statement said.
"The statement said Tolo TV and 1TV aired false news and propaganda aimed to 'ridicule religious and cultural norms' and 'inject the minds of youth with … irreligiousness, immorality, violence.' The commission also posted on Facebook a video statement that showed the pictures of many of the broadcasters' staff members, according to Tolo TV. The Facebook post has since been removed. . . ."
"New York Daily News columnist Juan González is getting another lifetime achievement award,"Veronica Villafañe reported Tuesday for her Media Moves column. "The Deadline Club, which is the New York chapter of the Society of Professional Journalists, today announced he will be inducted into the 2015 New York Journalism Hall of Fame. He is the first Latino journalist to be honored since The Deadline Club established the Hall of Fame in 1975. A former President and one of the founders of the National Association of Hispanic Journalists, Juan is among six honorees that include illustrious journalistsLeslie Stahl, Charlie Rose, Paul E. Steiger, Richard B. Stolley and Max Frankel. . . ." Gonzelez was said to have been a sure-fire Pulitzer Prize winner in 2007, but for pressure from city officials.
"According to the Association of Magazine Media, 91% of people read magazines, an all-time high," Heather Brown reported Tuesday for WCCO-TV in Minneapolis. "Newsstand numbers have gone down and some of the really large magazines have lowered subscription levels, circulation levels, because they couldn't sustain the expenses as ad budgets got smaller," Rebecca Sterner, a magazine consultant, said in the story. "For example, the circulation for National Geographic was close to 8 million in 2000. By 2009, it has fallen to 4.5 million, according to the Alliance for Audited Media. Reader's Digest has dropped from 12.5 million in 2000 to 7.5 million in 2009. But, there are more magazine readers because there are more magazines. . . ."

"Many of the 900 investigative reporters from 121 countries who met Oct. 7-11 at the ninth Global Journalism Investigative Conference are also at risk of being punished for telling inconvenient truths, a danger not just to them but to every one of us who values liberty," David Cay Johnston wrote Tuesday for Al Jazeera. Johnston also wrote, "The freedom of the press we take for granted in the United States, Canada, Western Europe and some other countries is but a dream for journalists in much of the world — and a nightmare for the regimes which imprison, steal and suppress facts with as much ruthlessness as they find convenient. They know that their power depends on controlling the truth. If we want to make a better world, we need to protect robust, aggressive and serious journalism."
"Curtis McCloud and his wife Sydney Cameron have been hired by Johnson City, Tenn., CBS affiliate WJHL," Kevin Eck reported Monday for TVSpy. Both will be anchors.
"Taking advantage of the unique learning opportunity that the 2016 election cycle offers, Washington Week with Gwen Ifill, seen Fridays at 8:00 pm on PBS stations nationwide, today announced a new fellowship initiative to train emerging journalists, especially those from diverse backgrounds," WETA-TV in Washington announced on Tuesday. "Funded by Newman's Own Foundation, this six-month, paid, entry-level program will select four promising journalists over the next two [years] who are pursuing a career in TV news production, digital media, or reporting and provide them with an immersive experience. . . ."
"DeMarco Morgan has been named a correspondent for CBS News, based in New York City," Chris Ariens reported Tuesday for TVNewser. "Morgan, who joins later this year, comes from WXIA, the NBC affiliate in Atlanta, where he has been a reporter and main co-anchor of the station's weekday newscasts since 2012. Before Atlanta, Morgan was a weekend anchor for WNBC while also filling in as a cut-in anchor on MSNBC. He's also worked at WTVJ in Miami, WISN in Milwaukee, and WJTV TV in Jackson, Miss. . . ."

The International Federation of Journalists said Wednesday that it joined its affiliate, the Yemen Journalists' Syndicate, "in calling for the immediate release of three Yemeni media workers kidnapped by al-Qaeda last 12 October. According to the YJS's reports, correspondent of Al Azal TV Amir Bou Owaydan, correspondent of Yemen Al Yamw Mohamed Al Makri, and cameraman Akram al-Yamani were kidnapped in Mukalla city, Hadramout region, last Monday 12 October, while covering a protest against the presence of al-Qaeda from the city. . . ."