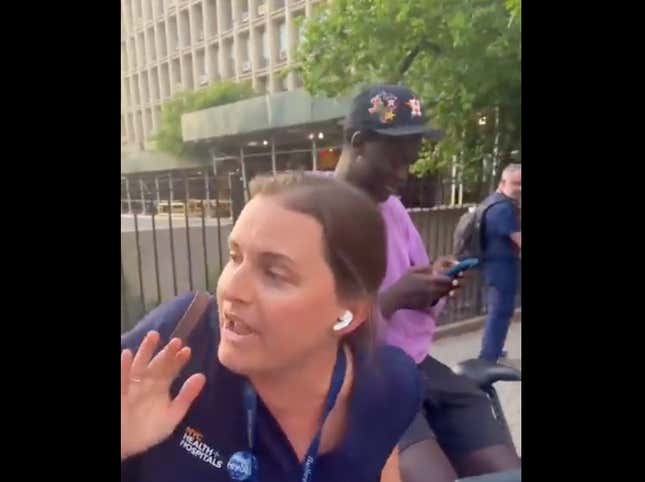 A white woman, now known as "Citi Bike Karen," alleges a video of her bursting into fake tears and crying for help over a Citi Bike she and a Black teen claimed to have paid for was misinterpreted. According to The Independent, her attorney insists her actions were painted into a false narrative.

Fighting "Lie-abetes": How To Spot And Combat Disinformation and Conspiracies In Politics | The 411: Part 2
Attorney Justin Marino, representing the Karen identified as Bellevue Hospital physician's assistant Sarah Comrie, said the viral video of his client's meltdown was not an instance of racism. Marino said Comrie was six months pregnant, as she exclaimed in the video, and that the Citi Bike belonged to her initially. The receipts from the transaction show that Comrie paid for it on the app but as she went to check out the bike, the teen claimed it was his and docked it a minute later, the report says. Comrie wasn't charged for the bike, but following this moment was when the viral video began.
Marino insists his client was wrongly accused of stealing the bike as well as being painted as a racist online. I mean... everybody and they mama dragged this woman on social media. Civil rights attorney Ben Crump even tweeted that she "grossly tried to weaponize her tears" to paint the teen as a threat.

Read more from The Independent:
"This matter is shocking in that you literally have someone who, with her colleagues, saves lives on a daily basis, including throughout the pandemic, and within a matter of roughly a minute of a video, she is suddenly a racist villain," he said. "That's shameful."

Mr Marino said Ms Comrie has no "ill will" towards the young men in the video. Her focus, he said, is not a "vendetta" against them, but rather to make sure she keeps her job and is able to challenge those publicly accusing her of being a racist.
As far as I'm concerned, at the root of every Karen incident is a simple misunderstanding that could have been handled without the theatrics.