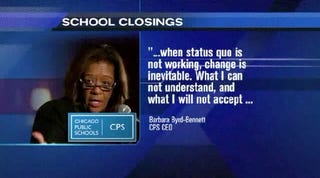 The Huffington Post is reporting that in a school board meeting on Wednesday, Chicago Public Schools CEO Barbara Byrd-Bennett defended the district's plan to close 54 neighborhood elementary schools, saying that she is insulted by claims her actions are "racist."
"That is an affront to me as a woman of color and it is an affront to every parent in our community who demands a better education for their children," Byrd-Bennett said at the Wednesday meeting, according to NBC Chicago. The CEO insisted the plan was made after listening to more than 20,000 individual testimonies from community hearings.

"What I cannot understand and what I will not accept is that the proposals I am offering are racist," Byrd-Bennett said, according to the Chicago Sun-Times. Her response prompted shouts of "They are!" from the "often-raucous crowd."

"To refuse to challenge the status quo that is failing thousands of African American students, that's what I call racist," Byrd-Bennett added.

Byrd-Bennett was the target of sharp barbs during the meeting, including a Manierre Elementary school parent who charged "you're not standing for us. You're not standing for our children," DNAinfo Chicago reported. Meanwhile, a Talcott parent and Parents 4 Teachers member told Byrd-Bennett she has no faith the district ever intended to change their course in spite of the community discussions.
Read more at the Huffington Post.