Tonight's 89th annual Academy Awards will be very different from last year's broadcast or even the year before. In 2015 and 2016, there were no black actors or actors of color nominated in any acting categories. One of the reasons activist April Reign was so successful in launching her #OscarsSoWhite movement in protest was that this was no anomaly.

For many years, this was just how the Oscars were. Rarely did even a handful of film professionals of color get the recognition they deserved; 2015 and 2016 were no different. But there was one thing—or one person—who was different. That was Cheryl Boone Isaacs, the first African American to serve as president of the Academy of Motion Picture Arts and Sciences.

Tonight, Boone Isaacs, who was elected in 2013 to the first of the four allowable consecutive one-year terms, will preside over her last Oscars broadcast for at least a year, until she becomes eligible to be elected again for 2019. This year's ceremony features a record number of black actors—six—vying for statues, as well as a number of black directors and other film professionals who work behind the scenes.

This past August, when she accepted the Behind the Lens Superstar Award from the BronzeLens Film Festival in Atlanta, her longtime friend and fellow Hollywood insider Reuben Cannon stressed to all who attended the sold-out luncheon how profound her leadership was, even beyond her status as a first.

"Under her watch, the most radical changes in the history of the Motion Picture Academy have occurred," noted Cannon, a pioneering casting director and producer who has been a member of the academy since 1995, when, he estimated, there may have been 10 black people in total among the organization's entire 6,000-or-so membership.

G/O Media may get a commission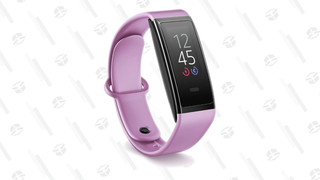 44% Off
Amazon Halo View Fitness Tracker
"When #OscarSoWhite showed up, she didn't run from it," he continued. "She accepted it and said, 'We will make changes' and took action. The membership of the academy has expanded, diversity has expanded," he shared, "far beyond anything I can remember since '95."

Back in June the academy made headlines when a record 683 new members were invited to join. Forty-one percent of those invitees were people of color and included actors such as Loretta Devine, Morris Chestnut, John Boyega, Vivica A. Fox, Idris Elba, Nia Long and Ice Cube, as well as directors Ryan Coogler, Julie Dash, Melvin Van Peebles, Dee Rees and Keenan Ivory Wayans, among many others.

And that move appears to be rewarded with the record number of nominations of black people in front of and behind the camera. In the best supporting actress category, where Viola Davis is highly favored to win, for example, she is joined by former Oscar winner Octavia Spencer and Naomie Harris, a first-time nominee. So three of the five actresses vying for the Oscar are black, and all three nominated for films that delve into the black experience in different ways: Fences, Hidden Figures and Moonlight.

In addition, Moonlight director Barry Jenkins is nominated for Best Director, while the film's co-editor, Joi McMillon, is the first black woman ever nominated for film editing. Acclaimed cinematographer Bradford Young, who has received multiple Sundance honors for his stellar work on Pariah and Mother of George, finally earned his first Oscar nomination for Arrival. August Wilson even received a posthumous nomination for Best Adapted Screenplay for the big-screen version of his legendary Tony-winning play Fences. Even better, Jenkins and his one-time assistant Tarell Alvin McCraney—now a theater force in his own right—join him for writing Moonlight.

And still better yet, Fences, Hidden Figures and Moonlight are all Best Picture nominees, making it the first time three black films have shared that spotlight. Behind the scenes, there are a record three black producers vying for the Best Picture Oscar: Kimberly Steward for Manchester by the Sea, Pharrell Williams for Hidden Figures and Denzel Washington for Fences, which he also directed.

"Things have changed and we are happy that they have," Boone Isaacs told the BronzeLens crowd in Atlanta. "We've still got much more to do to get that place where inclusion is an action, not just a word."

Darnell Hunt, who heads the Ralph J. Bunche Center for African American Studies at UCLA, which releases an annual Hollywood diversity report, stresses how critical it is that Hollywood produce more films in which black filmmakers can shine in front of and behind the camera. Still, he praises Boone Isaacs while also challenging her successor.

"The academy is now talking about the issues in major ways as opposed to apologizing for them, which is what they had done prior to that. They actually made some changes in terms of the voting rules, and they've been bringing in much more diverse new members every year, and a lot of that was under her leadership," he noted to The Root. 

"There's no question she's made an impact," he added. "The question is, will [the academy] continue to move in this direction under new leadership, and will they continue at the same pace?"