is an intern at The Root and senior journalism major at Howard University.
Amelia Boynton
After her husband died in 1963, Boynton's home became the planning and meeting center for the voting rights demonstrations in Selma. She attended the signing of the Voting Rights Act at the White House. (In this 2007 picture, she's over 90. At the time of the Selma march, she was in her mid-50s.)
Alfre Woodard as Amelia Boynton
Woodard is a woman of the South and could bring enough life and fervor to this unsung heroine of the civil rights movement. Perhaps Boynton won't be disappointed in this portrayal. (She sued Walt Disney Productions for defamation, claiming they portrayed her as a black Mammy in the Jurnee Smollett vehicle, Selma, Lord, Selma.)
Diane Nash
G/O Media may get a commission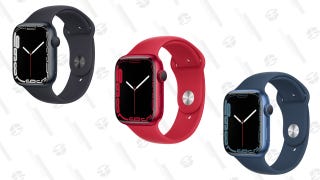 Up To $45 Off
Apple Watch Series 7
Diane Nash was chairman of the 1960s Nashville Student Movement and led sit-ins in Nashville, Tenn. which lead to the desegregation of that city's lunch counters. She married James Bevel, and they moved to Alabama to start "The Alabama Project." In 1965, she and Bevel received the Southern Christian Leadership Conference's (SCLC) Rosa Parks Award.
Jurnee Smollett as Diane Nash
Smollett showed fervor and poise as Samantha Booke in The Great Debaters. And fittingly, as a child actor she starred in the 1999 television movie about the voting rights marches, Selma, Lord, Selma. Of course, one of her most memorable roles is as Eve Batiste, in Kasi Lemmons' 1997 Eve's Bayou. She'd make for a very fiery Diane Nash.
James Bevel
James Bevel, once referred to as the "father of voting rights," helped to plan the 1965 Selma to Montgomery marches. "The Alabama Project," as it was called before SNCC joined the movement, was the result of several events in 1960s Alabama, such as the killing of four little girls in a Birmingham church. With SNCC's involvement, it became known as the Selma voting rights movement.
Jeffrey Wright as James Bevel
Jeffrey Wright played the quintessential role of King in Boycott. He became Muddy Waters in 2008's Cadillac Records. He's our hands-down choice for James Bevel. Well, that is, if he doesn't reprise his role as King.
Martin Luther King Jr.
Martin Luther King Jr., James Bevel and the SCLC planned for the first voting rights march from Selma to Montgomery for March 7, 1965. King, who decided not to attend that march, later organized a second march on March 9 to the Edmund Pettus Bridge in Selma.
Who Could Play King?
Well, we'll let you decide. Check out our gallery of potential MLK actors.
Coretta Scott King
Despite her husband's desire for her to stay home and raise their four children, Mrs. King was often front and center, hand in hand with him, in the fight for civil rights. After Dr. King's assassination in 1968, she took up the mantle as an advocate for civil rights and social justice in her own right.
Paula Patton as Coretta Scott King
You most likely know her as Ms. Rain in Lee Daniels' Precious. (Or maybe as the wife of R&B singer Robin Thicke.) Obviously, Patton and Lee have a successful working relationship. Here's another opportunity for the burgeoning actress.
James Orange
James Orange (on the right) was arrested for enlisting young people to work in voter registration drives. He was held in Perry County, Ala., and civil rights activists, who feared that Orange would be lynched, organized a march in support of his release. During that march, a clash with Alabama state troopers led to fatality that would help spark the Selma to Montgomery marches.
Quinton Aaron as James Orange
As the lead in The Blind Side, Aaron played Michael Oher, a homeless young teenager turned first-round draft pick to the NFL. Andrew Young called Orange a "gentle giant" in a 1993 article in the Atlanta Journal-Constitution. A perfect fit for Aaron.
Jimmie Lee Jackson
Jimmie Lee Jackson, a 26-year-old deacon in Marion, Alab., was shot in the stomach by an Alabama state trooper in 1965 while protesting against James Orange's incarceration. His death inspired the Selma marches of 1965.
Tristan Wilds as Jimmie Lee Jackson
Wilds has proven his acting versatility even at the young age of 20. He played a middle school teenager turned assassin accomplice in HBO's The Wire, a young teen in the 1960s South in The Secret Life of Bees and now stars as Dixon Wilson in the remake of Beverly Hills 90210. He's a bit young for the role, by several years, but we believe has the chops to rise to the occasion.
Rev. C.T. Vivian
C.T. Vivian was a freedom rider and was on the first freedom bus to Jackson, Miss., with Martin Luther King Jr., James Bevel and Diane Nash. "We're willing to be beaten for democracy," he said in the documentary "Eyes on the Prize." "You beat people bloody in order that they will not have the privilege to vote."
Laurence Fishburne as Rev. C.T. Vivian
It's probably a modest part for such an established actor, but Fishburne's tour-de-force performance on Broadway as Supreme Court Justice Thurgood Marshall shows that playing a civil rights hero is well within his grasp.
John Lewis
Twenty-five-year-old SNCC chairman John Lewis, and Hosea Williams of the SCLC led 600 people to the Edmund Pettus Bridge in Selma on Sunday, March 7, 1965. Alabama troopers beat Lewis until they fractured his skull. This event, thereafter known as "Bloody Sunday," led him to national prominence as a leader in the civil rights movement. Now he's a congressman from Georgia who was recently subject to racist taunts as he walked by health care reform protesters at the Capitol.
Nate Parker as John Lewis
Parker is somewhat of a professional civil rights actor. He starred in The Great Debaters as one of three students on the Wiley College debate team; in Pride as a member of an all-black swim team; in The Secret Life of Bees as a young member of the NAACP. He most recently played Ben Chavis in the film Blood Done Signed My Name. He'd be perfect for the young SNCC leader.
Hosea Williams
Hosea Williams (on the right), a member of the SCLC, was beaten unconscious during "Bloody Sunday." He went on to a life in politics before his death in 2000.
Dennis Haysbert as Hosea Williams
He has already played the president of the United States in the hit television series 24, and got his big break in 1992 playing opposite Michelle Pfeiffer as a racially oppressed fugitive in Love Field. Could a heroic civil rights activist be his next role?
George Wallace
George Wallace was Alabama's pro-segregation governor during the Selma marches, and he ordered that the marches be stopped as threats to public safety.  That command unleashed about 200 police officers on the protesters. In 1972, a would-be assassin's bullet left Wallace wheelchair-bound. Late in his political career he claimed to have realized he was wrong all along about race relations.
Robert De Niro as George Wallace
In the real world, his home life is integrated, but the Oscar winner undeniably has the talent and range to play the staunch segregationist, George Wallace. Rumors started in January that De Niro would play Wallace. But the only confirmed star of Selma is Hugh Jackman, Lee told USA Today after the Oscars.
Stokely Carmichael
After white minister Rev. James Reeb was killed following the second Selma march, the media and many political leaders responded with lots of concern. Stokely Carmichael, who became SNCC chairman in 1966, pointed out how Jimmie Lee Jackson's death, by comparison, has been overlooked.  "What you want is the nation to be upset when anybody is killed, said Carmichael. After he left SNCC in 1967, he stopped espousing non-violence and linked up with the militant Black Panther Party. He later changed his name to Kwame Ture.
Chiwetel Ejiofor as Stokely Carmichael
He's played the consummate sidekick in Inside Man and American Gangster-always leaving a lasting impression on his audience. He's also played former activists in Red Dust, as a fictional South African lawmaker, and in Endgame, as former South African President Thabo Mbeki. Why not let him put some of his star power behind the headline-making future militant, Kwame Ture?
Ralph Abernathy
Ralph Abernathy was King's right-hand man throughout the late-'50s and '60s. He helped lead the third Selma march with King, John Lewis and Ralph Bunche.
Clifton Powell as Ralph Abernathy
He's a bit older than Ralph Abernathy was at the time, but Powell has such a dynamic résumé—from playing Martin Luther King Jr. in Selma, Lord, Selma to portraying Pinky in the Friday sequels. We think he could handle the role.
Lyndon B. Johnson
President Lyndon B. Johnson reached out to Alabama Gov. George Wallace after watching the television coverage of "Bloody Sunday." "What happened in Selma is part of a far larger movement which reaches into every section and state of America," he later told the nation. "It is the effort of American Negros to secure for themselves the full blessings of American life. Their cause must be our cause, too … we shall overcome." He proposed a bill that would become known as the Voting Rights Act when he signed it into law.
Fred Thompson as Lyndon B. Johnson
The former presidential candidate was once an actor. You may have caught him in Law & Order Special Victims Unit or Law & Order: Criminal Intent. It's been rumored that Hugh Jackman was up for the part. But who better to play a president than someone who once campaigned for the job?