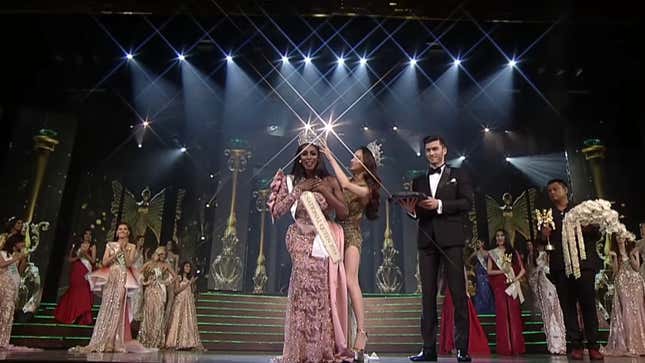 This year has been a groundbreaking one for black women in the world of beauty pageants—a forum that sparks understandable and ongoing debate about its enduring relevance and impact on beauty standards. Nevertheless, the pageant world's definition of beauty has been visibly expanding, as evidenced by the crowning of four black women in internationally recognized titles in 2019: Miss America, Miss USA, Miss Teen USA, and, on Sunday, Miss Universe, South Africa's Zozibini Tunzi. (It's also worth noting that two of these winners are darker-skinned, and three were crowned wearing naturally-textured hair.)
Here's How Medicaid Expansion Can Play A Role In Black Maternal Healthcare
But as we celebrated Tunzi's win this week, it was brought to our attention that there was a black pageant queen we'd overlooked. In March, Orlando, Fla.'s Jazell Barbie Royale, representing the United States, made history when she became the first woman of African descent to win Miss International Queen in Thailand. For those unfamiliar with the pageant (as we were, unfortunately, before today), the now 16-year-old event is the largest and most prestigious pageant for transgender women in the world. Like other major pageants, it is nationally televised and grants significant awards, including a six-figure salary and luxury apartment for the duration of the winner's reign. All profits from the televised broadcast are donated to the Royal Charity AIDS Foundation of Thailand.
Covered in 2017 by the CNN series This Is Life With Lisa Ling, the Miss International Queen pageant reportedly exists to "offer an international competition for transgender and transsexual[s] from around the world, to provide an opportunity for transgender/transsexual[s] to be more accepted in today's world, to create transgender rights awareness among international communities and to build friendship and exchange ideas among international lesbian, gay, bisexual and transgender/transsexual communities," as described by the pageant's organizers (h/t Wikipedia). And in a country well known for its sex tourism, it also encourages an alternative to sex work for transgender individuals, as one of the requisites for the competition is no affiliation with prostitution or pornography.
Upon Royale's coronation, she was honored by the mayor of her native Orlando with her own day. And as the titleholder wrote on Instagram in May, her platform includes education about the transmission, prevention, and treatment of sexually transmitted diseases, including HIV.
But most important to us here at The Glow Up, as we celebrate the overwhelming wins of black women within the historically predominantly white world of pageantry, we want to ensure that our trans sisters receive the same well-earned recognition.
With that in mind, we extend our apologies to Jazell Barbie Royale, Miss International Queen 2019, for the oversight, and extend congratulations to all of our pageant winners this year. Thank you for making the magnificence of black women more visible to the world.