If, in 1982, shortly after Alice Walker's landmark novel, The Color Purple, was published, someone had forecast that the book would be turned into a movie, then a Broadway musical, then revived in London and brought to Broadway again, that someone would have been carted away or at least had his or her crystal ball doubted for a long time.
The Color Purple deservedly received glowing reviews upon publication, but it was a complicated work. Reactions dwelled on its considerable literary merit—it won the Pulitzer Prize and the National Book Award in 1983—and there were substantial debates about the less-than-virtuous male characters.
Yet that hypothetical someone's crystal ball was dead on target: Steven Spielberg made the book into a movie in 1985. The film deserved better than it received from the Academy Awards—11 nominations, no awards—but it helped launch the careers of Oprah Winfrey and Whoopi Goldberg. It was made into a musical in 2005 that was nominated for 11 Tony Awards but won only one: LaChanze for best lead actress in a musical.
When the 2005 Broadway production closed in February 2008, it seemed as if the story, so to speak, was over, but it was revived in 2013 at the Menier Chocolate Factory in London by John Doyle, who brought a minimalist approach to the story and its original Broadway incarnation. He cut nearly 30 minutes from the musical, including the entire trip to Africa in Act 2. What was left was a very Celie-centric story, but also a play that is more portable than its predecessor. This "new" The Color Purple proved a big success overseas, and it will premiere at the Bernard B. Jacobs Theatre in New York City on Dec. 10, in what may be the shortest turnaround time between original production and revival in Broadway history.
The new cast includes Jennifer Hudson—who won an Oscar for her film debut in Dreamgirls and a Grammy for her self-titled debut recording—as Shug Avery, the stylish blues singer who becomes Celie's mentor. Cynthia Erivo, a young veteran of the British stage scene, will reprise her role as Celie.
G/O Media may get a commission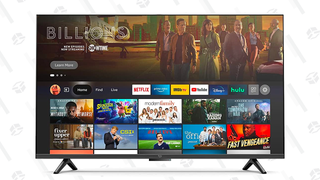 22% off
Amazon Fire TV - 50" Omni Series 4K - Early Access Deal
Danielle Brooks, who stars as Tasha "Tastee" Jefferson in the hit Netflix series Orange Is the New Black, plays the fiercely independent Sofia. Joaquina Kalukango, who has starred in both the Public Theater and Royal Shakespeare Co. versions of Antony and Cleopatra, plays Nettie. Isaiah Johnson, who plays Mister, has performed in both Broadway and off-Broadway productions of Merchant of Venice and Richard III. Kyle Scatliffe, who plays Harpo, was in the recent Broadway revival of Les Misérables and played alongside Erivo in a touring production of The Scottsboro Boys.
On Friday, several cast members gathered in a midtown-Manhattan hotel to discuss their roles in the new production and the experiences that enable them to take the stage.
"Oh, no," said Hudson with a pause when asked if she ever envisioned herself playing the character of Shug Avery. "No, never. I had seen the movie, and I couldn't … ," she continued and paused again. Gradually, though, she began to see herself in the role, thanks to her friends and colleagues who kept pointing out that she and Shug share a degree of glamour. "She's so fashionable and stylish; I guess I've grown into the role." 
Hudson, a native of Chicago, found that her Windy City upbringing was good preparation for playing Shug: "The city and the character are both so musical!" She said that the rigor was challenging but that "it's inspiring in so many ways to work around such talented people every night."
Erivo said that she faced challenges almost daily in reprising her role as Celie. "It's such a profound and cathartic role," she said. "I need time each night to travel to it and some time after the show to recover." She's experiencing not only the contrast between American and British audiences but also the difference between her native London and her current home in New York City. "It's much louder here," she said, "but the energy on the streets is just amazing."
Scatliffe also found significant challenges in approaching his role onstage. "It's such a polarizing role," he said, "but you have to bring yourself to it completely." Scatliffe found similarities between performing in The Color Purple and in The Scottsboro Boys. "There are aspects of the period that require a journey," he said.
All of the major performers spoke enthusiastically of working together, and as they sat on stools 10 feet from one another, talking to strangers and being videotaped and photographed, there was a camaraderie. It was as if the cast had already solidified into an ensemble.
Martin Johnson writes about music for the Wall Street Journal, basketball for Slate and beer for Eater, and he blogs at both the Joy of Cheese and Rotations. Follow him on Twitter.