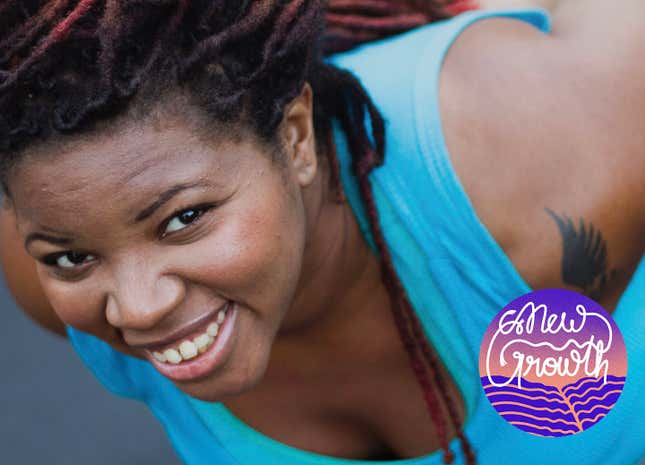 #TransformationTuesday, a popular hashtag that encourages people to share their fitness success stories, has collected more than 11 million tags on social platforms such as Instagram and Twitter. Like many, I've indulged in my share of posts showcasing my weight-loss journey and muscle gains. But though visuals can be inspiring, they can also haunt like the Ghost of Christmas Past.

Several statistics and articles state that up to 95 percent of people who experience rapid weight loss from dieting will experience weight gain. Despite not jumping on the diet-pill wagon or seeking a quick fix, I fell into the statistics of people who gained some of their weight back within three years. For many, gaining the weight back represents failure, and can make one feel bitter and defeated. With this in mind, I wondered: Is it possible to associate the benefits of #TransformationTuesday with nonscale victories? Let's try.
Consistently Incorporate Fitness Into Your Life
Less than a week ago, I came across size-inclusive fitness-clothing company Superfit Hero's Instagram account and saw its hashtag #NewFitSpo, which encourages women to reclaim their bodies and redefine what fitness inspiration looks like for themselves. Hint: It doesn't take going to the gym six days a week to attain this goal. Instead, opt to start small by increasing your activity to three times a week for 20-30 minutes a day.
Take on a New Activity
There's a pair of boxing gloves that has been collecting dust on the weight bench for two years. Maybe you've been dying to try out a yoga class, but worried about committing to monthly fees. Consider jumping on sites like Groupon to become the next Laila Ali or headstand hero (or something like that). If your pockets are still recovering from the holiday season, look into free or pay-by-donation classes within your area.
Mix Healthier Dishes Into Your Diet
Frankly, the word "diet" scares the hell out of me, and I want no part of it. Instead, I love eating filling, flavorful dishes that prevent me from feeling stuffed. Throw some extra spinach into your omelet, or take on a #MeatlessMonday challenge that motivates you to include more vegetables and fruits in your diet. Studies show that cooking at home not only helps your diet but also may help in keeping more money in your pocket. You don't have to be a culinary guru or spend an excessive amount of time on intricate dishes. Meal prepping is helpful for everyone, from the single person juggling two jobs to a hectic family of six who crave 30 minutes of downtime.
Change Up Your Makeup Routine
I'd like to say I'm the biggest tomboy on the planet, but I have a newfound love for blending together MAC's NC-45 and NC-50 foundations to achieve my desired shade. Years ago, I found myself fascinated with watching professional makeup artists work their magic on human canvases while assisting on my husband's photography set. My curiosity slowly transitioned from picking their brains about contouring to following YouTube tutorials for a natural look. In a matter of a few months, I became pretty decent at finding lip colors and bronzers that compliment my skin. You can, too: Apply that #TransformationTuesday hashtag by unleashing your inner Destiny Godley.
Shock Yourself and Wear a Bold Outfit
Gabrielle Union's clothing collection with New York & Co. has been reviving my womp-womp wardrobe from the dead. Her fashions have been making a chunky girl feel fat-girl-fresh for weeks! I sported one of her jumpsuits for a holiday party, and you couldn't tell me nothing; almost made me forget that I generally live in fitness gear. You can switch up your style, too: Pizzazz your life with something vibrant and different from your everyday wear. At the very least, put on some cute accessories and slay.
What does all of this have to do with #TransformationTuesday? Every single thing. It's easy to admire all photos from strangers, wishing for the results they have. But instead of focusing on the number, let's work on the inside and allow that to shine outward.
By changing your mindset, you can passively accomplish goals without the burden of the scale or a hashtag. Your mind, body and soul are all connected. And who knows? Maybe you'll nail that #TransformationTuesday visual that you've been longing for after all.