(The Root) — The fall season of new television shows is upon us. Though the major networks and cable channels could always do a better job offering programs with racially diverse casts, there are at least a handful of shows that have compelling black characters that are worth our attention. The Root will be taking a look back at the week's reality shows, sitcoms and big-budget dramas to fill you in on what you might have missed. Here's our first installment.
Iyanla, Fix My Life (Saturday, 10 p.m. ET, OWN)
"I don't want to stress; I don't want chaos." —Evelyn Lozada
In Iyanla Vanzant's new show premiere, the motivational speaker and self-help guru had an honest sit-down with Basketball Wives reality-show star Evelyn Lozada. The reality star, known for her violent outbursts and volatile (and short-lived) relationship with NFL star Chad Johnson, seemed to actually dig deep to explore the causes of hot temper and apparent emotional pain.
At one point, Iyanla plays a video of Lozada splashing a drink in another woman's face and fighting with reality show co-star Jennifer Williams. Iyanla challenges her to look within for the answers. She says to Lozada, "Ask yourself, 'Who am I being right now? Who am I?' " And adds: "You've been rewarded for being out of order and a thug among women … You've got to pay for that." Lozada can only nod. Hard truths make for some compelling, if touchy-feely, TV moments. But hey, it's what you expect from Oprah-endorsed Iyanla.
Watch here.
Basketball Wives L.A. (Monday, 8 p.m. ET, VH1) 
"She's like a foot fungus." —Laura
Those who tuned in last season know that most of the BB Wives L.A. cast considered Jackie Christie (wife of ex-NBA player Doug Christie) the group's resident crazy person. So it comes as a minor shock, on this season's second episode, when Malaysia decides that the women are mature enough to quash whatever lingering beef there may be. She invites Jackie as a surprise guest to lunch at Gloria Govan's (on-and-off girlfriend of L.A. Clipper Matt Barnes) house. After all the girls recount their respective grievances, Jackie offers a halfhearted apology and is kicked out. It doesn't seem like she'll ever be part of the clique again, until later, when Laura agrees to have lunch with her. She has "decided to accept" Jackie as the apparent crazy woman she is.
G/O Media may get a commission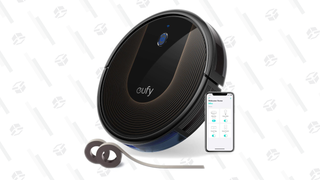 48% Off
Eufy BoostIQ RoboVac
We also see a lot more — her bikini bod is off the charts — of newcomer Brooke at a King magazine shoot. Draya, who was supposed to star in her own photo session, storms out of the venue, ticked off that her request for a closed set wasn't honored. Seems like the foreshadowing of future beef between the two. Oh, the drama.
Watch:
Basketball Wives LA | Episode 2
T.I. and Tiny: The Family Hustle (Monday, 9 p.m. ET, VH1)
"I had a white '86 Cutlass Oldsmobile." —T.I.
"This ain't got that je ne sais quoi." —T.I.'s assistant, Snake
In this week's episode, Tiny and T.I.'s oldest daughter-OMG girl Niq Niq drops not-so-subtle hints about the plush ride she wants for her upcoming sweet-16 birthday. In full Cliff Huxtable mode, T.I. teases her with the idea of hosting her party at Chuck E. Cheese, which the adorable Major agrees to fund with piggy bank money. And the rapper-dad promises to buy her an '86 Oldsmobile Cutlass, just like he had when he was her age.
But of course, in the end T.I. throws Niq the party we knew he would — complete with giraffes, camels and actors with Egyptian-style headdresses (called nemes) who carry her in on a giant pillow and give her a big white luxury car. The King of the South doesn't make a bad stepdad.
Watch:
T.I. & Tiny: The Family Hustle
Like The Root on Facebook. Follow us on Twitter.
Revolution (Monday, 10 p.m. ET, NBC)
Spoiler alert: He got his face blown off as crystal-meth overlord Gus Fring in season 4 of Breaking Bad, so it's great to see Giancarlo Esposito back in bad-guy mode as on NBC's Revolution. The series is about surviving in a post-blackout world without electricity but overpopulated with bands of rogue units preying on small peaceful, agrarian fiefdoms. Esposito's character, Captain Tom Neville, leads one of those militia groups and, in the one of the show's bloody battle scenes, offs the father of the girl who's poised to avenge her dad's death. Esposito's come a long way from Buggin Out in Spike Lee's Do the Right Thing, and he plays calm and cold-hearted with unsettling ease. The other cast members, however, need to improve.
Watch:
Guys With Kids (Wednesday, 8:30 p.m. ET, NBC)
"I'm a stay-at-home dad with four kids! Do you know what I do every day? I stay at home with four kids!" —Gary (Anthony Anderson)
"Sons before buns." —Chris (Jesse Bradford)
In this sneak-preview episode, single dad Chris (Jesse Bradford) snags a date for a Knicks game, but we know there's got to be a catch. And there is one. Chris' overprotective ex is against babysitters. But he still drops the baby off with the guys and heads to the game. He almost gets away with it, until Sheila walks into his house just as Gary (Anthony Anderson) is bathing baby Ernie with the kitchen-sink sprayer.
In the end, all's well with the happy babies, and even Kareem Abdul-Jabbar makes a special appearance. We're hoping to see more of Anderson's overwhelmed stay-at-home-dad character, who brings his kids to stores on leashes and has heart-to-heart talks while playing Dance Dance Revolution.
Watch:
Up next week: We're excited about the upcoming premieres of Last Resort, Scandal and the Love and Hip Hop spin-off Chrissy & Mr. Jones. What on earth did that Marine do that got him in so much trouble? How will Olivia do damage control this time? And why does it seem as if Chrissy doesn't want to get married after all?
Celeste Little is an editorial intern at The Root.
Like The Root on Facebook. Follow us on Twitter.