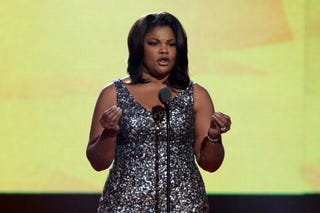 Looking fabulous, Academy Award-winning actress Mo'Nique and Academy of Motion Picture Arts and Sciences President Tom Sherak announced the 2011 Oscar nominations this morning. The nominations were as much about who got left out as who got nominated for an award. Halle Berry, who had been nominated for a Golden Globe for best actress for Frankie and Alice, was left off the best actress ballot. Mila Kunis, who was expected to get a best supporting actress nod for her role in Black Swan, also did not receive a nomination.
Leonardo DiCaprio was snubbed for a best actor nomination, even though his film Inception received a best film nomination. Suprisingly, Ben Affleck's The Town did not receive a best film nomination, although Jeremy Renner was nominated for best supporting actor for his performance in the film. The King's Speech led all nominations with 12, including best picture and acting nominations for Colin Firth and Helena Bonham Carter for best actor and actress and Geoffrey Rush for best supporting actor. Javier Bardem got a nod for Biutiful, and Christian Bale is the one to beat in the best supporting actor category for his seminal performance in The Fighter. True Grit had 10 nominations, including acting nominations for Jeff Bridges and Hailee Steinfeld. The best actress field boils down to a two-woman race between Annette Bening for The Kids Are All Right (she won the Golden Globe for actress in a musical or comedy), and Natalie Portman for Black Swan, who received the Golden Globe for dramatic actress.
The best picture category included nominations for Black Swan, The Fighter, Inception, The Kids Are Alright, 127 Hours, The Social Network, True Grit, Winter's Bone and Toy Story 3. The Feb. 27 Oscar ceremony will be televised live on ABC from Hollywood's Kodak Theatre. Who do you want to win?
Find out all of the nominations at Yahoo.
In other news: Good Guy Gone Bad? Ted 'Golden Voice' Williams Leaves Rehab.