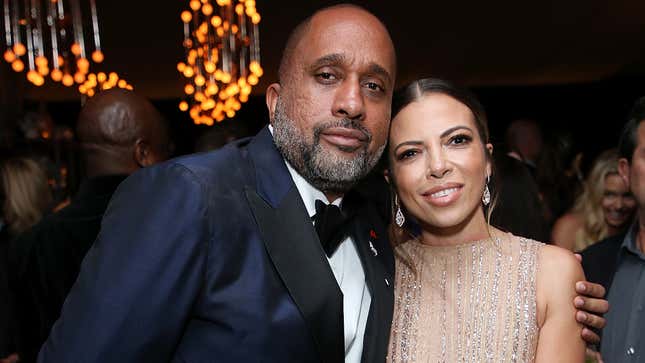 For years, producer Kenya Barris and his wife, Dr. Rania "Rainbow" Barris' relationship helped inspire plotlines on Black-ish, Barris' acclaimed and widely-watched ABC sitcom. Now, the two are parting ways.
American Ninja Warrior: Season 15 Is Our TV Pick of The Week
The Associated Press reports Barris filed for divorce last Friday in Los Angeles Superior Court, on what was his 45th birthday.

The couple, married since 1999, have six kids together, and their relationship served as inspiration for Andre "Dre" Johnson (Anthony Anderson) and Rainbow "Bow" Johnson's (Tracee Ellis Ross) marriage on Black-ish. As one might expect in any long marriage, the Barrises have also weathered their share of trials: Dr. Barris, an anesthesiologist, previously filed for divorce in 2014, but the couple was able to reconcile and she withdrew her request the following year.
Occasionally, specific incidents from their marriage or overarching themes would trickle their way into the show.
From Entertainment Weekly:
Dr. Barris said that direct storylines from the show have come from her life, such as the season 4 episode where Bow experiences postpartum depression after the birth of her fifth child.

Dr. Barris also said that the fourth season plotline showing Bow and Dre's marriage nearly collapsing wasn't reflective of her marriage, but noted that it was an amalgamation of difficult moments from their past. She told Barris as the separation narrative was being discussed, "I think you owe it to your viewers to show this."
Speaking to EW last year, Barris explained the importance of depicting strife in the Johnson's onscreen marriage. Namely, that when he was growing up and watching family sitcoms, he never once saw couples arguing.
"Subsequently, when tough times arose in my own relationship, I wasn't prepared and felt so isolated and alone," the producer said. "Marital issues weren't a part of the narrative that television told me was a 'working relationship.'"

Meanwhile, Barris' second Black-ish, spinoff, Mixed-ish, based on Rainbow Johnson's childhood, is slated to debut this fall.