As The Root celebrates Women's History Month, here's a look back at the black feminists who have charted the course for contemporary women's progress. While authors like Pearl Cleage used a pen as their weapon, others, like Ntozake Shange, used the stage; still others, like the flamboyant Florynce Kennedy, used the law to protect women's rights. Our lineage of black American female feminism began during slavery and continues today, so let's celebrate those who have inspired and shaped our contemporary fight.
Sojourner Truth
An abolitionist and women's rights activist, Truth, who was born a slave, traveled around America as a speaker and is most famous for her "Ain't I a Woman?" speech, delivered at the Ohio Women's Rights Convention in 1851, where she lambasted American society for denigrating black women. She died in 1883. Most recently, Rep. Gwen Moore (D-Wis.) referenced Truth's words during a speech supporting the passage of the Violence Against Women Act.
Harriet Tubman
G/O Media may get a commission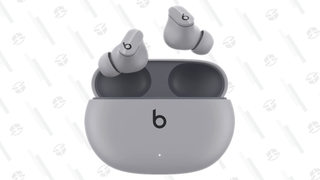 Born into slavery, abolitionist and famed Underground Railroad leader Tubman suffered at the hands of her slave masters and was even struck in the head with a weight that left her with brain damage. After escaping from slavery herself, she returned to rescue others. Later, she even became the first woman to lead an armed expedition during the Civil War for the Union Army, dubbed the Combahee River Raid, which liberated more than 700 slaves in South Carolina. Tubman died in 1913.
Ida B. Wells
Born a slave in Mississippi just months before emancipation, Wells took her freedom with both hands. She was a founding member of the NAACP but left because she felt the group wasn't militant enough. She went on to become an investigative journalist and dedicated herself to multiple causes, including women's suffrage, before her death in 1931, but she chiefly worked to end the widespread lynching of black people in America.
Zora Neale Hurston
Hurston was an author and playwright associated with the Harlem Renaissance and most famous for her 1937 novel, Their Eyes Were Watching God. With her character Janie Crawford — a black woman in Florida during the 1920s, trying to carve a place for herself free of patriarchy, sexism and racism — Hurston created an instant feminist archetype. She died in 1960.
Ruth Ellis
Born in 1899, Ellis was one of the first openly lesbian women in the African-American community. She lived in Detroit with her longtime partner, Ceciline "Babe" Franklin, during the 1940s through the 1960s. Their house served as a safe social haven for the lesbian, gay, bisexual and transgender community when there weren't many other options. Today the Motor City's Ruth Ellis Center continues in her honor as a safe space for the Midwest LGBT community. Ellis died in 2000.
Nina Simone
Simone, also known as the High Priestess of Soul, shunned the term "jazz singer" to write songs like "Mississippi Goddam" and become a key voice in the civil rights movement. Simone, who died in 2003, challenged colorism, racism and the American standard of beauty with her willful talent, very image and tracks like "Four Women." A Nina Simone playlist is still a badge of honor among those fighting for women's rights.
Shirley Chisholm
In 1969, New York City-born Chisholm, who spent part of her youth in Barbados, became the first black congresswoman, and she would serve seven terms representing New York. One of the founding members of the Congressional Black Caucus, she eventually ran for the Democratic nomination for president of the United States, in 1972. Chisholm, who died in 2005, was also a women's rights activist as part of the National Organization for Women.
Audre Lorde
A librarian who became a poet and writer, Lorde released The First Cities, her first book of poems, in 1968. Her third volume of poetry, 1978's From a Land Where Other People Live, earned a National Book Award nomination, but it was her later work, The Black Unicorn — which delved into feminist, LGBT and race issues — that many critics cite as her best effort. One of Lorde's most popular quotes: "Caring for myself is not self-indulgence; it is self-preservation, and that is an act of political warfare." She died in 1992.
Angela Davis
Davis made waves in the black power movement when she was imprisoned and tried for the failed attempt to free George Jackson from a California courtroom in 1970. Topping the FBI's Ten Most Wanted Fugitives list, Davis was more than a black woman in jail. As a member of the Communist Party, she notes in her upcoming documentary, Free Angela Davis and All Political Prisoners, she was a symbol for all that the Republican-led American government despised at the time. Eventually acquitted of all charges, Davis returned to her career as a scholar and professor in the University of California system, where she is professor emerita. She continues to work in support of women's rights and against political imprisonment.
Michele Wallace, Faith Ringgold, Doris Wright and Margaret Sloan-Hunter
In 1973 Wallace, Ringgold, Wright and Sloan-Hunter (who died in 2004) founded the National Black Feminist Organization in a side room at the National Organization for Women. Gathering together, the women focused on what they felt would help them tackle all of the obstacles they faced as black women, which weren't covered within mainstream feminism. Delineating their intent in their statement of purpose, they wrote "to address ourselves to the particular and specific needs of the larger, but almost cast-aside half of the black race in Amerikkka, the black woman."
Florynce Kennedy
Flamboyant and outspoken, Kennedy, who died in 2000, was a civil rights attorney who worked tirelessly for women's rights and against the racism embedded in the law. Defending controversial clients like H. Rap Brown and the Black Panthers, she was also at the forefront of the women's liberation movement. In 1969 Kennedy organized feminist lawyers and challenged the constitutionality of New York state's anti-abortion laws, which were overturned the following year. She founded the national Feminist Party, which nominated Shirley Chisholm for president in 1971. And at one particularly colorful protest over the shortage of women's bathrooms at Harvard University, Kennedy organized a mass urination on school grounds.
Toni Cade Bambara 
An author, activist, professor and documentary filmmaker, Bambara was part of the Black Arts movement and the introduction of black feminism. In 1970 she helmed the first feminist collection of works to focus on black women through her anthology The Black Woman, which included contributors like Nikki Giovanni, Audre Lorde and Alice Walker. Later she continued to write plays and novels like The Salt Eaters, in which she depicted strong female characters. Bambara died in 1995.
Barbara Jordan
Born in Houston's 5th Ward, Jordan rose to become Texas' first black state senator after Reconstruction and the first Southern black woman to join the House of Representatives. In 1976 she became the first black woman to deliver a keynote speech at the Democratic National Convention, where she was considered as a running mate for then-presidential hopeful Jimmy Carter. She died in 1996.
Ntozake Shange 
As the author of the seminal 1975 work For Colored Girls Who Have Considered Suicide/When the Rainbow Is Enuf, Shange is a game changer. In the tradition of Zora Neale Hurston, she captured raw slices of the lives of African-American women fighting racism, sexism and domestic violence. And though Shange didn't seem too excited about Tyler Perry's 2010 film adaptation, the big-budget movie did introduce her choreopoem to a new audience.
Byllye Avery 
For Avery, activism began in 1970, when she and several other feminists co-founded the Birth Center in Gainesville, Fla., a health center for midwifery. Continuing her work in 1983, she founded the National Black Women's Health Project, now the Black Women's Health Imperative, an organization committed to defining, promoting and maintaining the physical, mental and emotional well-being of black women and their families. She also founded the Avery Institute for Social Change in 2002 to focus on health care reform.
Combahee River Collective
Named after Harriet Tubman's Civil War raid of 1863, the Combahee River Collective began in 1974 as a group of black feminists working toward redefining their place in feminism. Their mission statement is a building block of feminist theory and black feminism, stating, among other things, that "as black feminists, members struggle alongside black men to fight racism, but against black men to fight sexism."
Gwen Moore 
In 2005 Rep. Moore became the first African-American woman in the history of Wisconsin to serve in the House of Representatives. Drawing on her experience as a rape survivor, Moore has been a dedicated advocate for women's rights through her role as Democratic co-chair of the Congressional Women's Caucus. This has put her at the forefront of efforts to pass bills like the recent Violence Against Women Act.
Bell Hooks
Righteous anger is not lost on Hooks, and that's part of her charm. Born Gloria Jean Watkins, the feminist scholar and professor has penned books like Ain't I a Woman: Black Women and Feminism, yet another nod to Sojourner Truth. Her writing has been used to define black feminism, and her cultural critiques continue to shape the current dialogue.
Patricia Hill Collins 
Collins, Distinguished University Professor at the University of Maryland, wrote the groundbreaking book Black Feminist Thought: Knowledge, Consciousness, and the Politics of Empowerment in 1990. In the work, she parsed how racism, class and gender work together in oppressing the black female experience; in so doing, she laid much of the groundwork for contemporary black feminism.
Rebecca Walker
As the daughter of author and activist Alice Walker, Walker made a name for herself with the third-wave feminist book To Be Real: Telling the Truth and Changing the Face of Feminism, published in 1995. She also co-founded the Third Wave Foundation, a nonprofit organization focusing on grant giving, leadership development and philanthropic advocacy to support young women ages 15 to 30 who are working toward gender, racial, economic and social justice — the tent poles of third-wave feminism.
Faye Wattleton
As president and CEO of Planned Parenthood from 1978 to 1992, Wattleton became the first African American, first female and youngest leader of the women's health organization. During her tenure, she expanded the organization's reach to 170 affiliates in 49 states. In 1996 Wattleton began the Center for the Advancement of Women, an independent research, education and public-policy advocacy institute.
Alice Walker
Most famous for her 1982 novel, The Color Purple, Walker has also released poetry covering racism, sexism, rape and violence. In her follow-up books The Temple of My Familiar and Possessing the Secret of Joy, in 1989 and 1992 respectively, she highlighted female circumcision in Africa. She also worked to restore the works and popularity of Zora Neale Hurston. Walker is often credited with introducing the word "womanist" for African-American feminism.
Joan Morgan 
Journalist Morgan made a name for herself as a writer at the Village Voice, parsing race and gender during Mike Tyson's rape trial and the case of the Central Park jogger. She then took her experience as a writer and New York native steeped in hip-hop to change the feminist sphere with her groundbreaking 1990 book, When Chickenheads Come Home to Roost: A Hip-Hop Feminist Breaks It Down, which explored the question of whether women can love rap and love themselves. She continues her work investigating the link between black women and the politics of pleasure.
Pearl Cleage
Cleage is most famous for her debut novel, 1994's What Looks Like Crazy on an Ordinary Day, which became part of Oprah's Book Club and spent nine weeks atop the New York Times best-seller list. Also a playwright, Cleage is known for her feminist views and tackling issues like race, AIDS, domestic violence and urban blight.
Melissa Harris-Perry
As the black female academic host on MSNBC, Harris-Perry, a Root 100 honoree, has carved a place for women's rights, human rights and socio-political commentary on a major cable news network. Harris-Perry is also a political science professor at Tulane University, where she is the founding director of the Anna Julia Cooper Project on Gender, Race, and Politics in the South. She released 2011's Sister Citizen: Shame, Stereotypes, and Black Women in America, which argues that stereotypes profoundly shape black women's politics and keep them from asserting their rights.
Like The Root on Facebook. Follow us on Twitter.