You know what I hate? April Fool's Day. What use have I for a day full of deliberately fake news and nonsensical pranks that rarely land properly? You know what else I hate? Equal Pay Day, because I don't need a reminder of how women—women of color, in particular—are undervalued and under-compensated for their labor.

That said, I am an April baby, and despite the otherwise sketchy start to this month, this is officially my season to celebrate, reflect and give thanks for another year. One thing I'm most thankful for? How much I love my job—I love playing with beauty products, rhapsodizing about black girl magic and taking deep dives with you on any number of issues affecting black women—whether or not we always agree. When it comes to so-called "women's work," I feel grateful that this is mine.
So, it was perhaps especially fitting that I devoted the past week to trying out products from Thank God It's Natural, a hair and skincare line created and run with deep gratitude in mind. The brand's founder, Chris-Tia Donaldson, holds both an A.B. and a J.D. from Harvard and worked for Fortune 500 companies before her natural hair journey led to creating her all-natural brand, so it's no surprise her business is thriving. But it was a 2015 breast cancer diagnosis that led her to also form the TGIN Foundation, to support women going through treatment with less resources at their disposal, as their site explains:
During her treatment, she learned that having money could make the difference between living and dying when it came to treating this condition. In her observation, very few organizations existed that provided support and social services to help women being treated for cancer with transportation, child care, parking, or seeking disability leave from their place of employment.

Today, our founder uses her success in the beauty space to advocate on behalf of women experiencing financial difficulties, who are undergoing treatment, and to highlight the disparities facing black women when it comes to beating this condition and to empower women to listen to their bodies.
It's hard not to root for a brand with a mission; especially when the CDC indicates that breast cancer disproportionately affects the very black women we focus on here at The Glow Up. So when TGIN graciously sent me a box containing much of their extensive product line, I was eager to dig in—as soon as I had the time to try them all.
G/O Media may get a commission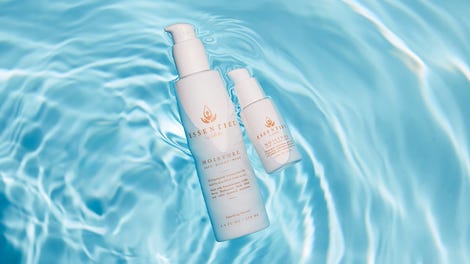 20% off
Essentiel by Adele
Well, thank God it's April.
Admittedly, I've only gotten through half of the massive box so far (it's only been a week, y'all), but I started with TGIN's Miracle RepaiRx line, which, in my case, included their Moisturizing Shampoo ($14.99 for 13 oz.), Deep Hydrating Hair Mask ($17.99 for 12 oz.), Restorative Leave-In Conditioner ($14.99 for 13 oz.), Curl Food Daily Moisturizer ($14.99 for 12 oz.) and Anti-Breakage Serum ($14.99 for 4 oz.).
First, a disclaimer: as previously discussed in other posts, I am both a fragrance junkie who can also be strangely sensitive to smells, and for whatever reason, RepaiRx and I didn't completely vibe. The scent of all the products is kind of apple-pineapple-ish, to my nose—not a personal fave, but I can get past it. What was weirder was that it seemed to make me sneeze; something I powered through, since a quick swipe test proved that to be the extent of any potential reactions. TGIN is listed on several anti-allergy sites, so it may just be me, but if you're similarly sensitive, it's something to be aware of. Notably, I did not have this issue with smell/swipe tests of any other products the brand sent, so we can consider it an anomaly.
On to the performance of the products themselves: As a person constantly seeking out super-moisturizing, emollient products for my hair, I've become spoiled by a certain amount of slippage in my products, as one brand tries to out-butter the next. So, upon first wash with the RepaiRx Moisturizing Shampoo, I was a little concerned by what seemed to be a lack of slip. That said, what I did feel was that my scalp and strands were really getting clean; product residue was being lifted without stripping, and while I wasn't initially getting the luxuriously silky feeling I've become accustomed to, I was satisfied.
Thank God I did a second shampoo, because that's where all that silky luxury came in. Though it's easy to forget in our co-washing obsessed culture, RepaiRx truly behaves the way shampoo is meant to: first lift the build-up, and then restore the moisture. Though I doubt I'll be giving up co-washing anytime soon, this may very well become the biweekly go-to to remove any product buildup and get a true but gentle clean.
Moving on to the hair mask, I was relieved to note that while staying in the shower was an option, it wasn't a requirement. In fact, TGIN gives a couple of options for using it as a deep treatment (and I'm probably one of three people who hates killing a half hour or more in the shower; it's a major waste of water). I did stay in the tub long enough to comb through the mask and try out TGIN's Oatmeal Cookie-scented Olive Oil Soap ($4.99 for 4 oz.), because while I'm always meh on bar soaps, who doesn't love oatmeal cookies?
Now this is a smell that worked for me—as did the lather it immediately kicked up. Feeling so fresh and so clean, I waited out the remainder of the hour in the mask (no heat necessary), catching up on a little Black-ish.
Giving it a quick rinse (always finish with cool water kids!), I was once again pleasantly surprised by the feel of my hair—not super-slippery or heavy, but definitely moisturized. Adding the leave-in gave me the added slip I was used to, but none of the heaviness, which was great. I also did a little all-over moisturizing with the brand's Argan Replenishing Hair and Body Serum ($11.99 for 4 oz.), which got me glowing (with unfortunately, nowhere to go).
Opting for a rare blowout, I doubled up on the heat protection, using both a small dollop of the Curl Food and a few drops of the Anti-Breakage Serum (because who wants breakage?). The Curl Food may be a new fave; aside from being a non-greasy daily moisturizer, it also purportedly works as a setting cream, which I'll be trying out soon. Also, with a much milder scent than the other products, I've had no issues using it pretty much every day this week, and no buildup whatsoever.
While more fragrant, the Anti-Breakage serum also proved a winner for me, especially as it gave my straightened locks a really fantastic sheen without any greasiness or heaviness. In fact, as I'm checking out my still-shining blowout in the mirror, I think I'm going to have to get over this whole fragrance thing, because my transitioning hair loves this product. I guess it's safe to say it passes the smell test.
Am I now a TGIN convert? Well, let's just say I can see why this brand has such a devoted following, and am now really curious to try the rest of the line. So stay tuned...and stay thankful.