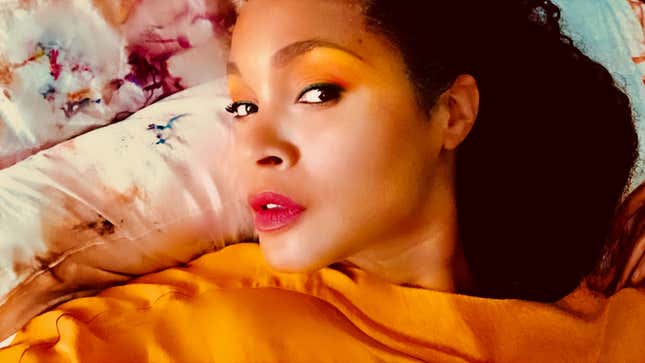 Fun fact: I hate pink lipstick.
Like, even during that phase in childhood when, for the sake of peer pressure and a blind love of all things Barbie, I tried to convince myself that pink could be my favorite color (spoiler alert: it's not), I could never get onboard with a pink lip—and it was the '80s, so that's saying a lot.
Fighting "Lie-abetes": How To Spot And Combat Disinformation and Conspiracies In Politics | The 411: Part 2
That's not to say I haven't tried—repeatedly. In fact, I've done so right here on this very blog, with varying results (notice how I'm often hiding my lips). But if I'm honest, my heart is never quite in it, and it's a hurdle I need to get over. So, when Bossy Cosmetics sent me a trio of shades to try from their "Lipstick Lab," I subverted my natural inclination to grab the red and brown hues, and begrudgingly reached for...the pink. *cringe*

To be clear, I'm talking mid-level pink, not a hot fuchsia or coral. And to be fair, the "Siren" liquid matte lipstick ($16.99) Bossy sent me was decidedly more of a deep, warm pink than the more bubblegum "Bombshell" above. And yet, I still lowkey freaked. What was I supposed to do with all this pink—and why was I so terrified of it?
Was it the inherent "girliness" (read: childishness) of it? A visceral reaction to pastels, in general (partly true)? I love pink on brown skin so why is pink lipstick my Achilles' heel? Does it just feel too passive?
Or, do I just hate it on me?
Yes, I know lips are naturally pink, but I nevertheless find pink lipstick the most unnatural thing ever. And yes, I know that's not a rational phobia; I'm henceforth calling it "pink-anoia."
But still, she persisted.
After all, what is a boss if she can't master one of the most universal shades in existence? Bossy founder and CEO Aishetu "Aisha" Dozie reportedly created the brand by drawing upon her years spent working in the boys' club known as the finance industry, where she'd wear a bold lip color to feel empowered—and according to the brand's mission statement, she's now empowering others.
Where beauty meets purpose, Bossy Cosmetics is here to empower women to look, feel, and do GOOD. As a part of their mission to empower girls and women all over the world, whenever their customers shop their products, they donate a part of the proceeds to an Eligible Charitable Organization(s) whose mission is closely aligned. Bossy Cosmetics also gives their customers an opportunity to make direct donations to such charitable organizations on the website.
Dude. Who can say no to that? Basically, I needed to get over myself. I could do this! Still...what do you even wear with pink? More pink? (For real, y'all; I froze.)
So, what did I do? I did what Beyoncé would do, and turned lemons into lemonade—pink lemonade, that is. In celebration of long-delayed arrival of summer-like weather, I decided to serve up my rendition of the most refreshing drink of the season, with a yellow and pink-themed look that reminded me of summer days and romantic sunsets...
And strangely, this pink suddenly started to make sense.

Am I a convert? Honestly, I'm still not quite sure I trust a pink lip—and will be digging into the deeper shades Bossy sent my way, so stay tuned. But as I try to overcome my pink-anoia, the pinky-coral shade of "Siren" may become my own version of immersion therapy—and a welcome reprieve from my extremist, "go bold or go nude" lipstick/life philosophy. Maybe there's a softer side to be explored…
Or maybe pink can be a boss, too.