Anyone who's gone on a natural hair journey knows it can be a long one, and not all of us are up for it. In fact, I'm currently on my third attempt, having previously opted for the big chop (twice), and then giving in to my keratin routine somewhere around that awkward, in-between stage of new growth.
But with the arrival of gray hairs came some hard choices, because I'm definitely not ready to go gray yet (there are only a few errant stragglers, for now). Did I really want to put my hair through two chemical processes? More importantly, I was deeply missing my natural curls; but after years of growing out my now long, keratin-treated locks, I honestly wasn't up for completely starting over.
More than six months in, suffice it to say I've been in limbo; a limbo that's curly-wavy at the roots, and straight as an arrow at the ends (because damn, that keratin really took). So, when HeatFree Hair reached out and offered to let me try out their drawstring ponytails, the newest of their naturally textured, 100 percent virgin hair offerings, I couldn't say yes fast enough.
HeatFree Hair was founded by Ngozi Opara, a hairstylist with a degree in finance and accounting from North Carolina A&T. After garnering experience working for a series of entrepreneurs including Carol's Daughter and balancing double duty as a financial analyst by day and natural hairstylist in her own Washington, D.C., studio by night, Opara became aware there was a significant gap in the natural hair care industry. Specifically, where could her roster of clients go to find high-quality human hair extensions with textures that matched their own?
Taking an entrepreneurial leap, Opara moved to China in 2012 to study the entire hair extension manufacturing process. In 2013, she returned to the U.S. and opened the HeatFree Hair Factory.
G/O Media may get a commission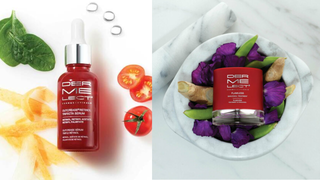 Save $19
Retinol Renewal Kit
Initially called the HeatFree Hair Movement, Opara's mission was simple: to provide naturalistas and aspiring naturalistas with beautiful, versatile options in protective styling. Sourcing from Asian vendors, Opara culled samples from her own head and the heads of her friends to provide examples of natural textures, which were then duplicated without chemical processing.
Since its launch six years ago, HeatFree Hair has grown into a full line of wefted hair and closures, clip-in extensions, wigs, and their newest offering, ponytails, which I've been privileged enough to wear in two of their textures over the past month. And as a new devotee, I can attest that the textures are as true as the real thing; a fact that HeatFree's publicist, Sofia Thompson, says was initially jarring to those uninitiated into the world of naturally textured hairpieces.
"[Some] people were—for lack of a better term—freaked out; like, 'How is this so natural to my real hair? They must be stealing hair from people,'" Thompson laughs, recalling that some critics even thought Opara (currently on maternity leave with her first child), must be stealing hair from graveyards because the textures were so perfect.

With four textures to choose from (For Kinks, For Kurls, For Koils, and Blow Out), it's pretty hard not to find a near or perfect match to your natural texture. Experimenting with 18-inch ponytails in both the For Kurls (intended for 3C to 4A textures) and for Koils textures (intended for 3B/3Cs; I'm a 3A/3B), I was pleasantly surprised to discover a variety of blendable styling options with both. Most importantly, I'd found a less-than-five-minute solution to my transitioning texture problem.
"Definitely, I would say what makes HeatFree Hair different is the fact that it blends flawlessly with natural hair textures, because it was created with that foundation," Thompson tells The Glow Up, pointing out that the 100 percent virgin hair can be dyed, and that—despite its name—HeatFree Hair is safe for hot tools.
I've gotten to test this in real time—in addition to perhaps breaking a cardinal rule and running a texturizer through my For Kurls ponytail (forgive me, Ngozi!), which gave me a carefree, beach-ready, blown-out look perfect for my birthday vacation in Florida.
But with better hair comes greater responsibility, Thompson reminds me. It's a thought that's stayed with me as I've brushed, combed, teased, twisted and tried out a variety of products on my ponytails, with varying results (beware of heavy leave-in conditioners). Consistently, I've been able to simply refresh with a quick rinse or light wash and condition, and allowing the unit to air dry overnight. The results? Soft, refreshed, ready-to-go curls.
"It really is just like your natural hair," Thompson says. "You really do have to care for it and think about it ... it's definitely for that customer who wants to feel like they're taking care of their actual hair.
"We found that the more that people wear extensions that look like their hair, the more they take care of their real hair," she adds.
Of course, this also means that with care, HeatFree Hair units have longevity; a theory I'm currently testing, as I've been wearing the "For Koils" ponytail pretty much daily since traveling from Florida to New York City three weeks ago, where the second beautifully packaged box of HeatFree Hair was awaiting me.
Which brings me to another thing I love about HeatFree Hair: from online presence to packaging to product to customer service, this is a perfectly polished operation. Each box comes with printed care instructions—including product recommendations—and a satin storage bag, and even when you're flipping between pages on their site, an adorable message pops up while loading. It's personal, thoughtful touches like these that make me want to return again and again.
As Thompson explains, it's the type of service and human connection one should expect from a luxury level hair brand like HeatFree Hair, which was created with multifaceted, professional black women who want to be able to wear their natural hair in all types of settings.
"We don't shy away from being a luxury brand," she says. "There is sometimes pushback on that, and the fact that we're unapologetic about it. But it's honestly because we know the types of customers that the brand was first created for, and it was for that woman who doesn't mind spending money on something that she values for herself and that confidence that she feels about her hair."
As a woman who firmly believes in cost-per-wear, I'd say it would be fair to consider a purchase from HeatFree Hair an investment piece—in my case, a worthy one, as they've quickly become my go-tos. One of the highest cost items on the site, a 22-inch to 24-inch "Blow Out" Hi-Definition Goddess Wig with full lace, is priced at $1,059. But with the introduction of the drawstring ponytails, options are now available for as low as $99, meaning many more naturalistas can benefit from the high-end hair experience HeatFree offers. Thompson tells me this is all due to feedback from the clientele themselves.
"We listen to our customers. We have very outgoing, outspoken customers who love the hair," she says. "So, we're always paying attention to what our customers want."
What do I want? More. I've already got my eye on a "Blow Out" ponytail, to round out my collection for summer, and I'd be lying if I said the wigs weren't looking tempting, too. And at HeatFree Hair, Thompson tells me they're currently looking into even more ways to cater to their clientele, including potentially adding custom color options, because Opara and company want natural hair wearers to know their options are endless.
"I think the way we make our mark is by creating products and constantly promoting the message that natural hair knows no limitations," Thompson says. "It's really that idea that natural hair is beautiful, and that we should have extensions that match that hair ... and that you can wear natural hair extensions and have that same wow and awe factor, and still feel and look beautiful."
The Glow Up tip: As a gift to Glow Up readers, HeatFree Hair is offering 15 percent off website purchases with the code: GlowUp