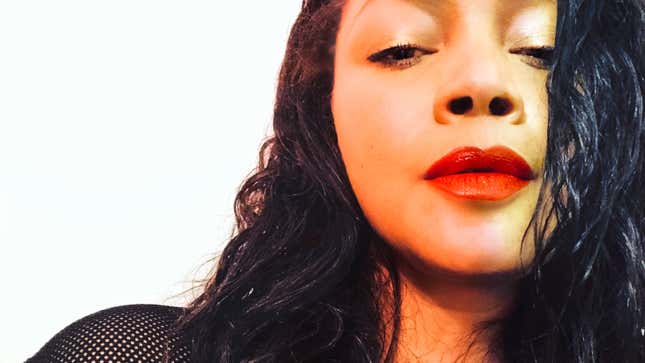 What's your formula for the five-minute face? C'mon, you know you've got one; your desert island must-haves for minimal yet polished glamour? Mine is a flawless foundation, a brow pencil, several coats of mascara and a red lip, which automatically amps up any look—and if I'm honest, in spite of cabinets full of makeup, I'm rocking my same four-product, five-minute face at least five days a week, on average.
Fighting "Lie-abetes": How To Spot And Combat Disinformation and Conspiracies In Politics | The 411: Part 2
Why? Because we're all busy as hell, right? As much as I'd love to rock a beauty influencer-worthy beat every day of the week, most often I have just enough time to get into my makeup bag, get it on my face, and get on with life (if that; see the half-finished face and air-drying hair in the video below). This is why I love, love, love the increasing crop of black-owned beauty marketplaces available to those of us looking to spend our dollars with entrepreneurs of color. Aside from providing a one-stop experience for beauty lovers of all hues, what better for a traditionally marginalized market than to shop at venues where the products, services and overall experience are tailored for us, by us?
That's why we've been longtime fans of online marketplace Marjani Beauty; so much so that we featured them and founder Kimberly Smith during The Glow Up's opening week. Just a little over a year later, the brand celebrated a major expansion—and a new partnership—when Smith joined forces with Product Junkie entrepreneur Amaya Smith to open the Brown Beauty Co-op in Washington D.C.'s DuPont Circle last December.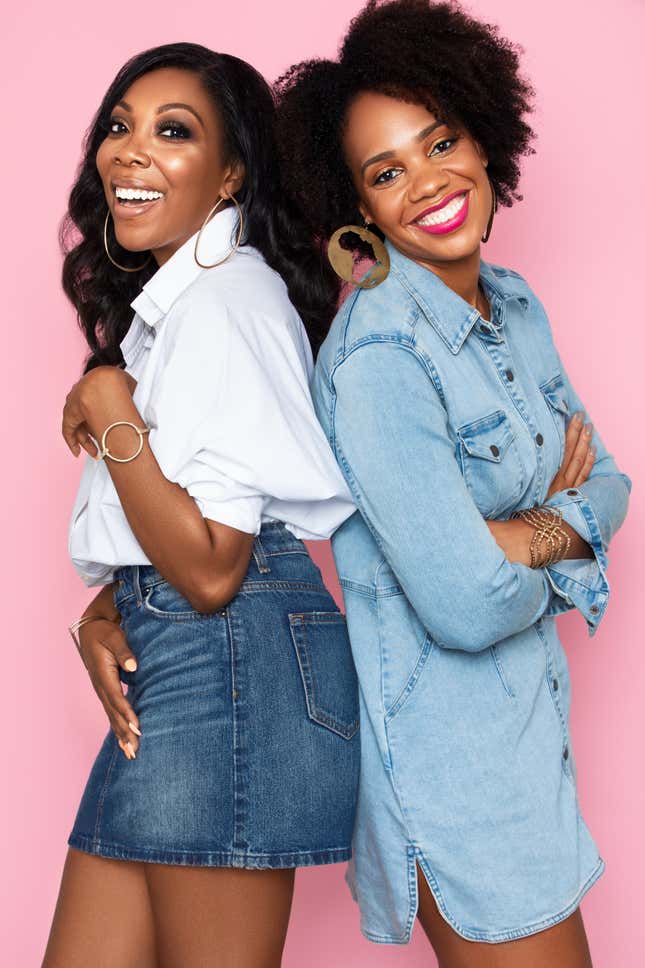 The two Smiths aren't related but are both Alpha Kappa Alphas who met at a local sorority meetup in 2012 and became fast friends. Sharing a mutual love of all things beauty, nearly seven years later, they realized their dream of a brick-and-mortar emporium for products created for and by people of color.
"When I started Marjani, I had the goal of doing brick and mortar, just because I feel beauty is really an experience; there's only so much you can do online," says Kimberly. "When you have the space, people can come in and touch it, they can smell it, they can feel it, they can try it—and that, to me, takes it to another level.
"And so, when you come into the space—and this is what we've been experiencing, so far—people come into the space, and they're like, 'Thank you.' because everything they've been wanting to try, they can now come in and try it," she adds.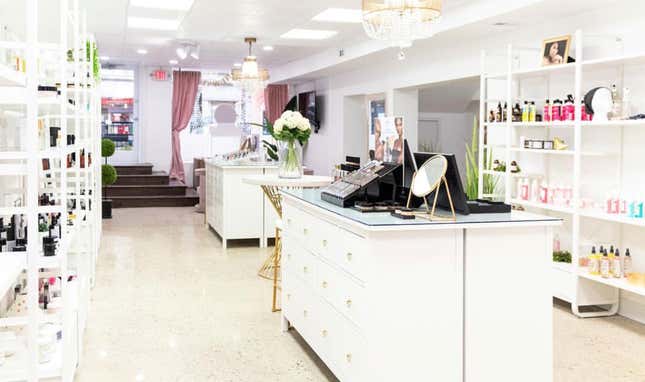 For Amaya, the store also represents the power of collaboration, as partnering with Kimberly allowed her to realize her vision for a natural hair marketplace far faster than had she continued on a solely independent route. (Note: While Marjani and Product Junkie are separate entities, the "co-op" in Brown Beauty Co-op represents their joint venture.)
"Obviously, it's been super-helpful for me, as a startup, to be able to build my learning on what Kim had experienced over the last year-and-a-half, being able to build my business on that," says Amaya, who juggles the new venue with a full-time career in political communications, focusing on women's issues. "A lot of what [Kim has] learned and contacts she's made have really helped me grow my business, and then, us, collaborating for the Brown Beauty Co-op. It would've been a different story had I had to do some of this on my own."
Kimberly adds that the physical space added a much-needed experiential element to the services she provides via Marjani, which is now a full-time pursuit.
"Having the store open only gives the Marjani brand more credibility by making it more of an experience," she says, noting that the store has even been able to improve the experience for clients outside of the DMV area.
"I think the difference with the online products now also being in stores is that I'm able to provide more detailed advice," Kimberly explains. "Now, I'm able to take it a step further, to make it more personalized."
From personal experience, I can say the customer service is hands-on; using Marjani's Buy It Try It™ foundation matching program, along with my order I got personally tailored recommendations from Kimberly (including two spontaneous phone conversations because I'm neurotic). We discussed my current shades in rotation, desired opacity and finish (sorry, matte-lovers, both Kimberly and I prefer a dewy, radiant finish); when my order arrived, samples accompanied the three full-sized products I'd ordered, and a quick swatch test found my perfect match (Danessa Myricks' super-concentrated and super popular Vision Cream Cover in N06—use sparingly, but often). I was able to send back my unopened product, risk-free.
Big Beauty Tuesday: Brown Beauty Co-op
It's this type of convenience and customer service Kimberly and Amaya are hoping to provide at all levels of the Brown Beauty Co-op experience, which on Wednesday, June 12 launches makeup classes in its makeup lounge (the co-op has three freelance makeup artists on deck for consultations and appointments).
"I really wanted to have a brick-and-mortar store, just so people could come in and feel like, one, they have a community space where they can come in and get answers to questions," says Amaya. "But also that we're a regular place where you can meet with a natural hairstylist, where you can get a consultation, you can education on products that are specifically for you."
Of course, having not one, but two beauty mavens on the phone (making sales as we spoke, I might add), I couldn't let the moment pass without asking Kimberly and Amaya for their personal product recommendations in the Brown Beauty Co-op offerings.

For natural hair aficionado Amaya, carrying the rarely accessible vegan products by British-based brand Trepadora is a boon for the boutique. "I really like them because I think it's a sign that you can have high-end luxury products for natural hair, similar to what you would get in a salon," she says. "There's a lot of great products for natural hair, but you don't see sometimes salon quality with really high formulated ingredients."
Admitting that she often has to remind herself to "stop buying your own supply," Amaya also shouts out the small batch flaxseed gel by Chicago-based brand Curl Mix and is a huge fan of celebrity stylist Felicia Leatherwood's Detangling Brush.
"I recommend that for everybody," she says. "Whether you wear your hair naturally curly; whether you wear your hair straight; it's amazing. It's like an aerodynamic brush that does not snatch all your hair out."
When asked for beauty recommendations, Kimberly admits that while Marjani has an impressive array of cosmetics, she rarely wears makeup, preferring to focus on beauty from the inside out. For balancing her oily skin she's found a personal favorite in Shaffali's Neem and Neroli facial moisture ($54). But currently, her biggest draws are the Avurvedic-inspired offerings from Aika.
"I cannot recommend the face polish enough," says Kimberly. "It's so, so good."
Ultimately, the Brown Beauty Co-op ethos is to constantly level up, consistently providing more education and adding to their product offerings to provide clients with the culturally conscious shopping experience they desire.
"You can't beat coming in here and seeing those brands that you've seen online, and being able to talk about them to someone who looks like you, and then be able to get advice on a product," Kimberly says. "The entire store is for you, so you can find something for you."