Just when you thought you'd get a chance to catch your breath in the new year, Beyoncé is here to remind us all that her Adidas-clad foot will remain on our necks, as a new decade dawns and a new Ivy Park collection drops on Jan. 18. But while teasing the drop and impending campaign via her Instagram on Monday morning, Mrs. Carter's real reveal simultaneously arrived in the form of a series of January covers for Elle magazine, shot by none other than longtime friend, collaborator and Queen & Slim director Melina Matsoukas. And in a surprise twist, the interviewers for Bey's cover story were perhaps more knowledgable than most; members of the "Hive" got to ask and have their questions answered by their queen.
Is one of the world's biggest celebrities "just like us"? Maybe not, but with the beauty supply, bodega and laundromat as the backdrops for her soon-to-drop merch, a braid-sporting Bey is definitely more down-to-earth—kind of:
"The last time I went to a supermarket, it was more like a bodega before a Madonna concert. Jay and I snuck into one in Crenshaw and bought some Cuervo and Funyuns chips," she tells one questioning fan, later noting that she takes the occasional walkabout wearing sweats, sans security. "And…y'all know you see me at Target and I see y'all trying to sneak pics," she adds.
As for what we can expect from her new Ivy Park collection—the first full release since Bey announced her partnership with Adidas last spring—we can expect an edgier, more gender-inclusive collection than her previous launches. All feature those famed three stripes, of course—which even show up on her nails! (And yes, we spotted a Beyoncé-worthy bodysuit in the mix.) As the star tells her fans, the new aesthetic reflects the freedom she found in reclaiming her company from initial partner Sir Philip Green.

G/O Media may get a commission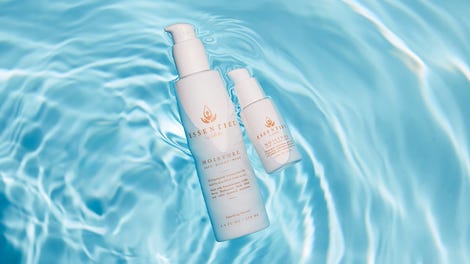 20% off
Essentiel by Adele
"It incorporates my personal style and expands that to include something for everyone," Beyoncé says of the upcoming line. "I love experimenting with fashion, mixing high and low, sportswear with couture, even masculine and feminine. This new line is fun and lends itself to creativity, the ultimate power.
"I appreciate the beauty of gender-neutral clothing and breaking the so-called fashion rules," she continues. "I took a chance on myself when I bought my company back. We all have the confidence in us to take chances and bet on ourselves."
In addition to being more gender-neutral, we can expect transitional capabilities from the new collab; pieces that will hopefully stand the test of time, as will the pieces Bey archives for daughters Blue Ivy and Rumi—which takes an already unimaginable inheritance to an incredible next level.
"Versatility is a big part of the Ivy Park line and what inspires me. You can create your own style by experimenting and taking chances and continually reinventing your look with all of these pieces," writes Beyoncé. "I also donate my personal clothes to great charities that support women getting back on their feet. And I save my special pieces for my daughters!"
Though she's one of the most successful women on the planet, Beyoncé is perhaps at her most relatable when she talks about motherhood—her "greatest joy" (though she'd like us to "get off [her] ovaries" with the pregnancy rumors), and also the area most crucial to prioritize in her already overbooked life.
"I think the most stressful thing for me is balancing work and life," she says, echoing pretty much every working mother, ever. "Making sure I am present for my kids—dropping Blue off at school, taking Rumi and Sir to their activities, making time for date nights with my husband and being home in time to have dinner with my family—all while running a company can be challenging. Juggling all of those roles can be stressful, but I think that's life for any working mom."
"I began to search for deeper meaning when life began to teach me lessons I didn't know I needed. Success looks different to me now. I learned that all pain and loss is, in fact, a gift," Beyoncé also reveals, reflecting on some of her most painful chapters, only recently revealed to the public via her artistic vehicles, Lemonade and Homecoming. "Having miscarriages taught me that I had to mother myself before I could be a mother to someone else," she continues. "Then I had Blue, and the quest for my purpose became so much deeper. I died and was reborn in my relationship, and the quest for self became even stronger. It's difficult for me to go backwards. Being 'number one' was no longer my priority. My true win is creating art and a legacy that will live far beyond me. That's fulfilling."
So, how does she juggle it all? To hear Beyoncé tell it, the answer isn't in being the superwoman she appears to be (and perhaps once attempted to be), but keeping it all in perspective.
"Many of us grew up seeing our parents act as if they were superheroes. Most women have been conditioned to ignore symptoms and just 'tough it out' and focus on taking care of everyone else before themselves. I am no longer one of those people," she says, revealing that in addition to her highly discussed diets, she began methods like homeopathy, acupuncture, meditation, visualization, and breathing exercises to manage her health after her last pregnancy.
Obviously, Beyoncé is far from alone in the stress struggle. Women everywhere can relate, especially those aspiring to or occupying high-powered roles.
"As a woman, if you are too opinionated, too strong-willed, too anything, you are disregarded," says the multihyphenate icon, shouting out Matsoukas and many of the other women directors she's worked with, and discussing her own commitment to employing women in executive roles throughout her growing empire."I hire women not to be token voices in the company, but to lead. I believe women are more balanced and think with compassion in deciding what's best for the business. They see the big picture absent of personal agendas. Most women are loyal and commit with 100 percent follow-through."
Of course, leadership begins from the top down, and for the former lead singer of Destiny's Child, it's been a matter of understanding and claiming her power.
"[T]he more I mature, the more I understand my value," Beyoncé tells her fans. "I realized I had to take control of my work and my legacy because I wanted to be able to speak directly to my fans in an honest way. I wanted my words and my art to come directly from me. There were things in my career that I did because I didn't understand that I could say no. We all have more power than we realize."