Somewhere in between Michael Rapaport and Rachel Dolezal, you'll find Clement Suleiman, a Belgian man who wishes he could be black. Suleiman even admitted in a recent Nas Daily video that he painted his skin black so that he could pass. And when that didn't work, he chucked deuces to Belgium and moved to Senegal.
When he was a child, Suleiman alleges, his wannabe blackness startled his mother so much that she took him to see a psychiatrist, who advised her to take her son on a vacation to Africa. And that's how Suleiman discovered Senegal at the age of 13.
Suleiman now lives in Senegal, speaks the language and married a Senegalese woman and has biracial children.
"And right now I'm happy," Suleiman said in the one-minute-long video.
Some may compare Suleiman to Dolezal, but outside of that one time as a kid when he painted himself black, Suleiman has never admitted to attempting to pass as black and lie to people. Many people in the comment section on Nas Daily raised the question of appropriation vs. appreciation, and seem to think that because he's embracing the Senegalese culture, he's not appropriating anything at all.
G/O Media may get a commission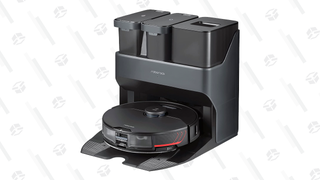 24% off
Roborock S7 MaxV Ultra Robot Vacuum and Mop
This all brings me back to that amazing first-season episode of Atlanta: