Onika Tanya Maraj, better known as Nicki Minaj, is fed up with all of y'all busted bitches. That was made abundantly clear earlier this week when she dropped her newest album Queen, with the savage bop "Barbie Dreams."
Justice Smith Talks New Dungeons & Dragons Movie, The Get Down On That's So Random
Set to the track of Notorious B.I.G.'s "Just Playing (Dreams)," Nicki viciously goes for the jugular of some of the most prominent male artists in the game.
And Nicki is keeping that same energy it appears, when it comes to her ex, Safaree, with whom she has not been on the best of terms, to put it mildly. Nicki didn't deign to mention her ex on the song but took the time in an interview with Hot 97's Funkmaster Flex to get some more things off her chest.
Nicki blasted Safaree, once again, for implying that he wrote some of her songs before they broke up, an implication that seemed believable due to the history of men in hip-hop writing verses for the women in their groups—an implication the rapper clearly didn't like as she obviously takes pride in writing her own music.
G/O Media may get a commission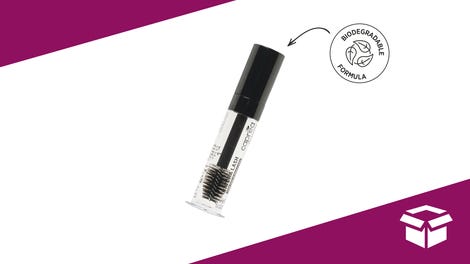 It's $8
20% Off Lash + Eyebrow Serum 2.0 - Caprea Beauty
"He manipulated the world because of that prior information. The world knowing that other big female MCs have gotten people to write for them, he knew by saying that it wouldn't be a stretch," Nicki ripped. "The only reason he did that was because he was hurting inside because he shitted on me and finally got shitted on."
Nicki aired up all the dirty laundry, detailing the Love & Hip Hop star paying for prostitutes while they were in a relationship, stealing her credit card and refusing to work. She blasted Safaree for acting out of "weakness, passive aggression, hatefulness and vindictiveness."
"Because you got caught shitting on a person that was taking care of you for years and years, because you got caught shitting on a person who was taking care of you while you were paying for prostitutes, and stealing their credit cards and doing all types of dumbass shit?" the Queen ranted before bursting into chuckles at Funk's insistence to hold up just a gat damn second because whew, chile, the tea is scalding.
And if you thought it ended there boy are you ever so wrong. Snuggle up in your blankets and get yourself a digestive biscuit to go with that tea, because the battle quickly spilled onto Twitter with Safaree getting froggy and lashing back.
The TV personality and rapper took to Twitter, calling their relationship toxic and accusing Nicki of cutting him, resulting in him being hospitalized. He said that he had claimed to try to kill himself at the time, to avoid Nicki being jailed.
Perhaps those accusations are not as shocking to fans of Nicki. In her 2014 song, "Bed of Lies," from the album The Pinkprint, Nicki rapped, "I could tell you lying, get the fuck out, don't yell at me/I ain't mean to cut you, I ain't wanna catch a felony."
Of course, it is not clear if the rapper was even speaking from a place of truth or if this was even about Safaree.
Whatever it is, Nicki is tired of these men speaking over her, and went back to Twitter herself, gathering all the receipts up, telling Safaree to stop lying and to apologize and shut the fuck up. What's more, Nicki apparently intends to continue the feud on Queen Radio on Thursday.
She also aired out Safaree, exposing him and his surgery to readjust his hairline, something she apparently also paid for with a hefty "10 racks."
Whew, the drama. Like I said earlier, Nicki is FED UP and is not going down without a fight.
The Root has reached out to representatives for both Nicki and Safaree about the Twitter battle and will update the story if any information becomes available.
Boil the purest water and have your jasmine tea ready.