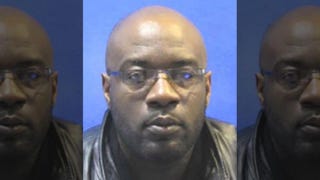 Police have identified the Baltimore City Department of Public Works employee who allegedly fatally shot a co-worker at a city maintenance depot following an argument that turned physical Thursday, Fox News reports. 
Police discovered 34-year-old Darrin Ulysses Johnson Jr. with multiple gunshot wounds in a locker-room area at a Public Works facility. Johnson was taken to the hospital but was later pronounced dead. 
A news release later identified the suspected shooter as 47-year-old Cipisirono Cole. Cole, who is still on the loose, faces several charges, including first- and second-degree murder. 
"They were at work making a living, and somehow or another the bad guy decided to end this dispute with a gun," Baltimore police spokesman T.J. Smith said. "So whether it was a personal or a professional argument, we have to answer those questions and get to the bottom of that. What made this bad guy bring the gun to work? Why did he have it at work and why did he choose to use it today?"
Public Works Director Rudy Chow said that he was not aware of any issues at the building and voiced surprise at the news of the shooting. 
"I know it's going to be a big blow to our department as a whole," he said.
Read more at Fox News.