Steph Curry 'bout to whoop somebody's ass.

On Friday the Golden State Warrior's wife, Ayesha Curry, tweeted that a Houston Rockets fan bumped her in her "8 month pregnant belly" after the Rockets beat Steph's Golden State Warriors in Game 5 of the Western Conference finals.
"Houston Corey," who uploaded video of at least part of an altercation with Ayesha and her father-in-law, Dell Curry, after the game in Houston, titled his post, "HAHAHAHAHA @ayeshacurry HEY SAVE THAT SALT FOR YOUR SHITTY COOKING SHOW!! LMAO MAD AF #ROCKETS"
The video shows the man, who sounds drunk, heckling the pair, and in response, Ayesha wrote that what wasn't caught on video was that the man intentionally bumped into her.
Ayesha wrote under the fan's post: "The fact that you have the audacity to post this after this man bumped me in my 8 month pregnant belly asking and I quote 'doesn't losing feel like getting punched in the gut?' And continued to follow me and taunt me with his camera is beyond me…but 'This is America' right."
G/O Media may get a commission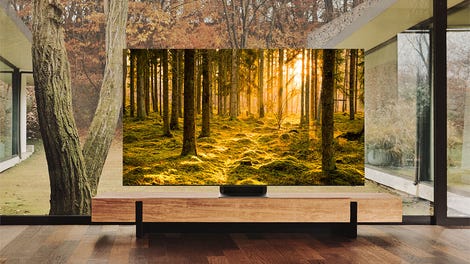 Up to 40% off
Samsung Smart TVs
"Ayesha!" the fan begins in the 30-second clip. "We're going to beat y'all at home [in Game 6 on Saturday—that didn't happen]. Sorry, it's Houston time. It's Houston time."
Ayesha appears to brush it off, but the fan continues: "Look at her. She's all bitter and sour. She's all bitter and sour. Look at her! She's being all rude."
Dell stops and turns toward the fan, who begins to get at him, too.
Later, Ayesha elaborated in another Twitter post: "I thought it was an accident at first because it was crowded and then he made that gut comment and continued to follow me. I should've got him in the face instead of saving his life by removing the cigarette he was swinging around in my face. Wish there was full footage."


Houston Corey better tread lightly because he definitely violated—the way I know Steph Curry wants to violate his whole being.