Derrick Adams, 'Demolition Man' (2009)
New York-based multimedia artist Derrick Adams (former director of Rush Arts Gallery) taps into his local cityscape for inspiration. He fuses urban textures and iconography to create a series of hybrid works that channel the energy of the '60s minimalist, paramilitary style of the Black Panthers and the iconic hip-hop fashion of Run-DMC. Adams' past works include video installation, assemblage and drawings exhibited in New York and London.
Captions by Adrian Loving
Hank Willis Thomas, 'Intentionally Left Blank' (2010)
New York-based artist Hank Willis Thomas continues his exploration of the black image in popular media with Intentionally Left Blank, which uses civil rights-era protest imagery. By removing faces from the images, Thomas questions the placement of blacks in that struggle. Similar to artist Richard Prince, Thomas unabashedly walks the precarious line of appropriation while instigating a necessary discussion on high art and ownership, central to Thomas' brand of thinking.
Stan Squirewell, 'The Carbon Anomaly' (2007)
G/O Media may get a commission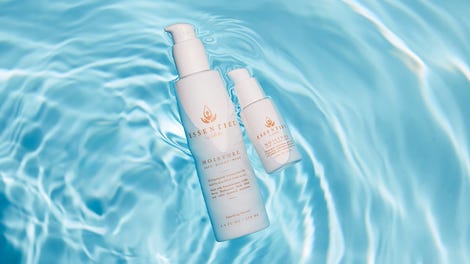 20% off
Essentiel by Adele
Washington, D.C., artist Stan Squirewell was awarded the grand prize at Russell Simmons' Bombay Sapphire Artisan Series. Squirewell's piece, a multimedia painting-photograph, presents the image of a black form being consumed and interrogated by its own nature. The aesthetically beautiful The Carbon Anomaly makes correlations between dark possibilities for its subject and challenges the viewer's perception to evolve beyond accepted boundaries of blackness, which are myopic and flawed.
Leslie Hewitt, 'Untitled (Mirage)' (2010)
Leslie Hewitt's site-specific installations draw inspiration from impressionism and Dutch still lifes. In her photograph Untitled, Hewitt breaks new ground by juxtaposing significant objects such as books, newspapers and photographs in a dynamic way that addresses notions of time, space and memory. The result is a jarring yet timeless piece, layered with detail and interesting at every glance.
Fahamu Pecou, 'Him and I (and Me)' (2010)
Down in Hotlanta, an art star has risen. Fahamu Pecou's repetitive image, painted masterfully with swagger and meaning, resonates loudly in the post-bling hip-hop era. Pecou's multiple personas, both real and surreal, allow for shamelessness as well as his critique of himself and the "ubiquitous" black man. As Jay-Z suggests, "I'm taking out this time, to give you a piece of my mind, cause you can't knock the hustle."
Mark Bradford, 'The Throat Let Go' (2010)
Mark Bradford has been quite literally tearing up the scene in recent years! Bradford's style of deconstructive abstraction finds him scavenging his native Los Angeles for old advertisements, street posters and graphic printed media to create a new textured language on canvas. Bradford has street-artist grit and the commercial instincts of pop superstars such as Barbara Kruger. He has garnered significant press, awards and major exhibitions from São Paulo to New York.
Mickalene Thomas, 'Portrait of Mama Bush 2' (2010)
Introducing vibrant, bold … bling portraiture? New York artist Mickalene Thomas has the audacity and talent to coat her portraits of black women with sensationalism, luster and attitude. Characters with this much radiance haven't been seen since the 1997 movie B.A.P.S. Thomas' unique painting style and artistic pedigree are a favorite among editors at the magazines Arise, V and Marie Claire.
Ruben Ubiera, 'Mecho' (2010)
Bronx, N.Y.-raised Ruben Ubiera is a master at fusing urban iconography, skater-style illustration and vivid color into his street assemblages. Wood, paper, cardboard and rough textures are the backdrop for his work, while graphic design and classical drawing produce beautiful visual solutions.
Sanford Biggers, 'Psyche' (2009)
It is always refreshing to see new work from an artist willing to re-explore and recontextualize the shape and form of African antiquity. Sanford Biggers' recent ethnological study Psyche boldly reshapes the perception of African tribal art carvings into an exciting new spectacle, adding polish and plumage to the ordinary.
Kerry James Marshall 'Untitled, Blonde Woman' (2010)
A true study in "American blackness" could be considered a daunting task by any artist. Kerry James Marshall's never-ending fable of hyperreal imagery places the black image subjectively into front view. Colorful, rich backdrops take us from early settings and experiences in southern Alabama to preriot Watts in the '60s. The dialogue between social history and neighborhood narrative gives his "black subjects" a home within a surreal world.
Whitfield Lovell, 'Kin (Breath)' (2010)
Upon first glance at Whitfield Lovell's Kin (Breath), it's quite clear that juxtaposition is a key strategy that allows the viewer to create his or her own story. Lovell's use and assembly of vintage and found objects such as playing cards, televisions, chairs and fabrics create a unique aesthetic and symbiosis when combined with striking portraits of past "kinfolk." His subtlety and skillful technique create an enduring story of past lives, events and possibilities.
Ed Crowell II, 'Pleiadian Lane (Version 1)' (2010)
America seems intent on constructing pop archetypes and then smashing them like glass vases. Ed Crowell II's study of this process has led him to create a series of paintings focusing on the image of the subjugated female in 1950s and 1960s commercial advertising and fashion. By applying war and tribal face paint to the subjects, Crowell gives a new context, freedom and meaning to their feminine struggles and purpose.
Nick Cave, 'Soundsuit' (2010)
In Nick Cave's imaginarium, dance, theater, animals and science fiction swirl to create a dynamic confluence of mind-blowing sculpture. Soundsuit, a recent series of works focusing on form, abstraction and fantasy, takes the viewer by the hand and races through Alice's Wonderland and Dr. Seuss movies and arrives at Sun Ra's Arkestra party.
Beverly McIver, 'Dear God Series' (2008)
Beverly McIver delves deep into her personal history and emotions to create powerful, introspective portraits of herself and those in her world. Using thick applications of paint and rich colors, McIver creates a range of images in blackface. Her Dear God Series explores the pressures of womanhood, family and politics. Previous works use pop culture references such as Mammy and interracial friendships.