A Phoenix man who is facing charges of killing his estranged wife and two children on Monday shared a Facebook video of himself singing Christmas songs with his son just hours before the horrific slayings.
According to the New York Daily News, Anthony Milan Ross, a 45-year-old chef, author and motivational speaker, was charged with first-degree murder on Tuesday.
ABC 15 reports that, according to court documents, witnesses saw Ross shoot his ex-wife, Iris Ross, on Monday afternoon outside a Phoenix apartment complex as she tried to escape him.
When witnesses asked Anthony Ross if the victim was OK, he allegedly responded "No" before pointing his gun at them, according to police. He then retreated into his apartment, where the couple's 10-month-old daughter, Anora, and 11-year-old son, Nigel, were. Witnesses said they heard two or three more shots.
The police and Ross exchanged gunfire during a six-hour standoff before authorities ultimately gained control of the residence and arrested him. However, the couple's two children were also found dead inside the apartment. One officer was hit by shrapnel in the gunfire, while Ross was taken into custody unharmed.
G/O Media may get a commission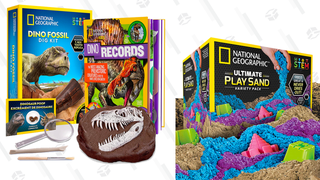 Up to 33% off
National Geographic Science and Activity Kits
Mary Wogas, Iris Ross' sister, said that she got a text message from Anthony Ross on Christmas afternoon and immediately knew that something was wrong.
"I received a text yesterday about 2:52 p.m. Two messages, first one saying, 'I just killed Iris and the kids.' The second message was 'with a gun,'" Wogas said. "I knew that man was very unstable. I knew he had a very, very dark side. I didn't know it was this dark."

Police say that Anthony Ross claimed that he killed his two children inside the apartment during the standoff. He later changed his story, saying that the kids were alive and that he was threatening to kill them.
Hours before the carnage, Ross had posted a video of himself and a smiling Nigel, giggling as they attempted to sing some Christmas songs.
"Hey, guys, I'm smiling and I'm hanging out with Nigel on Christmas Eve. We're going to embarrass ourselves! We're going to sing," he said in the video.
Family and friends told ABC 15 that Ross began acting differently and making subtle threats after he divorced Iris Ross in June.
"The man was off his rocker. One minute he was yelling at her, calling her a 'whore,' and the next minute wanting to tell her he loved her and wanted them to be a family unit," Wogas said. "He would also claim that he was working with a voodoo priest in New Orleans to put a hex on her. Just very, very dark, very dark intentions."
The family has started a GoFundMe to help financially support Iris Ross' family with funeral expenses for the mother and her two children.
Just last month, Anthony Ross was on the airways, testifying how a vegan lifestyle had helped him lose more than half his body weight and rebuild his relationship with his family. At his heaviest, he tipped the scales at 518 pounds.
He told KPNX 12 News that he lost the weight for his son, after being unable to go with his son on a Harry Potter ride that the little boy had desperately wanted to go on.
"He started crying. It was at that moment I learned that the decisions I was making didn't just affect me," Ross said back in November. "Up to that point, I thought, 'This is me. I have been heavy for so long.'"
Now that seemingly attentive father is facing three counts of first-degree murder, two counts of aggravated assault, 19 counts of aggravated assault against an officer and a count of discharging a firearm in city limits. He is currently being held without bond.
Ross' next hearing is scheduled for Jan. 3.
Read more at the New York Daily News and ABC 15.