When I was growing up, there was one question on the playground that separated the real from the fake: Martin or Fresh Prince of Bel Air?
The only answer, really, was always and will forever be Martin. The humor was realer, rawer and funnier in just about every way. Martin, Gina, Tommy, Pam and Cole were the people you saw in the neighborhood; Will and Carlton and Hilary were the rich kids who bought candy at the movie theater instead of sneaking in a chicken box from Popeyes. Fresh Prince was where you went for warm and fuzzies. Martin was where you went to actually laugh. (Editor's note: I disagree — The Fresh Prince was much funnier than you're giving it credit for — but you'll allowed to have your opinion and shit.)
Thomas Mikal Ford's "Tommy" was so hilarious and real because he is like so many guys we all know — dubiously "employed" but handsome, smart, and charming enough for it not to matter. He's the ex who uses up all your expensive hair-care products to moisturize his beard, that uncle from around the way who always brings a different honey dip to the family barbecues. We all know a Tommy Strawn.
Tommy fulfilled what I like to call the "Mr. Dalvin" quotient of the show. For those who don't know, Mr. Dalvin is superproducer Devante Swing's brother, and one-quarter of R&B powerhouse Jodeci. However, like Tommy, nobody knew what Mr. Dalvin's job was. Did he sing? Arrange music? No.
R&B logic is that there always has to be someone in a group for the ladies to enjoy. What that person provides is a certain je ne sais quoi that adds to the group's overall cohesion. For Jodeci, that was Mr. Dalvin. In the Lox, this person is Sheek Louch. On Martin, it was Tommy. Who also possessed the added benefit of being the show's sane and sober voice of reason.
G/O Media may get a commission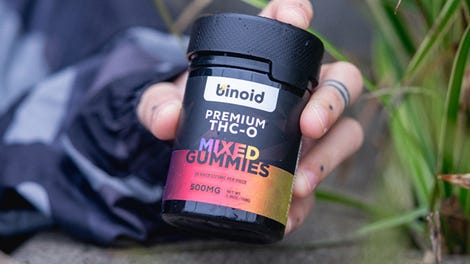 25% Off + Free Shipping
Binoid THC-O Gummies
Anyway, I think it's appropriate to also celebrate the unsung hero of what made him stand out on the show—his wardrobe. For a man who ain't got no job, man, he sure used to be fresh. What Cole Brown did for hats, Tommy did for vests.
He always had some combination of a turtleneck/mandarin collar/high-necked shirt with a vest, and/or a jacket and a pair of billowy pants with hard-bottomed shoes. In winter episodes, he wore the butteriest of leathers, probably from Al Wissam's. Peak #DetroitPlair fashions.
So here are some of my favorite Tommy Strawn looks, in GIFs:
Tommy in his pseudo-preacher gear, bowing down to the Hoshi-Toshi TV. Notice the scarf-jacket combination he pulls off effortlessly.
Is there any episode of Martin that stands out more than "Dangerous Minds"? Tommy, swagged out in his Al Wissam leather, can't keep his shit together as Martin jumps bad with a fake Rottweiler. Classic television.
Notice the blue-on-blue turtleneck-vest combination, which really makes the blowtorch and face mask pop. He needed that equipment for his "job."
The Biggie episode. Check out the brick-red turtleneck complemented by a Jodeci-leather vest.
Why Tommy felt a need to keep his core warm with these vests is beyond me, but they often gave him a sense of maturity that neither Cole nor Martin possessed.
How many buttons can one get onto a vest? Before Steve Harvey yoked up the black church elite with a mutiny of suit buttons, Tommy was buttoning both his shirts and his vest all the way up to the top.
Tommy Strawn in elegant mock turtleneck and eggplant-colored jacket. He cuts such a nice figure getting ready for his nonexistent job interview.
Here's Tommy breaking down "Got tha Draws" under oath, also sporting a neon-green plaid lumberjack vest. Hot fire.
Notice the mustard button-up beneath a printed vest beneath a suit jacket. This is a literal inception of Tommy fashions.
Whether it was floor-sweeping overcoats or his signature circle glasses, Thomas Mikal Ford brought Tommy Strawn to life and, in the process, touched many more. Rest in peace, dawg.
Terryn is a Virginia born, Detroit based writer. She's also terryngrams everywhere.