When I speak or teach, I love to tell my audiences that I know, deep in my heart, that they would turn down $1 million if it were offered to them. You would, too.
I use a story that those who read about A. Philip Randolph, the leader of the Brotherhood of Sleeping Car Porters, know well. Randolph and his union were fighting the Pullman Co. The company attempted to buy Randolph out by literally giving him a blank check. Its bottom note, written to the bank, stated: "Not to exceed $1 million." Randolph returned the check, which in today's dollars would be at least $30 million.
"And I know everyone in here would return that check, too—would do the exact same thing," I declare. And eyes bulge and smirks start to form.
What happens next is what always happens when that subject, lynching, is brought up. Everyone gets serious. (More on that subject and how Randolph fits into it later.)
Folks love to talk about Rosa Parks, Martin Luther King Jr., Malcolm X, and on and on, but lynching, one of America's top contributions to the global history of terrorism, stops people cold.
G/O Media may get a commission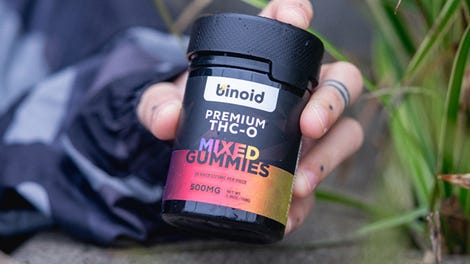 25% Off + Free Shipping
Binoid THC-O Gummies
Last week I froze, then flinched, when I read that the Equal Justice Initiative—described as a nonprofit legal-rights group that has assisted in the throwing out of more than 115 wrongly convicted death row cases—is planning a museum-memorial combo. The Memorial to Peace and Justice will be, appropriately, in Montgomery, Ala., the capital of three things: the state of Alabama, the first capital of the Confederacy and the nation's nonviolent bus-boycott movements, à la Rosa Parks.
Targeted to open by April 2017, it will list America's black lynching victims. The names will be on hundreds of columns, which will represent and list all the counties of the murdered. The museum, From Slavery to Mass Incarceration, sounds self-explanatory. It will be approximately 150 yards from one of the nation's largest slave-auction blocks, as well as near a dock where enslaved Africans by the thousands were traded.
Bryan Stevenson, EJI's founder and director, wants America to make the discussion of this particular brand of homegrown American terrorism a priority (pdf). Here is the summary of "Lynching in America: Confronting the Legacy of Racial Terror," EJI's report on the topic released last year.
Stevenson said on CBS that it's time for America to confront the noose:

I think it's important because when you do that, you change your identity. You change your relationship to these histories of mass atrocities and violence. But when you don't do that, things linger. The smog created by that history of racial inequality continues to compromise our health. And in this country, we haven't done that about slavery. About lynching. About segregation.

We want to name the victims of lynching. We want to talk about people like Elizabeth Lawrence, who was lynched because she scolded children for throwing stones at her. We want to talk about people who were lynched because they bumped accidentally into white people as they were going to the train station. We want to talk about all of the devastation. We want to talk about the fact that these lynchings took place in the public square with thousands of people cheering them on.
About 40 percent of a projected $20 million has been raised for the memorial-museum project, Stevenson told the New York Times.
I always shiver with rage when that subject comes up. I guess it's because lynching, a crime ignored by mayors, governors and presidents for almost a century, operated within the American political system, within America's political and police borders. It wasn't sporadic manifestations of isolated mob law; each time, it was a thought-out decision made by the white community, and indirectly sanctioned by white community leaders, police officials and regular citizens. It was a collective, clear and direct political and economic statement: that blacks were going to compete with them for America, county by county, at their own peril.
How many and for how long? About four thousand between the end of Reconstruction (the EJI is using 1877) and 1950 (unless you count the 1955 and 1964 murders, respectively, of Emmett Till and the three Mississippi civil rights workers; if so, the timeline stops at the summer of '64, when Barack Obama was turning 3 years old).
But back to my lecture about Randolph's turning down the $1 million:
Time to turn the smirks and bulging eyes to quizzical looks. "What box score used to be on the front page of the national edition of the Chicago Defender?" I ask the audience.
Crickets. Confusion.
"A lynching box score—how many people got lynched since the last week's edition."
Any mirth leaves their faces, and their eyes become serious. No one expected that I would go there—it just isn't done much anymore.
"If you saw that Defender front page every week, if you knew that black people would never get free—that they, we, would be subject to rapes and lynchings for another hundred years; if you knew that if you sold out, none of it would ever stop, you would have done exactly what Randolph did in the 1930s."
Silence. Thought. (One time during the speech, applause.)
My lecture always ends that way.
Because no amount of money can wash away the anguish, the blood, the fear. Even today, the sadness hovers above the air of America's formerly Jim Crowed. It hangs like, well, an invisible noose around us, because we know that shouting "Black lives matter" in 2016 is not a new, militant declaration but a historic request, an old cry updated as 21st-century, digital-friendly catchphrase.
This planned museum-memorial combo in Montgomery is important because it will be an opportunity to see the thousands of names of those abandoned by America and gutted like fish, then broiled like barbecue. To stand in a place that represented their oppression and read their names, calling them forth, out loud. To bring them back from the realm of the ancestors into our collective memory. To absorb their pain while shedding tears and sharing new resolve. Sometimes what is the least that can be done is good enough for the present moment.
Todd Steven Burroughs, an independent researcher and writer based in Newark, N.J., is the author of Son-Shine on Cracked Sidewalks, an audiobook on Amiri Baraka and Ras Baraka through the eyes of the 2014 Newark mayoral campaign. He is the co-editor, along with Jared Ball, of A Lie of Reinvention: Correcting Manning Marable's Malcolm X and the co-author, with Herb Boyd, of Civil Rights: Yesterday & Today.