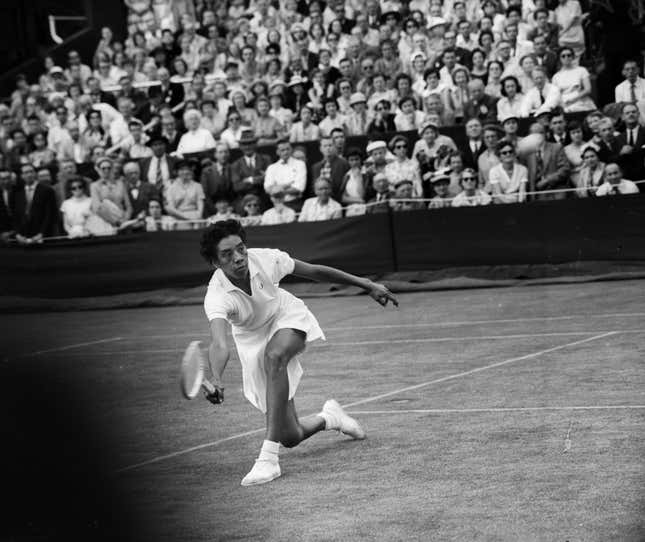 On Monday, Althea Gibson—the woman who broke the color barrier at tennis' highest levels—received long-overdue recognition: a granite sculpture in her likeness at Arthur Ashe Stadium in Queens, N.Y.
The giant bust was unveiled on the first day of the 2019 U.S. Open, where Serena Williams, Naomi Osaka, Sloan Stephens, and Venus Williams—black women who have followed in Gibson's formidable footsteps—will be taking the court for the first round of play.
"This is not just a player who won a ton of titles — this is someone who transcended our sport and opened a pathway for people of color," Katrina Adams said, according to the New York Times.
As the first black U.S.T.A. president, Adams continued, "If there was no Althea, there'd be no me, because tennis would not have been so open to me. Everything she had to do was three times harder than it was for the normal person."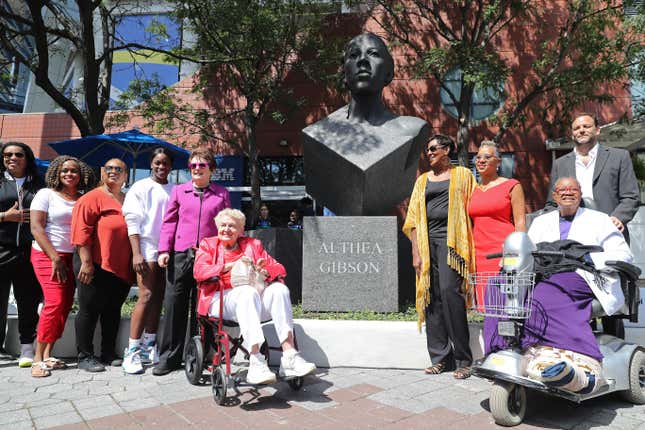 Raised in Harlem, Gibson was the first black athlete to compete at the U.S. national championships in Forest Hills, before the Open era. She was also the first black player to play Wimbledon in 1951; seven years later, her finals win there made her the first black tennis champion in history.
Gibson was frequently compared to Jackie Robinson for her role in desegregating tennis, though unlike Robinson, Gibson rejected the notion of being an ambassador.
"I don't consider myself to be a representative of my people," she said in 1957, a year before her historic Wimbledon win. "I'm thinking of me and nobody else."
Gibson was unconventional in other ways, forgoing the tailored dresses most women tennis players wore in the '40s and '50s for shorts and collared shirts. Her biography outside of the sport of tennis is downright stunning; in 1963, she became the first black golfer in the Ladies Professional Golf Association (LPGA). She also sang jazz and played the saxophone, according to a recent CNN profile.
Her talent was likely only matched by her ferocity—a trait that was very much a survival mechanism for a young Gibson. From the Times:
At age 13, Gibson dropped out of school to devote herself to street fighting, a basketball team called The Mysterious Girls and watching movies. Fearful of her father's beatings, according to her autobiography, she lived for a while at the Society for The Prevention of Cruelty to Children.

At first she dismissed tennis as a sport for weak people.

"I really wasn't the tennis type," Gibson wrote in her book. "I kept wanting to fight the other player every time I started to lose a match."
Despite her myriad accomplishments, Gibson made "virtually no money" from tennis, and spent decades living alone and in poverty before a fundraising campaign in the '90s helped her bounce back during the final years of her life.
Still, given her role in shaping the sport, her name, image, and story aren't as widely known as one might expect.
It's fitting then, that young women touched by Gibson's legacy were the ones who stood up for her and helped make the new statue possible. As the Times writes:
It was a group of female students from One Love Tennis, the organization that is restoring the Wilmington, N.C., property, that prompted Adams two years ago to take action to honor Gibson in New York.

"I had some 50 letters from those kids asking me why Althea was not recognized at the U.S. Open," Adams said. "One of them wrote, 'Can't you even have a hot-dog stand in her name?' And I'm thinking, yeah, I think we can do a little better than a hot-dog stand."
Patrick Galbraith, USTA president and chairman of the board, noted in a statement shared with CNN that Gibson "made tennis a better place by opening doors and opening minds, doing so with grace and dignity."
Tennis legend Billie Jean King seconded that feeling at today's ceremony.
"Welcome home Althea Gibson," she said. "A lot of us have waited a long time for today to happen. We've finally gotten over the finish line."
Along with the new statue, created by sculptor Eric Goulder and weighing more than 18 tons, Gibson's family is also trying to rename a segment of the West 143rd neighborhood where she grew up to "Althea Gibson Way."