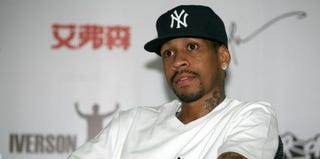 In the ongoing saga that is Allen Iverson's life, his ex-wife, Tawanna Iverson, has filed papers accusing the former Philadelphia 76er of abducting their children.
He has yet to return them to her after taking them on vacation on May 22, according to Sports Illustrated.
Tawanna Iverson filed papers that said Allen asked for permission to take their five kids on vacation on May 22 and agreed to bring them back on May 26. When that day rolled around, Iverson had not returned the kids. The kids range in age from 3 to 16 years old.

Tawanna, who has sole legal and primary physical custody of their children, set up an exchange with Allen on June 4, but he did not show up, according to the report. Tawanna has not seen them since. She believes he never took them to North Carolina and has them at a Sheraton Hotel in Georgia.
Read more at Sports Illustrated.