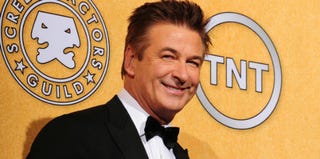 The New York Police Department's Hate Crimes Task Force is reportedly investigating whether Alec Baldwin committed a hate crime against New York Post photographer G.N. Miller during a run-in this weekend.
According to Radar Online, Miller says that Baldwin used racial epithets against him as he tried to snap a picture of the actor. Baldwin called the accusation "bogus" and tweeted, "I find it ironic that my foundation's last grant was $50,000 to the Arthur Ashe Learning Center."
Well, who knows what really happened? It's entirely possible that he's been wrongly accused. But we find it ironic that he'd think a donation to an African-American charity would somehow close the case on whether he let some racism slip in a heated moment. Come on. Is this the new "But I have black friends?"
Read more at Radar Online.