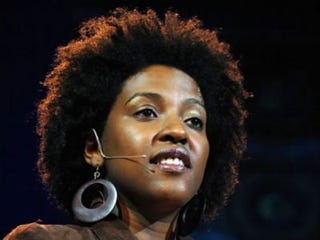 In response to Forbes' popular 20 Youngest Power Women list, Mfonobong Nsehe put together a list of the African continent's youthful female movers and shakers.
All under age 45, they're exerting influence in business, technology, policy and media, and she says they'll lead Africa's economic revolution and its contemporary renaissance.
There's Ory Okolly, a Harvard-educated Kenyan woman who just took over as Google's policy manager for Africa and has spearheaded a revolutionary crowd-sourcing utility. Chimamanda Adichie, a Nigerian writer, was awarded the Orange Prize for her second novel, Half a Yellow Sun. Journalist Funmi Iyanda travels from state to state in Nigeria to capture the conversations that inform her popular TV show. Isis Nyongo is the vice president and managing director of InMobi, the world's largest independent mobile-advertising network.
And those are just the first four. There's no question that this is a group to keep an eye on, even from the other side of the world.
Read the rest of the list at Forbes.
In other news: GOP Debate on CNN: What to Watch For.