Daily News Cover: "He Said-She Said" 55 Times Over
"A media throng" followed Bill Cosby on Wednesday as he reported for his arraignment outside Philadelphia on a charge of felony indecent assault, reviving a decade-old allegation that he drugged and sexually attacked a former Temple University employee.
No cameras were allowed in the courtroom, but Philadelphia television stations streamed Cosby's arrival, the network evening news programs led with the story and social media related the Cosby case to racial issues and the criminal justice system. CNN posted video of its story on Twitter.
"Reporters waited for hours outside the small courthouse in Elkins Park, where Cosby arrived in a black-and-white hooded sweater on Wednesday afternoon for his arraignment," Abby Ohlheiser, Niraj Chokshi and Paul Farhi reported for the Washington Post.
In an early version of the story for the Philadelphia Inquirer, Jeremy Roebuck and Laura McCrystal reported, "Amid a media throng, Cosby arrived in a black Chevy Suburban Wednesday afternoon for an initial appearance before a magistrate district judge in Elkins Park.
"Looking frail, he was guided by defense lawyer Brian McMonagle into the small courtroom, where a judge informed him of the charge and set his bail at $1 million, of which Cosby must post 10 percent. Then he headed to Cheltenham Township police for booking.
G/O Media may get a commission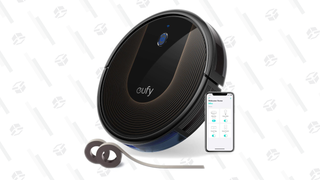 48% Off
Eufy BoostIQ RoboVac
"The charge against the 78-year-old, a television celebrity once celebrated as 'America's Dad,' followed more than a year of claims by scores of women who said Cosby had sexually assaulted them—sometimes after drugging them—during a span of four decades.
"Cosby has repeatedly denied assaulting anyone, including Andrea Constand — the woman at the center of the emerging criminal case. . . ."
Philadelphia's WCAU-TV reminded viewers that "NBC10 Investigators reporter Harry Hairston was first to report that Cosby was expected to face criminal charges." WCAU's Rosemary Connors reported that while Cosby ignored all questions, "as you see, we captured his every move."
On "NBC Nightly News," substitute anchor Kate Snow narrated an excerpt of her October "Dateline" interview with more than two dozen other Cosby accusers.
The "CBS Evening News" interviewed former Boston Globe staffer Renee Graham, who explained that the magnitude of the story stemmed from such a large "fall from grace."
Several websites posted the 23-page complaint [PDF].
At about 6:30 p.m. ET, the Daily News in New York tweeted an early version of Thursday's front page, which referred to its editorial inside. The front page headline was, "After 55+ Allegations, Cosby Finally Busted."
That line was followed, in larger type, by, "He Said-She Said"and then 17 lines of descending type size that repeated "she said" 55 times.
"While sentiment on social media weighed heavily against Cosby, many of the hottest threads featured fierce debates over the often-diverging outcomes of U.S. criminal investigations depending on whether alleged perpetrators are white or black," Angela Moon and Melissa Fares reported Wednesday for Reuters. "Cosby is black.
"On the heavily trending #BlackLivesMatter hashtag on Twitter, for example, many users contrasted the willingness of the Pennsylvania district attorney to charge Cosby without a grand jury indictment while a number of other U.S. prosecutors have not pursued a similar path when white police officers stood accused killing black men and youths. Just this week, a grand jury in Ohio declined to bring charges against two Cleveland police officers involved in the 2014 shooting of 12-year-old Tamir Rice.
"Twitter user Tony McKnight (@williecaine) said: 'So no grand jury for "the Coz*." If only he'd been nicknamed "the Cop." ' *notintendedasanendorsementofrape'
"Another Twitter user Barbara E. Allen (@BA1245) wrote: 'Why is it that Bill Cosby can be charged but the cop who murdered Tamir Rice's can't? #TamirRice #BlackLivesMatter' . . .
Moon and Fares added, "More than two thirds of the total mentions of Cosby on Twitter, Facebook and Google ranked as negative, according to social media analytics firm Zoomph, with just 10 percent rated as positive.
"Another 20 percent were scored as neutral. . . ."
In the Daily Beast, Jay Michaelson told readers, "Bill Cosby would never have been arrested today were it not for a determined victim, intrepid reporters, a D.A. ready to take the case, and a judge who wouldn't let him off the hook."
He added, "Cosby might have avoided prosecution today were it not for the efforts of the Associated Press to unseal those 2005 and 2006 statements" from a civil suit filed by Constand but settled out of court.
"In a letter to the court holding the documents, the AP argued that, in light of the new accusations, the public interest in the Cosby case (reignited by [comedian Hannibal] Buress) outweighed Cosby's interest in his privacy. . . ."
Maryclaire Dale, Associated Press: Bill Cosby Arraigned on Sex Assault Charge
Jarvis DeBerry, NOLA.com | the Times-Picayune: Bill Cosby rape accusations make it hard to watch Cliff Huxtable
Nardine Saad, Los Angeles Times: Bill Cosby's fans and foes take to social media after assault charge 
N.Y. Times Says a White Tamir Rice Would Be Alive Today
In a strongly worded editorial, the New York Times editorialized Tuesday that "Tamir Rice of Cleveland would be alive today had he been a white 12-year-old playing with a toy gun in just about any middle-class neighborhood in the country on the afternoon of Nov. 22, 2014.
"But Tamir, who was shot to death by a white police officer that day, had the misfortune of being black in a poor area of Cleveland, where the police have historically behaved as an occupying force that shoots first and asks questions later. To grow up black and male in such a place is to live a highly circumscribed life, hemmed in by forces that deny your humanity and conspire to kill you.
"Those forces hovered over the proceedings on Monday when a grand jury declined to indict Officer Timothy Loehmann in the killing and Timothy McGinty, the Cuyahoga County prosecutor, explained why he had asked the grand jurors to not bring charges. Mr. McGinty described the events leading up to Tamir's death as tragic series of errors and 'miscommunications' that began when a 911 caller said a male who was 'probably a juvenile' was waving a 'probably fake' gun at people in a park.
"The fact that those caveats never reached Officer Loehmann — who shot the child within seconds of arriving on the scene — was more than just an administrative misstep. It reflects an utter disregard for the lives of the city's black residents. That disregard pervades every aspect of this case . . .
Meanwhile, "Protesters again took to the streets of downtown Cleveland Wednesday" to protest the grand jury's decision not to indict," Patrick Cooley reported forcleveland.com.
"Demonstrators called for the resignation of Cuyahoga County Prosecutor Timothy J. McGinty, as well as the resignations of Timothy Loehmann — the officer who fatally shot Tamir within seconds of arriving at the Cudell Recreation Center on Nov. 22, 2014 — and Loehmann's partner, Frank Garmback.
"Demonstrators plan to gather at the Justice Center again on Thursday at 9 p.m. for another protest and march they hope will 'shut down the city.' . . ."
. . . Media Want Cameras for Officer's Murder Trial
"Let's see the whole trial," the Chicago Sun-Times editorialized on Wednesday.
"Let's see and hear the opening arguments, the testimony of every eyewitness and expert witness, and all the physical evidence. Let's see every courtroom exhibit. Let's see and hear the closing arguments.
"The coming trial of Police Officer Jason Van Dyke, accused of first-degree murder in the shooting death of Laquan McDonald, first and foremost must be about determining with scrupulous fairness Officer Van Dyke's guilt or innocence. But also on trial will be the integrity of the entire criminal justice system in Chicago and Cook County, a system in which police-involved shootings are all too common and accountability is all too rare.
"A jury will likely pass judgment on Van Dyke. The people of Chicago, sure to follow this trial closely, will pass judgment on what the proceedings say about the larger criminal justice system. The public should be allowed to watch on TV, gavel to gavel.
"WGN-TV, on behalf of all local media, has filed a request to cover the trial live on camera, as well as to cover all pre-trial and post-trial proceedings. The decision to allow cameras now lies with Cook County Judge Vincent Gaughan, who was assigned Tuesday to hear the case. . . ."
The editorial also said, "Let's be blunt. At the heart of the distrust that many Chicagoans, especially African-Americans, have of the police is a conviction that no cop will ever call out another cop — that blue code of silence — on the street or on the witness stand.
"A televised trial would offer all Chicago a civics lesson, revealing perhaps not only the failings of our justice system when it comes to police-involved shootings, but also reminding us of the harrowing split-second decisions cops must sometimes make. . ."
The editorial concluded, "When Officer Van Dyke goes on trial, so does the Chicago Police Department. Allow cameras in the courtroom. Shelter nobody from the good, the bad or the ugly. Hide nothing."
Wayne Bennett, the Field Negro: No shield for Tamir.

Tyler Cherry, Media Matters for America: How Fox News' Primetime Lineup Demonized Black Lives Matter In 2015

Ta-Nehisi Coates, the Atlantic: The Paranoid Style of American Policing

Jelani Cobb, New Yorker: Tamir Rice and America's Tragedy

CounterSpin: Robin Kelley, Malkia Cyril, Richard Rothstein: Do Black Lives Matter to Media? (audio)

Leah Donnella, NPR "Code Switch": Must-Read Reactions To Grand Jury Decision in Tamir Rice Case

Leonard Greene, Daily News, New York: Ending racism should be Obama's life mission as he exits presidency

Editorial, Plain Dealer, Cleveland: Honor Tamir Rice as an agent of positive change

Stephen Henderson, Detroit Free Press: Black lives, Tamir Rice and America's uncivil history

Shaun King, Daily News, New York: LeBron James' appalling ignorance on Tamir Rice's death disappoints fans who expected more from NBA star

Don Lemon, BlackAmericaWeb.com: No Indictments in Tamir Rice Case, Now What?

Mary Mitchell, Chicago Sun-Times: CPD needs an attitude adjustment

Phillip Morris, Plain Dealer, Cleveland: Tamir Rice is Cleveland's other Christmas story

Jim Naureckas, Fairness & Accuracy In Reporting: WaPo Tallies Police Killings – but Holds Back Some of the Numbers That Count

Tony Norman, Pittsburgh Post-Gazette: Another day, another police shooting

Clarence Page, Chicago Tribune: 'Shoot first, think later' policing must go

Jorge Rivas, Fusion: It's time to admit police have a history of connections with the KKK (Dec. 16)

Kirsten West Savali, The Root: Tamir Rice Found Guilty of Being Young, Free and Black

Rev. Osagyefo Sekou, Ebony: Exclusive: Open Letter to Tamir Rice

Gracie Bonds Staples, Atlanta Journal-Constitution: Did Tamir Rice's life matter? Doesn't look like it

Seth Stoughton, Geoffrey Alpert and Jeff Noble, the Atlantic: Why Police Need Constructive Criticism (Dec. 23)

Cenk Uygur, "The Young Turks": Open Carry Laws Aren't For Black People (video)
Demographer: Changing U.S. Demands Attention to Diversity
The fact that people of color are becoming a larger percentage of the U.S. population provides a compelling argument for programs to help them succeed and for increased attention to diversity, William H. Frey, a senior fellow at the Brookings Institution and a population studies professor at the University of Michigan, wrote Tuesday for the Los Angeles Times.
"The younger population of the U.S. is now highly diverse," Frey wrote.
"Racial minorities, who are not always from the middle class, represent roughly half of the students in the nation's K-12 public schools. That level of diversity is destined to increase: . . . By 2023, whites will comprise less than half of the U.S. population under age 30. More important, the entire white working-age population will decline by 12 million over the next 15 years because of aging and retirement; that means young Latinos, blacks, Asians and other minorities must take their place.
"This new diverse majority of young people will have far fewer advantages compared with the white-majority boomers in the '60s. Although high school dropout rates among young black and Latino students have been falling, four-year college enrollment is well below whites', a situation compounded by high attrition rates.
"Should these patterns continue, the nation will see an absolute drop in college graduates after 2020. Moreover, income inequality is hitting the younger minority generations particularly hard, as evidenced by their continuing high rates of child poverty. It is still the case that many blacks and Latinos attend highly segregated, under-resourced public schools and lack the finances and guidance to get into postsecondary programs that are the best pathways to the middle class.
"These facts, and America's inevitable demographic future, put recent campus protests into sharp perspective. The complaints voiced by black, Latinos and other minority students (and their white allies) strongly indicate that a racially prejudicial environment still exists at four-year colleges, which remain more white (61%) than the students in the K-12 pipeline.
"Yet it is imperative that minority students succeed at these colleges. These slow-to-change institutions must successfully invest in diversity, making minorities' contributions, voices and concerns central to their educational mission.
"The message needs to be heeded beyond college campuses as well, by public officials, corporations, even city police forces: Investing in the success of today's diverse youth is critical for the entire nation, which needs a productive labor force and its attendant contributions to Medicare, Social Security and other programs.
"The baby boomers in particular need to hear the message. Now in their 50s and 60s, too many of them are more concerned with lowering their taxes than investing in the younger generation. . . ."
In Twin Cities, It's Back to the Future on Media Distrust
A Minneapolis forum to discuss coverage of the fatal shooting by police last month of Jamar Clark, a 24-year-old black man, demonstrated how little has changed in relations between the mainstream media and many in black communities.
Minnesota Public Radio posted audio of the Dec. 17 discussion last week. It was hosted by the Twin Cities chapter of the National Association of Black Journalists and moderated by MPR News reporter Brandt Williams.
"We can no longer rely on the white media to serve us," Adja Gildersleve of Black Lives Matter Minneapolis said, as she and others complained about "parachute journalism" in their community. Nekima Levy-Pounds of the Minneapolis NAACP said, "Some reporters I refuse to work with" because of how they have decided to frame their stories. "You're not going to use my voice" to validate that framing, she recalled telling the reporter.
Charles Hallman of the black-owned Minnesota Spokesman-Recorder, one of the panelists, who were all African American, complained that many blacks do not support his newspaper, though it offers a missing perspective and is now a 24/7 operation, with the weekly print edition just one of its products. Hallman wrote his own story on the event.
"Levy-Pounds said, 'It feels sometimes like the mainstream White media is the media arm of the City of Minneapolis and the police department. Oftentimes they are one-sided narratives that don't include the voices of color.'
"Gildersleve reiterated that she, other BLM members, and other protesters did not trust the mostly White local media: 'They were trying to find stuff that was more entertaining [rather than] dig deeper into the larger context, the reason why we were out there in the first place,' she explained.
"As a result, they only talked to reporters of color. 'We wanted to uplift media and journalists of color because usually the reporters that show up are White reporters, and they don't understand our experience. They [act like] they are entitled to our story and our space,' said Gildersleve."
Such sentiments were commonly heard in the 1960s and 1970s, when race relations were considered more explosive.
Hallman added that Maria Reeve of the Star Tribune, president of Twin Cities Black Journalists, "argued that her paper's reporters are in the community 'talking to people in the neighborhood, reporting on the issues of the day. We have a room full of reporters — people of color and non-people of color — who understand the issues. We have considerable resources.' . . ."
Also at the forum were Al McFarlane of Insight News and KFAI-FM, a community volunteer radio station; and Bishop Richard Howell of Shiloh Temple International Ministries. Jonathan Blakley, MPR News program director, introduced the event.
No Full-Time Black Political Cartoonists at Major Dailies
"AS A LIGHT-SKINNED man fled the sharp sting of a police officer's weapon, the assembled crowd of a thousand or so let out the loud, full-throated sound of mass laughter," Michael Cavna wrote for his Comic Riffs column Tuesday for the Washington Post.
"That's because right next to him was a black man, gun muzzle pressed against his spine as he begged a cop to be simply tased, and the visual jolt that had the crowd smiling was pure electric recognition. This was deep catharsis in the heat of 2015.
"On stage, narrating the action, was Keith Knight, an African American cartoonist who had drawn this scene.
"And in his sure satiric hands, this Saturday-in-summer audience, gathered in downtown Washington to hear from a panel of editorial artists, felt safe to find humor in Knight's small panels of profound absurdities, which riddle the larger pattern of national tragedy. Knight flipped to a new cartoon, in which a black man asks a white officer why the police's target-practice figures are black; told that they're dark because they're silhouettes, the civilian replies: 'I'm talking about the afro and the FUBU logo across the chest.' The crowd again howled. The listeners were in the hands of a master.
"Knight has been drawing comics about police brutality and bias for nearly a quarter-century, since the 1992 Rodney King riots, and as the visual commentator likes to note, he was spoofing the racism he witnessed well before he began lampooning presidents.
"But in some ways, it is only more recently [that] some audiences have truly caught up to Knight and the realities he renders in his new cartoon slide show, 'They Shoot Black People, Don't They?' Given the coverage that police shootings from Los Angeles to Ferguson to Cleveland to the Carolinas now garner in a world of smartphone cameras and social media, many readers laugh at Knight's cartoons because they are finally fully cognizant of the context — and because they realize that his satiric bull's-eyes are painted uncomfortably close to the truth.
"Even here, though, rests a pesky professional truth that sits offstage, waiting in the wings. On one hand, cartoonists who can articulate firsthand racism are a valuable voice in the national conversation; indeed, Knight rightly received an NAACP History Maker award this year for his police-prejudice comics.
"Yet on the other hand, in this era of raised voices for Tamir and Trayvon and Freddie Gray, one journalistic stat stands out to me: Not a single full-time staff political cartoonist on a major American daily newspaper is black, according to the industry's national professional organization. . . ."
Animated "Bordertown" Series Debuts on Sunday
"Lalo Alcaraz is one busy Chicano," Daniel A. Olivas reported Tuesday for HuffPost LatinoVoices.
"Many of us know him as the cartoonist-creator of the syndicated daily comic strip, La Cucaracha, where Alcaraz skewers bigotry and intolerance with a heavy dose of Chicano culture and humor.
"He is also a team member of the Pixar film COCO, consulting on the Día de Los Muertos-themed animated movie scheduled for release in 2017. Alcaraz has won five Southern California Press Awards for Best Editorial Cartoon, produced editorial cartoons for the LA Weekly for almost two decades, and creates nationally syndicated editorial cartoons in English and Spanish. . . .
"So, let's see… newspapers, books, the internet, radio, film, teaching… some people would retire at this point. But not Alcaraz.
"His latest project is as a consulting producer and writer at Fox Television's animated show, Bordertown, which debuts January 3 at 9:30 p.m. (8:30 central) following Family Guy. It was created by Mark Hentemann and includes as an executive producer none other than Seth MacFarlane.
"The creative team also includes award-winning journalist and editor of the OC Weekly, Gustavo Arellano, as a consulting producer who is perhaps best known for his 'Ask a Mexican' nationally syndicated column.
"Alcaraz kindly agreed to take time from his very busy schedule to answer a few questions about Bordertown. . . ."
Esther J. Cepeda, Washington Post Writers Group: Fox's 'Bordertown' is authentic and hilarious
Giago Signs Agreement to Buy Historic Wounded Knee
"Tim Giago, Lakota, renowned journalist, publisher and founder of publications such as the Lakota Times, Native Sun News and Indian Country Today, has told ICTMN he has signed an agreement to purchase the historic site of Wounded Knee from James Czywczynskifor $3.9 million," Vincent Schilling reported Tuesday for the Indian Country Today Media Network.
"Giago told ICTMN, 'I signed an agreement to be the sole purchaser of Wounded Knee. The reason is that it has been sitting there idle and doing nothing for over 40 years.'
"Giago, who says he grew up and lived at Wounded Knee, where his father worked at the Trading Post and played with JoAnn Gildersleeve, the daughter of Clive and Agnes (the owners of the Wounded Knee Trading Post), is making the purchase for the benefit of the nine Sioux tribal nations.
"'I am 81 years old and I am at that age where I am not looking for any personal gain. I figure the best place for Wounded Knee to be is not just owned by the Oglala, It should be owned by all of the nine tribes of the great Sioux nation.
"''I am going to raise the money, buy it from Czywczynski and then put the land and trust for the tribes of the great Sioux nation,' says Giago. . . ."
The massacre of Wounded Knee took place took place Dec. 29, 1890 — 125 years ago Tuesday, and "saw federal soldiers descend on the Native American settlement near South Dakota's Wounded Knee Creek and slaughter roughly 300 Lakota men, women and children," Jon Levine explained Tuesday for mic.com.
"Twenty-five U.S. soldiers lost their lives, and 20 others were awarded the Medal of Honor. It was the last major engagement between the United States and Native American tribes. . . ."
Afghan Journalist Now the Voice of ISIS
"The voice of a journalist who until recently used to work at radio stations in Afghanistan's eastern Nangarhar province can now be heard in the provincial capital, Jalalabad, and neighboring districts as the voice of Islamic State's new 'caliphate radio,' " Noor Zahid reported Dec. 22 for the Voice of America.
"Former colleagues are quick to recognize the voice of Sultan Aziz Ezam, who worked for three local radio stations over the course of a decade, covering primarily land issues.
"Now, that voice is issuing death threats.
"Local newsmen hear their former colleague — or some imitator — accusing them of 'working for foreigners' and saying they are on the IS death watch list for their reporting practices.
" 'I know the addresses of houses of all those journalists who are working with different media organizations in Jalalabad, and will find them and will kill them,' he declares.
"VOA could not independently confirm the identity of the IS radio anchor. But local Afghan journalists say they are alarmed by the threats and are taking them seriously, because they recognize the voice.
" 'All journalists in Jalalabad are aware of the threats and are very scared,' one local journalist told VOA. . . ."
Jasper Jackson, the Guardian: Islamic militants responsible for two-fifths of journalist killings in 2015

Alissa J. Rubin, New York Times: Flawed Justice After a Mob Killed an Afghan Woman
KoreAm, an English-language Korean American magazine founded by James Ryu in 1990, published its final issue this month,Victoria Kim reported Sunday for the Los Angeles Times. "It was acquired last year by London Trust Media, a virtual private network and entertainment company with no other publishing or media component, and the new owners laid off all remaining staff members this summer. KoreAm and its sister publication, women's lifestyle magazine Audrey, will continue in some online format, but Ryu has yet to figure out what that is. Ryu, who will stay on as publisher, says it will likely be shareable videos and interviews rather than the long-form writing and in-depth profiles KoreAm was known for. . . . "
Clayton Homes, controlled by Warren Buffett, one of the world's richest men and owner of newspapers, has used a pattern of deception "to help extract billions from poor customers around the country — particularly people of color,who make up a substantial and growing portion of its business," Mike Baker of the Seattle Times and Daniel Wagner of BuzzFeed News jointly reported Tuesday. ". . . its methods hardly match Buffett's honest, folksy image: Clayton systematically pursues unwitting minority homebuyers and baits them into costly subprime loans, many of which are doomed to fail, an investigation by The Seattle Times and BuzzFeed News has found. . . ."

Kelley L. Carter, an entertainment writer at BuzzFeed who chairs the Arts & Entertainment Task Force of the National Association of Black Journalists and worked at the Detroit Free Press, Chicago Tribune, USA Today and Ebony, is joining the Undefeated, ESPN spokesman Mac Nwulu confirmed on Wednesday. The Undefeated is ESPN's two-year-old digital project about the intersection of sports and race that is preparing to launch under editor-in-chief Kevin Merida.

"Nicole Livas, who with Tom Schaad co-anchors WAVY's No. 1-rated newscasts at 6 and 11 p.m., will soon be leaving the NBC affiliate, News Director Mark Kurtz announced," Larry Bonko reported Dec. 22 for the Virginian-Pilot in Norfolk. Bonko also wrote, " 'Nicole's husband has been working out of the District of Columbia for some time,' Kurtz said. 'She will be moving up there to be with him and make it their home.' . . ." 
"Norfolk's very own April Woodard, who spent 12 years as a senior correspondent on the nationally syndicated 'Inside Edition,' returns to television in a big way in January," Larry Bonko reported Dec. 22 for the Virginian-Pilot in Norfolk. "She'll appear in a new Black Entertainment Television series, 'Criminals at Work.' Says BET of the docudrama: 'It explores crimes committed in the workplace from inside jobs to corporate espionage. You really may not know the person in the cubicle next to you.' . . ."

"NBC News has hired Steve Patterson as a network correspondent," Brian Flood reported Monday for TVNewser. "Patterson started his career as an intern at the CBS Evening News back in 2007 and has made stops at WZZM 13 in Michigan, KSDK-TV in St. Louis and CBS3 in Philadelphia. . . ."

"La Opinión's reporter pool continues to shrink," Veronica Villafañe reported Dec. 24 for her Media Moves site. "Yurina Melara and Jorge Morales have opted out of the Los Angeles Spanish-language daily for other jobs. Jorge, whose last day at La Opinión is today, accepted a job as reporter for Univision Digital, based in Los Angeles. . . .Yurina will be joining Covered California as a Public Information Officer Specialist for the L.A.-area starting in January." Villafañe also wrote, "That currently leaves the paper's editorial count with three general assignment reporters and one photographer — a drop from 11 reporters and 4 photogs 10 years ago. . . ."

"Former KVOA news anchor Martha Vazquez said her life hit 'rock bottom' after a shoplifting charge that ended her 35-year career in broadcast journalism," Carmen Duarte reported Saturday for the Arizona Daily Star. "She resigned from her television job, sank into a deep depression and eventually left her hometown for the state of Washington. Today, Vazquez calls the time away from Tucson following the 2012 arrest 'a healing journey.' She has returned to Tucson, gets treatment for her depression and now wants to help others. . . ."
"A civil rights leader and son of the famed Martin Luther King Jr. is defending new climate regulations from attacks by a major black business group," Devin Henry reported Wednesday for the Hill. "In a Washington Post op-ed, Martin Luther King III pushed back against arguments from the National Black Chamber of Commerce (NBCC) opposing the Obama administration's climate rule for power plants. . . ."
"Byron Allen's Entertainment Studios has secured distribution for its seven cable channels across DirecTV and U-verse now that AT&T has settled a racial discrimination lawsuit filed in December 2014," Cynthia Littleton reported Monday for Variety. "DirecTV began carriage of Entertainment Studios' Comedy.TV and Justice Central.TV on Monday. U-verse has added Comedy.TV, Recipe.TV, ES.TV, MyDestination.TV, Cars TV and Pets TV; U-verse already carried Justice Central.TV. . . . The AT&T deal greatly enhances the distribution base and value of the lifestyle and entertainment channels, which are wholly owned by Allen, a comedian turned entrepreneur. . . ."
"There is something about the spectacle of a marching band that has entranced Jules Allen," David Gonzalez reported Wednesday for the New York Times "Lens" blog. "Sure, the sun gleaming off trumpets and the sound of drums echoing in the air are impressive. So, too, is the majestic sight of scores of musicians following a high-stepping, high-hatted drum major. But what gets to Mr. Allen is something deeper: the sights and sounds of victory. This is not a small consideration for Mr. Allen, 68, whose previous photo projects range from style and metaphor (hats or nudes) to documentary (boxing). What they all have in common is his determination to show African-American life in ways that connect the dots and underscore tradition and history. . . ."
The International Federation of Journalists said Wednesday it "has strongly condemned the attempted murder yesterday in Mogadishu of Omar Faruk Osman, Secretary general of its member union in Somalia, the National Union of Somali Journalists (NUSOJ). According to reports, Osman was entering the union's office in the Taleh area in Mogadishu when his car was sprayed with bullets by gunmen and he only owed his life to the quick thinking of his body guards, one of them was wounded in the attack as well two pedestrians. . . ."