Sports fans usually don't want to mix their politics and sports — well, White sports fans — but fans of the New England Patriots have no choice.
From Tom Brady's passive-aggressive endorsement of Trump to the very name of the organization, if the personal is, indeed, political, then Patriots fans need to come to terms with the political realities of their fandom.
Meaning: if you are a political progressive, if you are angered by the election of Trump, if you like people of color in positions of importance, you should not cheer for the Patriots in the Super Bowl.
I'll give you five reasons why:
Bill Belichick
Bill Belichick wanted Ol' Dude to Make America Great Again and said as much in a letter:
Congratulations on a tremendous campaign. You have dealt with an unbelievable slanted and negative media, and have come out beautifully – beautifully…Your leadership is amazing. I have always had tremendous respect for you, but the toughness and perseverance you have displayed over the past year is remarkable. Hopefully tomorrow's election results will give you the opportunity to make America great again.
G/O Media may get a commission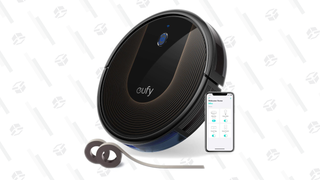 48% Off
Eufy BoostIQ RoboVac
Yeah, that's coach you want to succeed. You, Stacy Dash, Clarence Thomas, and the ghost of Stephen from Django Unchained are all in agreement on that one.
Robert Kraft
Kraft is the owner of the Patriots, the Chief Executive Officer and Chairman of the Kraft Food Group.
He is also a Donald Trump Supporter.
"While I am not comfortable discussing politics publicly, I am very comfortable talking about my friendships with people who happen to be in politics," he said to the Boston Globe. "[We] have had a lot of fun together socially, including a very memorable evening in 2005 when I had the privilege of being at his and Melania's wedding."
Cheer for a team whose owner is Trump's BFF if you want. I'll cheer for the team whose owner is pushing for more diversity.
(IMPORTANT: Robert Kraft is not in any way associated with the Kraft Heinz Company headquartered in Pittsburgh, Pennsylvania, and maker of the only ketchup worth a damn. I'm sure Kraft uses Hunt's Ketchup, Texas Pete hot sauce and thinks Macklemore's The Heist deserved the Grammy for Best Rap Album in 2014 over Kendrick Lamar's Good Kid, M.A.A.D City.)
Tom Brady
In September of 2015, reporters spotted a Trump hat in Brady's locker. "He sent it to me," Brady told Boston's WEEI.  "I mean, it's pretty amazing what he's been able to accomplish. He obviously appeals to a lot of people, and he's a hell of a lot of fun to play golf with."
Brady and Trump have often been photographed together and, I'm sure, plan to have pillow fights in the White House.
The coaching staff
In July of 2016, ESPN published their study of diversity in NFL coaching. What they discovered is that coaching staffs in the National Football League are 'staggering' in their lack of diversity. Yet, there is one coaching staff that led the pack in its homogeneity: The New England Patriots.
Of the 14 coaches that report to Bill Belichick, only 2 are minorities. (These numbers represent coaches—not strength and conditioning  and other non-football personnel.)
Essentially, the Patriots coaching staff is the equivalent of Trumps Cabinet in terms of racial makeup.
They are called the Patriots…
…and the logo is a White Minuteman. Yeah, the same Minutemen that enabled and participated in the settler-colonialism that devastated a number of Native Americans in the region and that modern day xenophobes call themselves as they patrol the US and Mexican border. Yeah, that's their team logo.
My aunt has a rule about art in her house: "No White people on the wall." I'm a grown man. I'll be damned if I wear a White minuteman on my chest.
If you cheer for the New England Patriots, you're a buster, Herb, and the spirits of Martin Luther King, Jr., Malcolm X, Harriet Tubman, Sojourner Truth, and Rickey frown upon your shenanigans.
Cheer wisely.