Perhaps it's the religious sentiment. Perhaps it's because the weather is tropical and there is a need to compensate. Perhaps it's because everyone loves a good party. The fact is that no one celebrates Christmas with more verve and gusto than the folks in the Caribbean. From Puerto Rico to Guadeloupe to Jamaica, the holiday is a time for fun, family and food. Each island puts its own stamp on the season, but everywhere there's rum and rejoicing — plus, the pigs are sacred!
Puerto Rico
Puerto Rico's holiday season begins early, and American Christmas carols alternating with traditional posada songs and endless variations of Jose Feliciano's "Feliz Navidad" blare over airwaves that seemingly throb 24-7. In homes, kitchen tables are cleared and women gather to form the assembly lines that will prepare dozens of pasteles. Banana leaves and parchment paper are spread out by one group. Others prepare the sweet or savory fillings that will be placed inside, and still others wrap, tie and then cook them. It's a time for chatting and catching up on the year's most savory gossip while reinforcing the multigenerational family.
The men are out in the back (or at the local lechonera) watching the spits turn as the traditional suckling pigs are slow-roasted over hardwood fires. There's blood-sausage morcilla, prepared from the pig's innards, and arroz con gandules — rice and pigeon peas, fragrant with annatto and seasoned with cooking ham. The meal is finished off with small glasses of coquito, the Puerto Rican eggnog that comes in seemingly endless variants.
Guadeloupe  
Pig is the centerpiece of the Christmas meal in Guadeloupe as well. There, the soundscape in some neighborhoods is punctuated by the rhythmic sounds of chopping as the cooked Christmas pigs are cut into serving pieces. Midnight Mass is obligatory for the religious, and the French tradition of a réveillon, or a late-night meal, is the norm for many in this Caribbean-French département.
Ham often has the place of pride at the table, but often it is a fresh ham that is closer to our roast pork. Riz aux pois Congo, or rice with Congo peas, is another standby, but at times that is replaced with riz aux yeux noire — black-eyed peas and rice, a dish that is similar to American hopping John.
Dessert is usually a classic French Yule log called bûche de Noël, and the local patisseries windows are filled with pastry logs that look real enough to fool anyone. While fine vintage wine may accompany the meal, at some point the Caribbean asserts itself, and a sip or two of shrubb is obligatory. This beverage is often homemade and prepared from local rum infused with sweet spices like cinnamon and clove and further perfumed with macerated clementine peels. A small glass of shrubb means Christmas to many a homesick Guadeloupean.
G/O Media may get a commission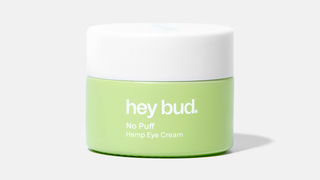 15% off
Hey Bud - No Puff Hemp Eye Cream
The holiday season in Jamaica is a time of celebration and feasting and consists of three different holidays: Christmas Day (Dec. 25), Boxing Day (Dec. 26) and New Year's Day. Multiple meats may be featured on the Christmas table, and it's not hard to guess that the main meat at the center of a Jamaican holiday meal is a form of pork. It's often a ham, but this ham is a cured one that may be seasoned with molasses or rum, slow-cooked to tender perfection and served garnished with a slice or two of roasted pineapple. Rice and peas turn up so frequently on Jamaican tables that they're known as the "coat of arms," so it's only natural that they would make a holiday appearance as well.
Side dishes may vary but are often yams and eddoes, fried plantains and leafy greens like callaloo. Sweet potatoes may also be featured. The meal is a lengthy celebration of family and friends gathered around the table and culminates in the serving of Christmas pudding. In many households the upcoming holiday season is signaled by the appearance of dried fruit soaking in rum in crocks and containers. As Christmas nears, the fruit is removed and transformed into a pudding that mirrors British plum pudding but is rich with the very Caribbean addition of rum. It's so intensely flavored that it seems at times as though it should be sipped through a straw.
Christmas pudding is not the only place in which rum appears. The elixir of the Caribbean is also often paired with the rosy-hued beverage known as sorrel that is prepared from infusing cinnamon, cloves, orange peels and sugar in water with the pods of sorrel, a relative of the hibiscus.
And so, with the holiday season upon us, in the islands to the south, glasses of sorrel, shrubb and coquito are lifted with sincere wishes for health and happiness for those we love on Christmas and in the new year. I lift my punch cup and second the thought.
Jessica B. Harris is a New York-based professor, writer and food historian. Her most recent work is High on the Hog: A Culinary Journey From Africa to America.