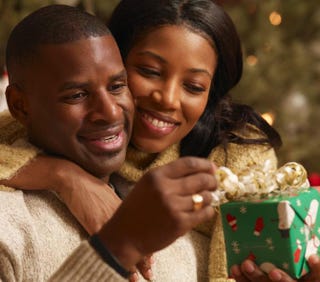 With Christmas and Kwanzaa coming, it means it's time to step up your gift-giving game. Whether you're shopping for your father, husband, brother or boyfriend, we've got a list of the best presents for them this holiday season.
1. Served Fresh Just Ty Sweater
It's getting cold outside, and this Sunset crewneck from Served Fresh will keep those who receive it warm and stylish.
2. Xbox One
The video game aficionado in your life will thank you for the Xbox One Assassin's Creed Unity bundle.
3. Mario Badescu Skin Care
Badescu's executive collection for men offers high-end skin care at a reasonable price.
4. Crosley Turntable
The Executive portable USB turntable will take your old-school vinyl records and convert them into digital files.
5. Tile
Tile makes it easy to find misplaced wallets, remotes and anything else you may have trouble keeping tracking of.
6. Saintly Bags
Saintly Bags offers customizable leather weekend bags that are perfect for a winter getaway, with built-in shoe and laptop pockets.
7. Onehunted Pocket Square
This classy pocket square from Onehunted is the perfect pop of color this holiday season.
8. North Face Thermoball Jacket
We've already been hit by a polar vortex this year, and it's not even technically winter yet. A Thermoball jacket from North Face is the perfect gift for keeping warm.
9. Mo's Bows
Founded in 2011, when owner Moziah Bridges was 9 years old, Mo's Bows offers an array of festive ties. We think the Timbuktu tie would look good this holiday season.
Diamond Sharp is an editorial fellow at The Root. Follow her on Twitter.