From hip-hop releases like The Score and Ill Na Na to R&B albums like Ginuwine … the Bachelor and Dru Hill, 1996 definitely gave us some breakout hits from some of our favorite '90s artists. By the time you're finished reading this list, you'll find out what these musicians have been up to lately—and have a nice little 1996 soundtrack for those moments when only '90s cuts can brighten your day.
Beyoncé's Feminist Anthem "Run the World (Girls)" A Decade Later
Fugees' The Score
In 1996, hip-hop fans everywhere were "super high on the fu-gee-la" with the Fugees' second studio album, The Score. The album, which won two Grammy Awards, included remakes of hits by Roberta Flack ("Killing Me Softly") and Bob Marley ("No Woman No Cry"). Those songs, along with "Ready or Not," catapulted the group to superstardom and cemented its status as one of the best hip-hop groups of all time. The Score was a critics' fave in 1996, with high grades from the Village Voice, Spin and Rolling Stone.
Fugees, Now
G/O Media may get a commission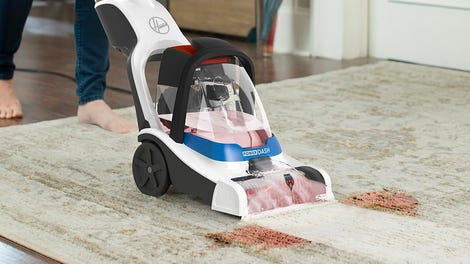 26% Off
Hoover PowerDash Pet Compact Carpet Cleaner
After a nearly 10-year hiatus, the group went on a short European tour in 2005. Yet, by 2007, the damage among group members seemed irreparable, with both Pras and Wyclef Jean citing personal grievances with Lauryn Hill. Each member of the Fugees has embarked on his or her own career. Lauryn Hill has performed at several venues in the last few years after serving a three-month sentence for tax evasion. In 2010, Wyclef Jean had aspirations to become the president of Haiti, but his candidacy was rejected due to residency issues. In 2015, Pras completed Sweet Micky for President, a documentary about Michel Martelly and his run to become president of Haiti.
Lil' Kim's Hard Core
The Queen Bee's debut album featured hit singles "No Time" and "Crush on You," and while the songs stand on their own merits, the videos provided the perfect imagery to introduce the music world to Lil' Kim, the solo artist. The fur coat and pearls she wore just like "Prince Diane and all them rich bitches" in "No Time" and the colorful wigs in "Crush on You" are truly unforgettable.
Lil' Kim, Now
Like several other members of the Bad Boy family, Kim is now traveling across the United States for the label's nationwide reunion tour. In July, she was honored by the VH1 Hip Hop Honors as one of the queens of hip-hop and rap. Her last studio album, The Naked Truth, was released in 2005, and received the coveted five-mic rating from The Source.
Busta Rhymes' The Coming
Busta Rhymes would not be ignored with his debut album, The Coming. How could anyone breeze over his hit single "Woo-Hah!! (Got You All in Check)"? The song reached No. 8 on the Billboard Hot 100.
Busta Rhymes, Now
In May, he appeared alongside the Bad Boy family on their reunion tour stop in New York City. And in June, he made a quick appearance during DJ Khaled's set on Beyoncé's Formation Tour stop, also in New York City. Apparently, he even has a small island named after him.
Dru Hill's Self-Titled Album
Sisqo's platinum-blond hair and the quartet's effortless harmonies and heartfelt lyrics are just a few things that helped Dru Hill stand out among other R&B groups of the '90s. Sisqo, Woody, Jazz and Nokio, better known as the original four members of Dru Hill, released their self-titled debut album in November 1996. Four singles were released from the album, including "Tell Me," "In My Bed," "Never Make a Promise" and "Five Steps." The album peaked at No. 23 on the Billboard 200 charts.
Dru Hill, Now
Dru Hill has gone through a few member changes in the last several years, with Woody exiting, rejoining and exiting the group again in the late 2000s. The Baltimore-based group rocked on as a trio for a bit, then cycled in a couple of new members. The group released its last album, InDRUpendence, in 2010, but is currently on tour with a few other R&B acts.
Ginuwine's Ginuwine … the Bachelor
Ginuwine surely splashed on the music scene with his debut album, Ginuwine … the Bachelor. Its first single, "Pony," is one of those songs that when you hear the first few beats—and that Timbaland sound—you know exactly what's coming up next. His follow-up single, "Tell Me Do You Wanna," was equally sexy.
Ginuwine, Now
Ginuwine is currently on the '90s Remix Tour with Blackstreet and Dru Hill. In 2015, he appeared in Chocolate City as an exotic dancer, and is set to reprise his role in the sequel. Ginuwine and TGT group members Tank and Tyrese released their debut studio album, Three Kings, which was later nominated for a Grammy.
Master P's Ice Cream Man
Master P had been in the music game for quite a while before he finally broke through with his first hit single, "Mr. Ice Cream Man," in 1996. Ice Cream Man was the first album that Master P released out of his hometown of New Orleans and was No Limit Records' first album to be certified platinum.
Master P, Now
In November, Master P released his 14th studio album, Empire, from the Hood to Hollywood. Last year, his family TV series, Master P's Family Empire, premiered on Reelz.
Jay Z's Reasonable Doubt
Some music critics in 1996 might not have guessed that Jay Z would be the Jay Z of 2016. The Source said of his debut album, "Jay Z isn't saying anything new." The album peaked at No. 23 on the Billboard 200, with "Can't Knock the Hustle" and "Ain't No [N—ga]" as its top hit singles.
Jay Z, Now
Two decades later, Reasonable Doubt is hailed as one of Jay Z's best albums, and the music mogul has ranked it as his own personal best. In the last several years, Jay Z has fashioned himself as a "business, man," above all else. He's part owner of music-streaming service Tidal, launched Roc Nation Sports and formed a partnership with Brooklyn, N.Y.'s Barclays Center.
Foxy Brown's Ill Na Na
Ill Na Na, Foxy Brown's debut album, made it to No. 7 on the Billboard 200 charts. With hits like "I'll Be" and "Get Me Home," she entered rap's lexicon as another "big, bad mama" on the scene. The album was released just one week after Lil' Kim's debut.
Foxy Brown, Now
In July, Foxy Brown took to Instagram to tell her fans that she's been busy in the studio preparing for an "incredible return." She also addressed the "snub" from VH1's Hip Hop Honors awards show, saying, "Personally, I'd prefer being held to a much higher standard in my walk, but fans went ballistic," she wrote. "The people have spoken! We've been blessed to set the bar at its highest heights."  In 2001, she released her last studio album, Broken Silence. 
112's Self-Titled Album
112's debut album featured three hit singles, "Only You," "Come See Me" and "Cupid." The album peaked at No. 5 on the Billboard R&B/hip-hop charts. "Cupid" made it to No. 2 on Billboard's R&B/hip-hop album charts.
112, Now
Most recently, the group has appeared along with Diddy and other members of the Bad Boy family on the record label's reunion tour. In 2015, 112 also reunited on the BET Awards stage to perform during the Bad Boy reunion set.