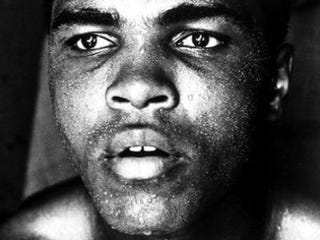 The man whom many call the greatest boxer of all time, Muhammad Ali, is celebrating his 70th birthday on Tuesday. In honor of Ali's 70th, Time magazine has compiled a list of his 70 most iconic images.
Writer George Lois talked about covering Ali's boxing career and his memories of following the ultimate sports icon. Along with many never-seen-before photos are quotes from the likes of Maya Angelou, George Clooney and Michael Jordan talking about their fondest memories of when they first met the man who "floats like a buttefly" and "stings like a bee."
Here's a quote from Derek Jeter:
It is easy to respect Muhammad Ali for his impressive accomplishments in the ring and his status as the pre-eminent boxer of his time. It is even easier to respect him for his dedication to charitable interests, his generosity in sharing his time and resources, his mission to positively impact the world's youth and his strength of character. I have been inspired by the example he's set and incredibly grateful for his help with my Turn 2 Foundation and its youth participants.
We wish the greatest many happy birthdays to come.
Read more at Time Magazine.
Like The Root on Facebook. Follow us on Twitter.