Dorothy Edge, a 65-year-old retired nanny from Brooklyn, N.Y., thought she was helping out with a good deed. Instead, the kindhearted elderly woman was scammed out of her entire life savings, some $28,000, in a "pigeon drop scam," authorities say.
"I'm calling myself stupid, and I don't want anyone to be stupid like me and get scammed," Edge told CBS New York.
The scam occurred earlier this month when a woman stopped and asked Edge for directions at the corner of Nostrand and Church avenues in Brooklyn. In the middle of the conversation, the woman "revealed" that she was from South Africa and had just inherited a lot of money that she was not able to take home.
"She shows three letters—one from a high priest and one from three lawyers," Edge said. "She cannot take back the money to South Africa because the government will confiscate it."
The woman pleaded for Edge's help to donate the money. The woman then stopped another man walking by who was dressed as a pastor. Again, the supposed heiress recited her story, and the pastor offered to donate the money for her and, to prove that he would not steal it, enlisted Edge's help.
G/O Media may get a commission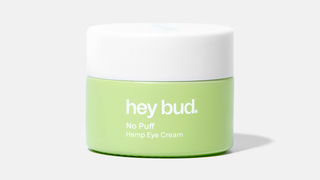 15% off
Hey Bud - No Puff Hemp Eye Cream
"The man with the Bible in his hand who said he's a pastor and he's going to help—that's what caused me to trust—the pastor," Edge said.
So the "pastor" and the "heiress" drove Edge to 31st Street, where the pastor exited the vehicle and returned with a bag of his own money to prove that he could be trusted. He then drove the women to Edge's home so that she could do the same.
"From 26 years I came to this country, I started saving that money—26 years!" Edge said. "And I went down there and I showed it to them and said, 'This is my money. If you leave the money with me, I will give it to St. Jude.'"
Edge handed over her life savings, which she kept rolled up in a sock because she didn't have a green card and therefore was unable to put her cash in a bank.
The 65-year-old handed her money over, and the pair claimed that they wanted to bless the money.
"She put it in a black kerchief and she wrapped it up, and that is where the money switched," Edge said.
When Edge went home and opened up the bag, she found only pieces of newspaper, and the alleged pastor and heiress were gone.
And now Edge, who has worked this far in life, is left with nothing.
"I'm willing to work to pay my bills, but who is going to give me a job?" she said, according to Vibe.
Read more at CBS New York and Vibe.