Araminta Ross—or, as we know her, Harriet Tubman—was, quite honestly, one of the most incredible human beings ever to spend time on this planet. The history books have been kind to Tubman, allowing her to be taught to every child who's ever been in school. That's all well and fine, but there are likely so many amazing things about her that haven't been taught.
March 10 is Harriet Tubman Day, which is the day of her death in 1913, but it also a day to celebrate her incredible life.

It's been said that Tubman escorted up to 300 slaves to freedom (the numbers are disputed) during a 10-year span. In 2016 this feat may get glossed over, but we all need to take some time and truly consider this. There are times when we don't even want to walk downstairs and outside to take out the garbage, but Tubman extended herself more times than necessary, walking back and forth from the North to the South and back again, to help others gain their freedom. If you don't feel the need to celebrate this woman every day, we're questioning your entire existence.
Here are five reasons Tubman deserves a never-ending celebration. She's done more in a lifetime than many of us could ever imagine.
1. Freedom was her life's purpose.

She's been quoted by her original biographer, Sarah Hopkins Bradford, as having said, "I freed a thousand slaves. I could have freed a thousand more if only they knew they were slaves." (Some have argued that this quote is fake.) Although Tubman led slaves to freedom, she realized that there were those who didn't want to be helped. The quote continues to resonate today, especially since there are black people who still refuse to speak out for their brethren.
G/O Media may get a commission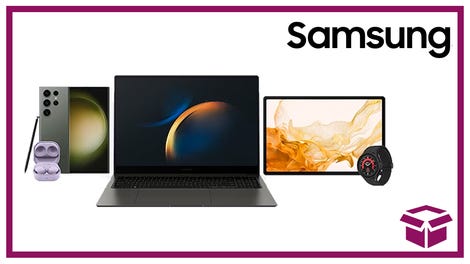 24 hour deals
Discover Samsung - Daily Deal
Also, can you imagine being a slave and leaving? Having that courage and fighting to leave … on foot? Tubman made this excruciating, long trip 19 times. She could have been caught the first time. According to Bradford, Tubman said, "I had reasoned this out in my mind; there was one of two things I had a right to, liberty, or death; if I could not have one, I would have the other; for no man should take me alive; I should fight for my liberty as long as my strength lasted, and when the time came for me to go, the Lord would let them take me."
2. Before there was Bond, there was Tubman … Harriet Tubman.
Tubman was a Union spy at the same time she was leading slaves to freedom. In the midst of the Civil War, she signed on as a scout with the Union Army, serving as a reconnaissance officer for Col. James Montgomery. As a scout and spy, Tubman helped slaves escape the South and provided them with medical attention. As if that weren't enough, she encouraged them to seek vengeance against their former masters by enlisting in the federal army. So, essentially, she was also an Army recruiter. Tubman also participated in a number of military engagements, including the Raid on Combahee Ferry in 1863, when she reportedly helped free 800 slaves.
3. She bit the bullet; plus, her hair was the beginning of #BlackGirlMagic.

When Tubman was 12, a two-pound iron weight was thrown at another slave, but it hit her in the head. This blow caused her to have narcolepsy, or sleeping spells. She would fall asleep anytime, any place. Tubman believed that her hair, which "had never been combed and … stood out like a bushel basket," might have saved her life. Later in life, in the 1890s, she had brain surgery because of the pain. She refused anesthesia and bit down on a bullet, as she'd seen Civil War soldiers do when they had to have amputations.

4. She was the creator of what she needed.
Tubman spent her final years in a home called the Harriet Tubman Home for Aged and Indigent Negroes, which she established in Auburn, N.Y. It's basically the first version of Xavier's School for Gifted Youngsters. She essentially built her own rest home to enjoy her golden years. She also donated land she'd bought to the African Methodist Episcopal Zion Church in Auburn and helped organize the church.
5. She was a singer.
Slaves used songs as an everyday part of coping with their lives. But those songs were more than just a melodic way to cope; they served a much bigger purpose. Tubman used songs as a strategy to communicate with other slaves as they escaped to freedom. Songs contained coded lyrics to let other slaves know when the singer was planning to escape and to give directions on how to escape; some even gave locations on where to meet and how to keep the slave masters off their trail.

Tubman used songs like "Go Down Moses" and "Swing Low, Sweet Chariot" to communicate. She also reportedly used "Wade in the Water" to tell slaves to get into the water to avoid being seen:
Wade in the water.
God's gonna trouble the water.
Who are those children all dressed in Red?
God's gonna trouble the water.
Must be the ones that Moses led.
God's gonna trouble the water.
Honorable mention:
It's worth noting that Tubman was never paid for any of the work she did—not even when she was a spy. She was an entrepreneur, preferring to earn her money brewing root beer and making gingerbread and pies for the soldiers.
We honor one of the most incredible people who ever worked this earth on Harriet Tubman Day and every day!

Danielle Young, The Root's social-content producer, is pretty, witty, girly and worldly. One who likes to party but comes home early. Boldly telling stories with heart, sass and humor. Prince once called her "excellence." Follow her on Twitter.
For more of black Twitter, check out The Chatterati on The Root and follow The Chatterati on Twitter.\r\n\r\n\r\nYesha Callahan is a senior editor, and editor of The Grapevine, at The Root. Follow her on Twitter.\r\n\r\n