Cheung of AAJA, NBC's Janelle Richards Aboard Train
At least five journalists — Paul Cheung of the Associated Press, who is national president of the Asian American Journalists Association; Janelle Richards, an "NBC Nightly News" producer; Beth Davidz, a former Associated Press reporter; Jill Jorgensen, a reporter for the New York Observer; and financial journalist Jeff Cutler — escaped from the Amtrak train that derailed in Philadelphia Tuesday night.
Of those, all but Jorgensen were uninjured.
However, Jim Gaines, an Associated Press video software architect, was among at least seven people killed, the AP reported. More than 140 others were hurt. [On Thursday, an eighth body was found and Philadelphia Mayor Michael A. Nutter said officials believed no more bodies would be discovered.] 
Gaines, "a 48-year-old father of two, had attended meetings in Washington. He was returning home to Plainsboro, New Jersey, when the train derailed Tuesday night. His death was confirmed by his wife, Jacqueline," the news cooperative reported.
"Gaines joined the AP in 1998 and was a key factor in nearly all of the news agency's video initiatives, including a service providing live video to hundreds of clients worldwide."
G/O Media may get a commission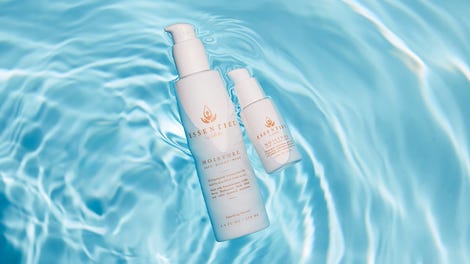 20% off
Essentiel by Adele
Patrick J. Murphy, a former congressman who anchors MSNBC's "Taking the Hill," was also aboard. He was among the witnesses who recounted their horrifying stories on social and traditional media.
"I'm fine. Thank God was on phone and didn't sit in quiet car," Davidz tweeted Tuesday night. "That car and others not looking good. #Amtrak crash #philly." Davidz, an AP reporter from 2007 to 2009, describes herself as a New York-based media technologist and is project manager for Billy Penn, a Philadelphia local-news startup founded by digital journalism pioneer Jim Brady.
Davidz updated early Wednesday, "Released from hospital. Thx to @sacmcdonald have a ride, a #philly place to stay. No wallet, one shoe, so grateful."
Cheung told Journal-isms by email Wednesday that he was returning to New York from Washington, where he had attended the White House Summit on Asian Americans and Pacific Islanders, in which 1,600 to 1,800 community leaders, business leaders, advocates and artists from across the country convened, by White House count.
Cheung, based in New York, is director of interactive and digital news production for the Associated Press. He "was on the train and said he was watching a video on his laptop when 'the train started to decelerate, like someone had slammed the brake,' " the AP reported.
" 'Then suddenly you could see everything starting to shake,' he said. 'You could see people's stuff flying over me.'
"Cheung said another passenger urged him to escape from the back of his car, which he did. He said he saw passengers trying to escape through the windows of cars tipped on their side.
" 'The front of the train is really mangled,' he said. 'It's a complete wreck. The whole thing is like a pile of metal.' . . ."
Cheung's photo of the twisted rail cars was tweeted and transmitted with the AP story. In addition, "Via the AP, i spoke with MSNBC, GMA, BBC and a few others," he told Journal-isms by email.
Lawrence O'Donnell interviewed Richards on MSNBC's "The Last Word with Lawrence O'Donnell" Tuesday night. "I was in the back of the train in the last car. I heard a loud crash," she said. Richards added, "I was in complete shock, as I think most people were," [video] she told O'Donnell. "My first thought was how do we get off this car. That is the first thing I heard people ask."
At 10:04 p.m., about 45 minutes after the derailment, Richards tweeted "video I took moments after crash. People trying to open the door and get off the train." Her images were also shown on NBC News. 
Murphy "kicked out a window on Amtrak train 188 after it derailed in Philadelphia en route to New York to help passengers flee the deadly crash," Michael Rodio reported for NBC News.
" 'People were crying and screaming,' the former [Democratic] congressman representing Pennsylvania's 8th District told MSNBC anchor Lawrence O'Donnell on Tuesday night."
On MSNBC's "Morning Joe," Murphy deflected a question about whether he was upset that Congress had allowed maintenance of the Amtrak system to falter. "I feel blessed and lucky to be here," [video] he said, fighting back tears. "I was able to kiss my wife last night." He added that his congressional record was clear and that he thinks "America should be No. 1."
Jorgensen did not escape unscathed.
The New York Observer reported Wednesday, "Senior politics reporter Jill Jorgensen had traveled to Washington to cover Mayor [Bill] de Blasio's appearance there with Sen. Elizabeth Warren. On her way home last night, Jill was sitting in the quiet car, and anyone who knows how hard-working and competitive Jill is can rest assured she was quietly pecking out a story trying to beat her Room 9 rivals, several of whom had also traveled to Washington to cover the mayor.
"In an instant, everything changed. Jill was thrown across the car, which itself was mangled. She was injured, and she was disoriented. Her laptop, purse, wallet, recorder … everything was God knows where. . . ."
Cutler, of the Cobble Hill section of Brooklyn, told NY1News he was returning from a conference in Washington.
"People ask, 'Did you feel anything or notice anything different, immediately before this happened?' and I didn't. It just felt normal, until this point where the train did seem to be going fast. I don't know if it was abnormally fast, but it was going fast and around a curve, and at this moment, it started to tip over, and then it seemed like it lifted into the air and, lifted into the air, turned and hit the ground with a thud," Cutler told the cable outlet.
In a Wednesday afternoon update on the derailment, Joseph A. Gambardello and Anthony R. Wood wrote for the Philadelphia Inquirer:
"Seven deaths were confirmed Wednesday and the toll was almost certain to go higher in the derailment of an Amtrak train that officials said was traveling at double the speed limit as it approached a curve at Frankford Junction.
"The search for more bodies was continuing, Mayor Nutter said at a midafternoon briefing at the site. More than 200 people were injured, and at least eight people remained in critical condition.
"The National Transportation Safety Board said that the train was moving at 100 m.p.h. when it jumped the tracks at a sharp curve where several lines merge, toppling all seven cars.
"Nutter said President Obama had contacted him to pledge the federal government's 'full support.' In a statement, the President commended the first responders and medical personnel as well as uninjured passengers who assisted the injured. . . ."
Editorial, Daily News, New York: Deadly malfeasance: Amtrak passengers paid with their lives for Washington's neglect of transportation

Editorial, Philadelphia Inquirer: We can reduce rail accidents

John Eggerton, Multichannel News: Amtrak Derailment Reports Raise Train Tech Issue

Mark Joyella, TVNewser: Why Did NBC Make Lester Holt Anchor Nightly News from a Helicopter?

Evan McMurry, Mediaite: Journalists Fight on Twitter About Using Twitter to Contact Amtrak Crash Victims

Rick Sanchez, Fox News Latino: How many more deaths until we replace our Cold War era trains?
Baltimore Sun Says Mayor Hasn't Been Up to the Job
The Baltimore Sun editorial board repeated Wednesday that Mayor Stephanie Rawlings-Blake has not risen to the occasion in dealing with the death in police custody of Freddie Gray and the resulting unrest.
" 'Nobody died during the riots,' Mayor Stephanie Rawlings-Blake observed Tuesday" [accessible via search engine] , an editorial began, "in defending her administration's response to the widespread violence and looting in the wake of Freddie Gray's death, mayhem that left scores of police officers and civilians injured, buildings burned, businesses looted and a city reeling to recover.
" 'Out of the two weeks of demonstrations, we only had a few hours of unrest, and then we were able to restore peace and calm' — a few hours in which she as leader of the city was mostly invisible but images of Baltimore descending into chaos were broadcast around the world.
"In trying times, leaders need to step up. That's more than a matter of making the right decisions behind the scenes — and it's certainly debatable whether Mayor Rawlings-Blake did even that. It's also a matter of projecting calm and authority. Not only did she fail at that on the fateful Monday night of the riots, but the defensiveness with which she has discussed her role and that of Gov. Larry Hogan has only diminished her stature as the city has descended into a new and horrific round of violence. 
"Nobody may have died on that Monday night, but at least 18 people have been killed since then and more than 50 shot. At any other time, that would constitute a full-blown municipal crisis, but what has the mayor had to say about it? What has Police Commissioner Anthony Batts said, other than a pledge to redistribute patrols? The only voices the public hears are from some police officers who blame the crime spike on the angst and ennui of their fellow patrolmen in the wake of State's Attorney Marilyn Mosby's decision to charge the six officers involved in Freddie Gray's death. . . ."
The editorial concluded, "We acknowledge that there's more to being mayor than going out in public and rallying the city, and that Ms. Rawlings-Blake has brought real skill and determination to problems for which she will never get much credit, like reforming municipal pensions and reducing employee health care costs.
"But the city was in crisis when rioters took to the streets on April 27, and it has been in crisis during the spate of violence that has followed. We need the mayor to rise to the occasion, not to lament the 'tremendous personal sacrifice' that the job entails. We understand that she doesn't think all the criticism she has faced is fair, but that goes with the job.
"If it is too much for her, there are plenty of others who would be willing to take on that responsibility. The way things are going, we suspect we'll be hearing quite a lot from them before next year's election."
Native Americans Have a Stake in "Black Lives Matter"
How does the "Black Lives Matter" movement affect American Indians, "and why should we get involved in this movement? There are a few reasons why this should be a wake-up call for the disparate treatment of all peoples of color', " tribal attorney Monique Vondall-Rieke wrote Wednesday for the Indian Country Today Media Network.
Vondall-Rieke generally practices in the Turtle Mountain Tribal Court Jurisdiction in North Dakota. She also wrote, "There is no doubt that unsolved murders in Indian Country [have] been an issue since before Anna Mae Pictou Aquash's hands were severed from her deceased body and mailed to Washington, D.C. for fingerprint identification by the Federal Bureau of Investigation (FBI) in 1976.
"Aquash's murder was not brought to justice until the new millennium and finalized with the last prosecution taking place in 2008.
"In 2001 on the Turtle Mountain Band of Chippewa Indians Reservation near the Canadian border in Belcourt, North Dakota, George Jeanotte, a Native American male Vietnam Veteran was murdered and to this day, no one has been charged with his murder despite the family of Jeanotte's pleas to find his killer. . . .
"Now is the time for American Indian officials to approach the [Department of Justice] and be a visible part of the changes coming from yet another chapter in the Civil Rights chapter of American History. . . ."
Wayne Bennett, the Field Negro: A soldier and a child will not solve our problems.

Stephen Rex Brown, Daily News, New York: Daily News wins awards for coverage of Eric Garner tragedy and aftermath, 'broken windows' policing

Michael H. Cottman, BlackAmericaWeb.com: Sorry, Haters, Marilyn Mosby Is Not Going Away

John Halpin, Center for American Progress: Looking for a Way Forward After the Unrest in Baltimore

Allen Johnson, News & Record, Greensboro, N.C.: Cops deserve justice, too

Mark Joyella, TV Newser: Alicia Menendez: Is CNN 'Milking' Unrest in Baltimore?

Michelle Johnson, alldigitocracy.org: What the Boston Globe & Other News Media Keep Getting Wrong About Baltimore

James Ragland, Dallas Morning News: Are Texas police departments hiding behind a 'blue' lie?

Southern California Public Radio: "NPR Presents: Michel Martin 'Going There' " event scheduled June 24: Streets and Beats: Personal stories of cops and community from across LA

Lilly Workneh, HuffPost BlackVoices: Essence Festival To Hold A 'Peace, Prayer And Purpose Rally' To Honor, Declare Black Lives Matter
Some in Media Missed Point of Michelle Obama Speech
"I hope people who attended Tuskegee University's commencement on Saturday got Michelle Obama's message," DeWayne Wickham wrote Tuesday for USA Today. "I hope they paid more attention to what she said than how some news media organizations portrayed the first lady's speech to graduates of the historically black Alabama school.
"I don't want them to think People magazine got it right when it ran as the headline her dismay over being pictured as a fist-pumping Black Panther on a cover of The New Yorker in 2008. It didn't. And neither did CNN, which put this headline on its report of that speech: 'Michelle Obama says she was held to different standard in '08 campaign due to her race.'
"What she told Tuskegee's graduates was much more profound.
"Obama's message was about overcoming obstacles — it was about the 'double duty' blacks have to our country and our race. She talked of the obstacles overcome by members of the Tuskegee Airmen, black combat pilots who served with great distinction during World War II. They trained at Tuskegee and suffered the indignities of Jim Crow racism while fighting for America. . . ."
Charles M. Blow, New York Times: Of Museums and Racial Relics

Jonathan Capehart, Washington Post: Michelle Obama's forceful speech on race at Tuskegee University

Cassandra Clayton, "After Words," C-SPAN: Interview: Peter Slevin, "Michelle Obama: A Life" (April 14) (video)

Michael H. Cottman, BlackAmericaWeb.com: Michelle Obama's Tuskegee Speech Reveals Hurt Black Women Experience From Stereotyping

Ruben Navarrette Jr., Washington Post Writers Group: Michelle Obama Teaches America How to Parent (April 11)

Clarence Page, Chicago Tribune: What Michelle Obama's critics missed

Justin Pryor, WCCB-TV, Charlotte, N.C.: Mary C. Curtis On The Controversy Over Michelle Obama's Recent Remarks (video)
Errin Whack, NBCBLK: From Princeton to Tuskegee: Michelle Obama's 30-year Race Journey
ASNE to Meet Public in Newark to Discuss Urban Coverage
The American Society of News Editors is planning a free, two-day event in Newark, N.J., next month that intends to bring journalists, civic leaders and the public together to discuss such questions as "Is one man's economic renaissance another man's gentrification?"
The event is part of ASNE's National Community and News Literacy Roundtables Project, presented by Montclair State University's Center for Cooperative Media.
"On Monday, June 15, journalists, civic leaders and the public will gather at [New Jersey Performing Arts Center] in downtown Newark to discuss a question raised by the very venue: Is one man's economic renaissance another man's gentrification?" an announcement says.
"The 7-9 p.m. town hall will feature a cross-section of community leaders and media members engaging the public in a discussion about what happens when money comes into an economically depleted city and how Newark's experience is reported and debated in the community.
"Day Two of the conference, Tuesday, June 16, will take place across the street at the historic Robert Treat Hotel and open with a conversation between Marty Baron, executive editor of The Washington Post, and Merrill Brown, director of the School of Communication and Media at Montclair State University.
"At a special breakout session on Day Two, we will pick up the thread from the Monday night roundtable and continue the conversation in a smaller setting. This will give participants in both events a chance to see how scale affects the conversation.
"Engage Local offers a jam-packed schedule with nationally noted speakers who will rev up your engagement game as they discuss:
* "Community-Driven Journalism and the Art of Listening

* "Rethinking Revenue by Engaging Community

* "Civic Activism and Journalism: How to Wear Both Hats

* "Social Journalism and Responsibility

* "Engaging the Community in Times of Crisis."
While there is no charge to participate, ASNE is asking those interested to register.
DW Gibson, New York magazine: I Put in White Tenants: The Grim, Racist (and Likely Illegal) Methods of One Brooklyn Landlord
Walter Cronkite School of Journalism and Mass Communication, Arizona State University: Cronkite School to Offer [Massive Open Online Course] on Media and News Literacy
Low-Income News Consumers Need Reporting on "Systems"
"So how do the needs and, more importantly, wants, of low-income news consumers differ from those of people who are more well-off?" Joe Pinsker of the Atlantic asked Sarah Alvarez of Michigan public radio. She is a senior producer for State of Opportunity, a grant-funded reporting project that focuses on how poverty shapes the lives of local families.
"I wish I knew more," Alvarez replied. "There's just not enough people working on this, so most of what I know, I'm looking at proxy studies that are close but not exactly right. We know that people want more information about local news. They want better information on how they can make decisions. I also know from my reporting that people need more information on how to navigate certain systems because that information is put out by groups or government offices that are bad at filling information gaps.
Pinsker: "When you say 'systems,' what do you mean?"
Alvarez: "Healthcare, education, benefits — but it's not only stuff like that. It's just that systems are involved. Low-income people have a lot more interactions with systems, and there is not a lot of reporting on where those systems truly break down. There are a lot of stories like, 'Oh! We're cutting off benefits for these people.'
"But there's not a lot of information on how to navigate those systems. The thing that totally got me interested in this was what James Hamilton said about how when information gaps exist, accountability is what suffers. And that's when I was like, 'Oh my gosh, this is what I want to do.'
"There's also not a lot of stories about, 'Who do you hold accountable?' There are a lot of stories about, 'Business is totally messed up,' but there are not stories that say, 'And this is whose doorstep that lies at.' . . . " Hamilton is a Stanford University professor who studies the market dynamics of information.
Alvarez has been chosen a John S. Knight Journalism Fellow for 2015-16, to study "How do we fill the information gaps faced by low-income news consumers?" at Stanford.
Nominate a J-Educator Who Has Helped Diversity
The Association of Opinion Journalists, formerly the National Conference of Editorial Writers, annually grants a Barry Bingham Sr. Fellowship — actually an award — "in recognition of an educator's outstanding efforts to encourage minority students in the field of journalism." The educator should be at the college level.
Nominations, now being accepted for the 2015 award, should consist of a statement about why you believe your nominee is deserving.
The final selection will be made by the AOJ Foundation board and announced in time for the annual symposium Nov.14-15 at the Poynter Institute in St. Petersburg, Fla., when the presentation will be made.
Since 2000, the recipient has been awarded an honorarium of $1,000 to be used to "further work in progress or begin a new project."
Past winners include James Hawkins, Florida A&M University (1990); Larry Kaggwa, Howard University (1992); Ben Holman, University of Maryland (1996); Linda Jones, Roosevelt University, Chicago (1998); Ramon Chavez, University of Colorado, Boulder (1999); Erna Smith, San Francisco State (2000); Joseph Selden, Penn State University (2001); Cheryl Smith, Paul Quinn College (2002); Rose Richard, Marquette University (2003); Leara D. Rhodes, University of Georgia (2004); Denny McAuliffe, University of Montana (2005); Pearl Stewart, Black College Wire (2006); Valerie White, Florida A&M University (2007); Phillip Dixon, Howard University (2008); Bruce DePyssler, North Carolina Central University (2009); Sree Sreenivasan, Columbia University (2010); Yvonne Latty, New York University (2011); Michelle Johnson, Boston University (2012); Vanessa Shelton, University of Iowa (2013); and William Drummond, University of California at Berkeley (2014).
Nominations may be emailed to Richard Prince, AOJ Diversity Committee chair, richardprince (at) hotmail.com. The deadline is May 22. Please use that address only for AOJ matters.
The George Foster Peabody Awards, one of the oldest and most prestigious prizes for outstanding work in electronic media, created a 25-member advisory board "to provide guidance and support, and to ensure that the awards remain relevant among younger, more diverse producers, particularly those who create content on digital platforms," according to Jeffrey Jones, director of the awards, Andrew Porter reported Wednesday for alldigitocracy.org.

In a brief interview marking his first year as executive editor of the New York Times, Dean Baquet told Public Editor Margaret Sullivan Wednesday that last fall's layoffs and buyouts "hurt the paper; there's just no question." However, he said, "we've rebuilt in a number of areas, and we've continued to hire."
Reporter Sergio Quintana of KGO-TV in San Francisco is in Nepal, "the only Bay Area reporter in the quake zone giving live updates," Cheryl Jennings reported for the station on Tuesday. "Quintana is following the work of a Bay Area nonprofit called Motherland Nepal. They are trying to bring supplies and medical care to the rural areas of Nepal, which are cut off by debris," Jennings told viewers. A 7.3 magnitude earthquake struck Tuesday, "the second deadly earthquake to hit that country in less than three weeks, triggering landslides and knocking down buildings." Quintana is also secretary of the National Association of Hispanic Journalists.
The Robert F. Kennedy Center for Justice and Human Rights officially announced the winners of the 2015 RFK Book and Journalism Awards Wednesday after a premature news release last week.
The Korean American Parents Association of Greater New York is among Korean groups denouncing a New York Times series last week that described wage theft and health hazards faced by the thousands of people who work in the nail-salon industry in New York state. Voices of NY compiled the reactions of Korean American groups, reporting that one planned "a performance protest by pouring nail polish in front of the New York Times building."
Christian A. Hendricks, vice president of interactive media at the McClatchy Co., takes on new responsibilities and a new title June 30 as VP of products, marketing and innovation under a reorganization reported in February by NetNewsCheck.com.  "We want to manage this business as a digital company," Hendricks said, Michael Depp of NetNewsCheck.com reported on Wednesday.
"In the not too distant future, ESPN's Jay Harris will take a step into the very distant future, and he will do it from the set of the Walt Disney network's flagship show, 'SportsCenter,' " Brian Steinberg reported Tuesday for Variety. Harris will be "taking part in a new kind of commercial that ESPN hopes to design for advertisers willing to invest more in the network — a 'takeover' of a program that is designed by the sports-media juggernaut's in-house unit ESPN CreativeWorks. . . ."
In Chicago, "Former television news anchor Robin Robinson . . . has now joined WVON-AM as the host of 'Robin's Nest,' a three-hour talk show that will be heard on Monday nights and as a fill-in for other shows," chicagoradioandmedia.com reported on Tuesday.
The National Association of Black Journalists selected Carole Munroe, director of public relations for the Walt Disney World Resort, to receive its 2015 Patricia L. Tobin Media Professional Award, NABJ announced on Tuesday. The honor goes to "entrepreneurs, public relations, advertising, or marketing professionals, or media ownerswho serve as trailblazers and bridge builders for other mediaprofessionals thus improving the media profession at large."

"India has more than 800 television channels, though nobody knows why," Manu Joseph wrote Wednesday for the New York Times. "About half of these are news channels, but in this case everybody seems to know why, even though most lose money. They are owned by billionaires — including India's richest man — shady real estate barons and politicians. Some of these channels have blackmailed businessmen and politicians, solicited funds from political parties in return for coverage or laundered illicit money. . . ."

"April 17, 2015 marked the 40th anniversary of the fall of Phnom Penh by the Khmer Rouge, which was the start of a horrific four-year long genocide that claimed the lives of an estimated 2 million Cambodians, or nearly a quarter of the population," Charles Som Nguyen wrote Friday for the International Examiner, republished Monday by New America Media. "The genocide's legacy of trauma and loss reverberates across generations and continues to affect Cambodian-Americans today through social injustices. . . ."

"Four unidentified assailants wielding cleavers and machetes killed a blogger in Bangladesh today," the Committee to Protect Journalists reported on Tuesday, "marking the third time in less than three months that a blogger has been slain in the country, according to news reports. Ananta Bijoy Das was hacked to death while headed to work in the city of Sylhet, the reports said. . . ."