It's not MTV's fault that its staple Video Music Awards is known more for shock and awe than actual trophies. While it definitely aims every year to earn its watercooler moments, far too many freak-of-nature occurrences—Kanye storming the stage, the timing of Beyoncé's pregnancy—make us tune in each year for the moments that weren't planned. So when all things go according to plan, it's too easy to say the VMAs were boring just because everyone stayed in their damn seats and kept their hands and butts to themselves.
That last part's not entirely true, since Nicki Minaj jiggled her jungle rump all over the Inglewood, Calif., arena with a performance of "Anaconda" that left the entire Twittersphere speechless. But for better or worse, it was one of the very few moments that did. Five crucial takeaways from last night's VMAs:
The BeyMAs
Justin Timberlake's 15-minute set was one of last year's most successful moments, so MTV's repeating that tradition for this year's Michael Jackson Video Vanguard Award winner was a fitting chance for Beyoncé to blow through a 16-minute recalling of her entire visual self-titled album. Making every stop from "Drunk in Love" to "Flawless," the superstar single-handedly stole the show—and based on the competition, it wasn't that hard to do.
Pharrell Is Snubbed
G/O Media may get a commission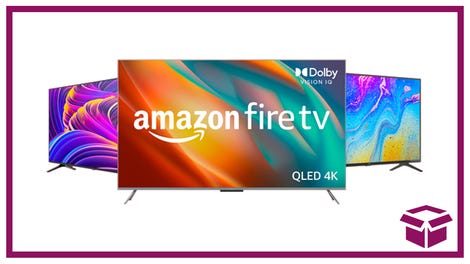 Ooh. stunning.
New Amazon Fire TVs
Beyoncé took home the Video Vanguard honor in addition to three other awards not shown on TV, but she was one of the very few black artists who did. Drake snagged the trophy for Best Hip-Hop Video but didn't even show up. Meanwhile, Pharrell—who created a stunning 24-hour video for "Happy"—was unfairly shut out.
MTV Honors Ferguson
The network now aimed at tween girls was unafraid to turn attention to the tragedy in Missouri more than once, most notably in a moving speech and moment of silence offered by Common. While not specifically mentioning Michael Brown, he noted that "communities across the country have used their voices to call for justice and change, to let everyone know that each and every one of our lives matters."
Other Winning Performances
The Minaj, Ariana Grande and Jessie J opener was actually one of the night's best performances, a list that can also include Sam Smith's emotional rendition of "Stay With Me" and Usher's butt-smacking rendition of "She Came to Give It to You," which was also performed with Minaj because her bum's just too big for one number.
Miley's Redemption
Last year's show was marked solely by Miley Cyrus' shameless twerkathon, which brought her more trouble than it was worth. In a clear shot at redemption, Cyrus shocked everyone in a completely different way by allowing her Video of the Year win (for "Wrecking Ball") to be accepted by a homeless teenager, who brought awareness to the more than 1.6 million runaways and homeless youths in need of food and shelter.
Also on The Root: "Blue Ivy 'Flawlessly' Wins at the VMAs"
Terron Moore is social media editor at The Root.