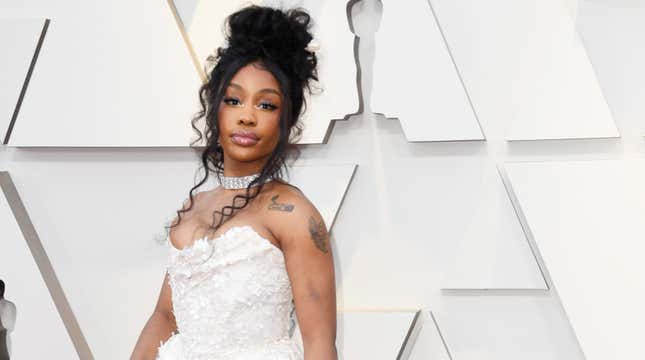 Fenty didn't debut 40 shades of foundation at Sephora for this mess.

Calabasas, Calif., may be home to "All the Stars" (including Kanye, the Kardashian clan and their growing cadre of mixed-race children), but celebrity reportedly didn't save Grammy and Academy Award-nominated singer-songwriter SZA from being racially profiled while shopping at the area's local Sephora.
Fighting "Lie-abetes": How To Spot And Combat Disinformation and Conspiracies In Politics | The 411: Part 2
On Tuesday night, the musician tweeted that an employee at Sephora location 614 called security to confirm she wasn't stealing—a humiliating, yet still all-too-common occurrence. While many of us would recognize SZA's trademark bundles of hair pretty much anywhere, the employee—cleverly dubbed "Sephora Sandy" by the singer—clearly did not; and without that veneer of privilege, the racism jumped out.
"We had a long talk," SZA coyly tweeted (we bet they did). The missive ended with the always loaded, "U have a blessed day Sandy."
Yikes.
The irony? Pre-fame, SZA was a Sephora employee herself—a skin consultant, in fact, as she revealed in an interview with Refinery29 in early 2018. Sephora alluded to that relationship in their response to the singer, which read:
"You are a part of the Sephora family, and we are committed to ensuring every member of our community feels welcome and included at our stores."
We're not sure that qualifies as an apology, and frankly, one should neither need to be "family" or a celebrity to expect bias-free treatment while innocently shopping. The Glow Up has reached out to Sephora for comment, as well as inquiring whether "Sandy" is still employed and further bias training is planned. In the meantime, we did get a tease of some new SZA music out of it (including the not-at-all-cryptic lyrics "Fuck Sephora").
And in case you're wondering, there's also no word on whether local legal eagle Kim Kardashian is on the case, but we'll update this story as it develops. In the interim, we, like former Fenty campaign star SZA, were just wondering...

Can a bitch cop her Fenty in peace, or what?