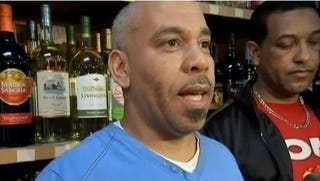 What would you do with $338 million? Powerball winner Pedro Quezada of Passaic, N.J., who won the fourth-biggest prize in the lottery's history, said "I'm going to help a lot of people, whatever they need," according to the Daily News.
According to a New York Post account, Quezada's windfall will help a lot closer to home, too:
An immigrant father of five who buys lottery tickets and a couple of beers at the same Passaic, NJ, store every day is the sole winner of the $338.3 million Powerball jackpot.

"I can't believe it. I'm overwhelmed," Pedro Quezada, 44, of Passaic, said yesterday as he claimed the fourth-biggest prize in Powerball history. "I just can't get over it."

The Dominican-born Quezada beat the 175-million-to-1 odds when he bought the winning ticket Saturday at Eagle Liquors. Using the Quick Pick option, he hit all five numbers and the Powerball.

Struggling with debt for years, "I was praying so much for this," said Quezada, who lives in a rundown third-floor apartment on a dead-end block next to a highway. "I'm just giving thanks to God."
Read more at the Daily News and New York Post.