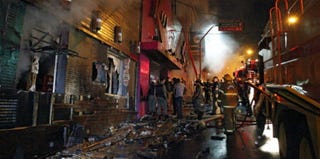 The Associated Press is reporting that a fire ripped through a crowded nightclub in Southern Brazil early Sunday, killing 232 people as the air filled with deadly smoke and patrons stampeded toward the exits, police and witnesses said. It appears to be the world's deadliest nightclub fire in more than a decade.
The tragedy comes as Brazil prepares to host the 2014 World Cup soccer tournament and the 2016 Summer Olympics. 
Witnesses said that a flare or firework lit by band members may have started the fire.

Police Maj. Cleberson Braida Bastianello said by telephone that officials counted 232 bodies that had been brought for identification to a gymnasium in the city of Santa Maria, at the southern tip of Brazil near the borders with Argentina and Uruguay.

Another 117 people were being treated at hospitals, he said, and President Dilma Roussef arrived to visit victims after cutting short participation at a Latin American-European summit in Chile.

Bastianello said the recount lowered the toll from 245 earlier believed killed.

Television images showed smoke pouring out of the Kiss nightclub as shirtless, young male partygoers joined firefighters in wielding axes and sledgehammers, pounding at windows and walls to break through to those trapped inside. Teenagers sprinted from the scene desperately trying to find help. Others carried injured and burned friends away in their arms.
Read more at the Associated Press.