Celebrity branding has come a long way in recent years. Though stars have been slapping their name on products for decades, the new crop of celebrity entrepreneurs is taking an emphatically hands-on approach with their product lines. Whether it's Zendaya bringing along stylist Law Roach to help co-design her line with Tommy Hilfiger or Tracee Ellis Ross recruiting family members to model in her first campaign for Pattern, the new approach to celebrity brands is increasingly personal; capitalizing on not only popularity but knowledge gleaned by years working with hair, makeup and styling teams—many of whom are now celebs in their own right. And it's that insider knowledge and experience—along with follower feedback—that have fueled two of the first (and most anticipated) drops of 2020, both by beloved black celebrities.
Having already revolutionized the beauty industry, Rihanna's greatest competition is likely herself, as she continues to expand Fenty Beauty's offerings with cult-favorite products. After showing off a pimple to start the new year, the bad gal demonstrated that the best way to distract from a blemish is to draw attention to the eyes, giving us an Instagram tease of the launch of Fenty's already buzzworthy first mascara, the sexily titled "Full Frontal Mascara," due to be released on Jan. 16.
"Ya done know that @fentybeauty was coming to dominate the mascara game too!" Rih wrote in the accompanying caption. According to the brand, Full Frontal, which will debut in the same shade as the brand's famed Flyliner, "Cuz I'm Black," is planning to seriously elevate our lash game with a "unique flat-to-fat brush that volumizes, lengthens, and curls!"
G/O Media may get a commission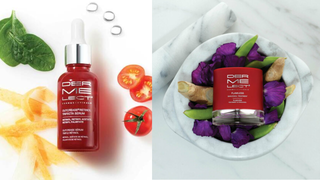 Save $19
Retinol Renewal Kit
Taraji P. Henson has also made the leap into the beauty industry, joining the ever-expanding haircare market with the launch of TPH by Taraji. The 18-piece line isn't due to hit the market until Jan. 29, but if you're lucky (as I was), you've already spotted Henson's color-coded collection, largely named for many of her onscreen roles, on an endcap at your local Target store.
While the line is intended for all textures, Henson's reported inspiration behind many of the products, like the scalp-focused "Master Cleanse" (which comes with a fingertip-inspired applicator) ring especially true for not only kinky and coily textures but those of us who have experimented with braids, weaves or extensions as a form of protective styling.
"The first time I went to get the weave taken out, it smelled like mildew. I was so embarrassed. I was washing my hair, but wasn't drying the weft," she explained to Allure. "When you have a weave or an install, your hair is braided down, and then sometimes they sew a hair net down on top of that, and then they sew the hair tracks on top of that. My dilemma was how do I get to my scalp? How do I clean it? I didn't ever want that mildew smell again."
Been there, smelled that, never going back. And while we're still waiting to review Henson's collection for ourselves (especially the oil named "Glow Up"), her passion is evident. Like fellow actress and hair entrepreneur Ellis Ross, Henson tells People that TPH, which she considers "luxury at an affordable price point," was a decade in the making, initially born of kitchen table experiments.
"I know that if I didn't go into acting, I would have been a cosmetologist," she says. "My fans trust me, so this is me sharing with them."