Haiti Hit by Catastrophic Earthquake: January
During the late hours of Jan. 12, a magnitude-7.2 earthquake rocks the Caribbean island, followed by at least 52 aftershocks measuring 4.5 or greater. More than 200,000 people are killed, another 300,000 are injured, and more than a million are left homeless as dwellings and businesses are destroyed. Initial estimates after the quake place the cost of the damage at up to $14 billion.
Black Farmers Reach Settlement: February
The U.S. Department of Agriculture and African Americans reach a historic milestone by settling a more than decade-long lawsuit. The government agrees to shell out $1.25 billion to black farmers who were discriminated against in USDA farm-loan programs. The suit was filed in 1997 and named after Timothy Pigford, a North Carolina farmer. In the suit, he and other farmers sought damages for unfair practices that took place between the early 1980s and late 1990s.
Gatorade Drops Tiger: February
G/O Media may get a commission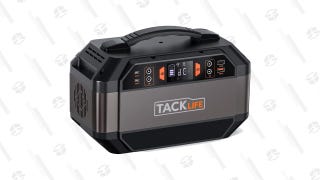 Tacklife Portable Solar Generator
Gatorade joins the list of companies dropping their contracts with golf superstar Tiger Woods, whose world is crumbling after he confesses to serial marital infidelity. "We no longer see a role for Tiger in our marketing efforts and have ended out relationship," a Gatorade spokeswoman says. "We wish him all the best."
Black Farmers' Settlement to Unravel? March
The settlement between the USDA and black farmers hits a snag when Congress adjourns for a two-week break without approving the funding for the $1.25 billion agreement. The settlement, considered the finale of a hard-fought battle against discrimination, includes a clause that allows the USDA to back out if the money isn't appropriated by March 31. Congress adjourns just a few days before the end of the month.
Worst Oil Spill Ever: April
On April 20 a Deepwater Horizon drilling rig explodes in the Gulf of Mexico, killing 11 men and injuring 17 others. A resulting oil spill will gush for three months, creating an environmental disaster, forcing many fisheries and oyster houses to shutter, and dealing a crippling blow to black fishers in particular. It is the largest oil spill in history, with the cost of cleanup, government fines, lawsuits, legal fees and damage claims likely to exceed BP's $40 billion estimate.
Taking on Wal-Mart: April
Betty Dukes, a black Wal-Mart employee, becomes the face of the largest gender-bias class-action lawsuit. The suit alleges persistent discrimination against the retailer's female employees in pay and promotions.
Xerox's Burns Named Chairman: May
Xerox Corp. CEO Ursula Burns, who last year became the first black woman to run a Fortune 500 company, adds "chairman" to her title after her former boss Anne Mulcahy retires from that position. Mulcahy had stepped down as CEO in July 2009.
Mr. Simmons Goes to Washington: June
Russell Simmons, the hip-hop mogul turned banking executive, goes head-to-head with members of Congress over the financial-services reform bill. He even travels to Capitol Hill to express his views about an amendment that would cap the fees that retailers pay banks to process debit-card payments. In the end the bill is modified, but a feud between Simmons and news-media outlets ensues because his involvement is characterized as a coup for Simmons. That has him seeing red.
Gulf Oil Spill Capped: July
A three-month oil spill stemming from a sea-floor gusher after a rig explosion in the Gulf of Mexico is finally capped, but not before numerous fumbling attempts to fix it expose poor emergency planning by the oil industry and lax oversight by the government. By this time, the spill has released nearly 200 million gallons of oil. Throughout the cleanup, minority businesses have been left out.
The Decision: July
Wonder if basketball superstar LeBron James regrets making the choice of flaunting the media hype surrounding his free agency and subsequent move to the Miami Heat? He recently told ESPN that he has no regrets about going to the Heat, although, looking back, he now says he would have announced it differently. He didn't say how, but we guess it wouldn't have been with an hour-long live ESPN special.
Kimora Out at Baby Phat: August
Kimora Lee Simmons tweets that she's leaving her post as creative director and leaving behind the fashion empire, Baby Phat, that she built with ex-hubby Russell. Rumors about the circumstances of her departure soon follow. The New York Post's Page Six reports that the former model was actually asked to exit because she was too expensive for Baby Phat, now owned by clothes maker Kellwood, to keep.
Promises vs. Reality in Haiti: August
More than six months have passed since the 7.2 earthquake hit Haiti's capital of Port-au-Prince, and little has been done to help the nation recover. Out of the $5.6 billion pledged in March to rebuild through 2011, just $506 million in aid has been distributed at this point, and 1.5 million survivors still live in tarp-and-tent camps.
The Comeback Kid: August
Desiree Rogers, former White House social secretary, takes over as the new CEO of Johnson Publishing in Chicago. That announcement comes six months after Salahi-gate forced her to step down as White House social secretary. She now oversees the day-to-day operations of the iconic black publishing house, which publishes Ebony and Jet.
Another Cold Shoulder: September
Once again, Congress fails to fund the black farmers' settlement, leaving an Obama administration request to do so out of a legislative measure.
Finally! November
The Senate finally approves more than $1 billion in settlement payments for black farmers. The House does the same a few short weeks afterward and moves it to President Barack Obama for his signature.
Merck Taps First Black CEO: November
Merck Co. names Kenneth Frazier as its new CEO. Frazier, who was president, will take over the helm from Richard Clark, who is retiring. Frazier joined the pharmaceutical company in 1992 and rose through the ranks. From 2007 to 2010, he led the largest division at the company — the global human-health unit.
Supremes to Weigh In on Wal-Mart Suit: December
The U.S. Court of Appeals for the 9th Circuit upholds a decision allowing the case to go to trial as a class action on behalf of more than 1 million former and current female Wal-Mart employees, but the U.S. Supreme Court agrees to hear an appeal by the company.
Checks in the Mail: December
Before a room filled with about 150 lawmakers and black and Native American activists, President Obama signs into law a bill that provides the billions to fund two separate class-action settlements against the U.S.: Pigford v. Glickman and Cobell v. Salazar.