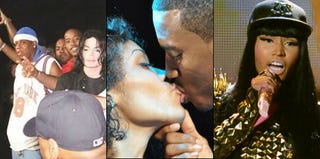 (The Root) — Hot 97 Summer Jam XX should be one for the books. On June 2, New Jersey's MetLife Stadium will host music fans and industry virtuosos ready to celebrate the show's 20th birthday as if it were their own. With a stellar lineup — Kendrick Lamar, Chris Brown, Miguel, A$AP Rocky, 2 Chainz and Wu-Tang Clan are just a fraction of the slated performers — concertgoers expect nothing less than a legendary show.
In its two decades of existence, Summer Jam has weathered all kinds of wild situations and made for many a great blog and diary entry. From wardrobe malfunctions, interlabel melees, artist walk-offs and aborted mock lynchings to all-star reunions and music-royalty cameos, anything can happen.
Summer Jammers attend hoping for a show to remember, but they may not know what they're in for. Here are some reasons that Summer Jam is and always has been a little too real.
Jay-Z just might end your career.