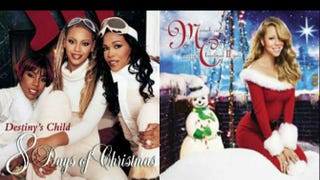 Maybe it's Boyz II Men's "Let It Snow" or the Jackson 5's "Santa Claus Is Coming to Town" that immediately makes you want to pull out your Christmas decorations. To help you put together a festive playlist, we've rounded up some of our favorite Christmas compilations, from classic albums to a few contemporary picks.
Nat King Cole
The Magic of Christmas
No, "The Christmas Song" was not originally on this album, but The Magic of Christmas was Cole's only full-length holiday album. Released in 1960, the recording featured traditional Christmas songs including "Deck the Halls" and "Joy to the World." Cole re-released the album in 1963 and included his hit song "The Christmas Song," which was originally recorded in 1946.
Boyz II Men
Christmas Interpretations
In 1993 Boyz II Men released their first Christmas album, Christmas Interpretations, featuring the hit song "Let It Snow," which was performed with Brian McKnight. Remember that episode of The Fresh Prince of Bel-Air? When the quartet showed up to sing at li'l Nicky's christening?
The Preacher's Wife Soundtrack
OK, we know this is not really a "traditional" Christmas album, but it's filled with contemporary gospel songs and a few classic Christmas hits. The soundtrack was released in November 1996 for the feature film The Preacher's Wife, starring Denzel Washington and Whitney Houston. Houston is accompanied here by the Georgia Mass Choir.
The Jackson 5
The Jackson 5 Christmas Album
The Jackson 5 released their Christmas album in 1970. It featured the hit songs "Santa Claus Is Coming to Town" and "I Saw Mommy Kissing Santa Claus."
The Temptations
The Temptations Christmas Card
The Temptations sing all your favorite Christmas carols on this 1970 holiday album. Could there be a more soulful version of "Rudolph the Red-Nosed Reindeer"? Probably not.
Jermaine Dupri Presents: 12 Soulful Nights of Christmas
So So Def Recordings, founded by Dupri, released this compilation holiday album in 1996. It features label artists including Jagged Edge, Brian McKnight and K-Ci & JoJo. You won't find many classic carols on this one, but some of your favorite late-'90s R&B singers spreading joy all on one album? Yes, please.
Mariah Carey
Merry Christmas and Merry Christmas II You
Twenty years ago Carey released Merry Christmas, the best-selling holiday album of all time. She has since remade the album's hit single, "All I Want for Christmas Is You," a few times, including a So So Def remix in 2000 and a dance mix in 2009. In 2010 Carey released her second holiday album, Merry Christmas II You, and the next year she teamed up with Justin Bieber for a remake of "All I Want for Christmas Is You."
A Motown Christmas
A Motown Christmas is another classic holiday compilation. With carols from Stevie Wonder, the Supremes and Smokey Robinson, this one is sure to bring Yuletide joy. The album was originally released in 1973, with several variations released thereafter. With a new class of Motown artists, the record label released Motown Christmas in September 2014, with songs by artists such as Ne-Yo, Kierra Sheard, Chrisette Michele and Smokie Norful.
Luther Vandross
This Is Christmas
Originally released in 1995, this album was subsequently re-released in different versions in 2002 and 2012. The 2012 incarnation features four additional tracks, including "Have Yourself a Merry Little Christmas," with Chaka Khan.
Destiny's Child
8 Days of Christmas
"You know, Christmas was made for the chirren. Destiny's chirren." Beyoncé, Kelly and Michelle released 8 Days of Christmas in 2001 with four original songs, including its lead single of the same name. The single remixed the traditional "12 Days of Christmas" song with a few new gifts that the ladies received from their boos.
Christmas on Death Row
"Santa Claus Goes Straight to the Ghetto" is definitely not your grandma's favorite Christmas carol. But Christmas on Death Row, released in 1996, includes songs by the Death Row fam, among them Snoop Dogg, Nate Dogg and Michel'le. Danny Boy also brings it home with his rendition of "The Christmas Song." Truly in the holiday spirit, Death Row Records donated the proceeds from this CD to charity.
Earth Wind & Fire
Holiday
Looking for a new Christmas album to add to your collection? Earth, Wind & Fire released a CD in 2014 that features Christmassy versions of two classic EWF songs, "Happy Feelin'" and "September." Although it's a holiday-themed album, it definitely gives you that classic EWF sound, and it might stay in your rotation past Dec. 25.
Bonus: Donny Hathaway
"This Christmas"
Hathaway never released a full Christmas album, but we definitely had to include the classic single "This Christmas" on this list. It's been covered by dozens of artists since it debuted in 1970. But no one can do it quite like Hathaway.
Like The Root on Facebook. Follow us on Twitter.