Updated Friday, June 9, 2017, 12:59 p.m. EDT: Our sister publication Deadspin reports that the Baltimore Sun story on which our report was based is inaccurate. Cahree Myrick is not a national chess champion. Read the Deadspin story here.
Earlier:
At just 12 years old, Cahree Myrick is Baltimore's first individual national youth chess champion—no mean feat. The intelligent seventh-grader's training grounds, however, perhaps look a bit different from those of most chess champions. His mother, Yuana Spears, often brings him to Reflection Eternal Barbershop in the city's Barclay neighborhood to play against owner Sundiata Osagie, a skilled chess player in his own right, in order to hone his skills.
According to the Baltimore Sun, Cahree learned to play in a formal chess league, but playing in the barbershop brings something different to the game for him.
"It's a different style," Cahree told the news site. "When I play people in standard tournaments, I know what to expect. Here, they play more freestyle."
G/O Media may get a commission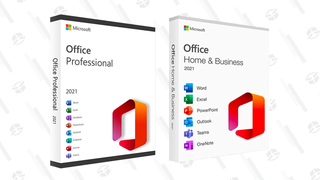 89% off
Microsoft Office Professional 2021 Lifetime License
Two weeks ago, Cahree swept the competition, going 7-0 in Nashville to win his division in the United States Chess Federation SuperNationals. Osagie and others have been bragging about him ever since.
"Playing chess in this shop is a staple. It's what we push," Osagie said. "We call it mental calisthenics. A lot of older guys love it. They swear by the game. They were happy that a young kid from Baltimore won.
"The culture of chess in Baltimore is bigger than people know. It flies under the radar," Osagie added, noting that internationally ranked chess master William Morrison often stops by with his grandsons for games. "Cahree's victory and his performance in the national tournament proves that guys have been putting in work, 24-7."
His win has been called "perfection" by the Baltimore Kids Chess League in which he plays, the Sun notes. Baltimore Mayor Catherine Pugh honored Cahree and his teammates at City Hall on Wednesday, and the Baltimore Orioles invited him to Camden Yards on Friday.
"The city of Baltimore wants you to know we are really proud of your accomplishments," Pugh told Cahree during Wednesday's ceremony.
"This is a big deal," Steve Alpern, commissioner of the Baltimore Kids Chess League, said. "To win it with a perfect score is pretty incredible.
"People don't think Baltimore City is producing these kind of achievements, but we are," he added.
The league, as the Sun notes, is open only to the city's public school students and has produced three national championship teams. However, Cahree is the first to win an individual title, beating out some 349 players from 28 states in his division. Indeed, nothing to sneeze at, but Cahree remains humble about his accomplishments.
"I don't brag about it as much as my relatives will," Cahree told the Sun. "I only talk about it if someone asks about it."
Cahree, the Sun notes, never even expected to win the championship; having finished 24th last year, he knew how difficult the competition was,
"Everyone has a chance to win against whoever they play," he said. "I knew if I stick to my plan and tried my best that I would be fine."
Of his last game, against an opponent from Texas, he did just that.
"It was my toughest game yet," he acknowledged. "The key to winning is not giving up. Keep thinking and pushing until you get there. And that's what I did."
And Cahree does work hard at his chess game, playing about five games per day, the Sun reports.
"Whenever I have time alone, I play as many games as I can," he said.
"On the weekends he put in a full day's work, easily eight hours a day, getting ready for this tournament," his mother said. "He showed the dedication; he showed the drive; he showed the hunger for getting ready for this tournament, and he was successful."
Read more at the Baltimore Sun.